Jose Cuervo Wants To Send You On Vacation – Here's How To Enter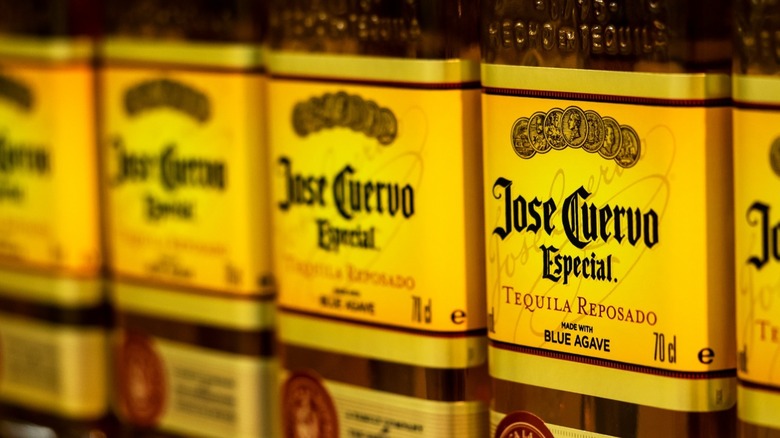 IgorGolovniov/Shutterstock
If you keep up with popular tequila brands, you're probably familiar with Jose Cuervo. Considered "the world's oldest tequila brand," Jose Cuervo started producing tequila in Mexico in 1758, and by the mid-1800s, the brand had entered the United States.
Today, Cuervo products include various tequilas as well as margaritas and hard seltzers. However, Jose Cuervo's hard seltzer is unique in that it uses tequila as its alcohol base, while many other hard seltzers use malted grains (via Advanced Mixology).
Cuervo's latest offering is Tradicional Cristalino, a Reposado tequila described on the company's website as being a mix of three aged tequilas with flavor notes of "vanilla and spice with a hint of melon."
The brand claims that Cristalino brings "the perfect tequila edge to kick off your most electric nights," and is hosting a "Cristalino Nights" giveaway in conjunction with the drink's launch. But how do you enter this giveaway? What prizes do the winners get? Well, we have some answers. 
Jose Cuervo's VIP vacation prizes are a bit of a surprise
A promotional video on YouTube describes the new Jose Cuervo Tradicional Cristalino tequila as "a taste of the unexpected, electric, and unforgettable," and the tequila brand's corresponding "Cristalino Nights" giveaway seeks to deliver more of that same vibe.
According to Thrillist, anyone over the age of 21 who texts CRISTALINO to 24272 before July 14 will be entered for a chance to win one of several mysterious VIP vacations. To clarify, the trips include an all-expenses-paid trip to Mexico City, passes to a Las Vegas UFC 276 event during Fight Week, and "VIP access to Firefly Music Festival," but there's no way of knowing which trip you'll win.
In addition to getting the VIP experience at these events and destinations, winners get to travel first-class and meet with celebrities, according to a press release. So if you didn't win earlier this year when Jose Cuervo gave one fan $100k for coming up with a creative cocktail, consider this your second chance.