Ree Drummond's Followers Are Loving Her Latest Donut Find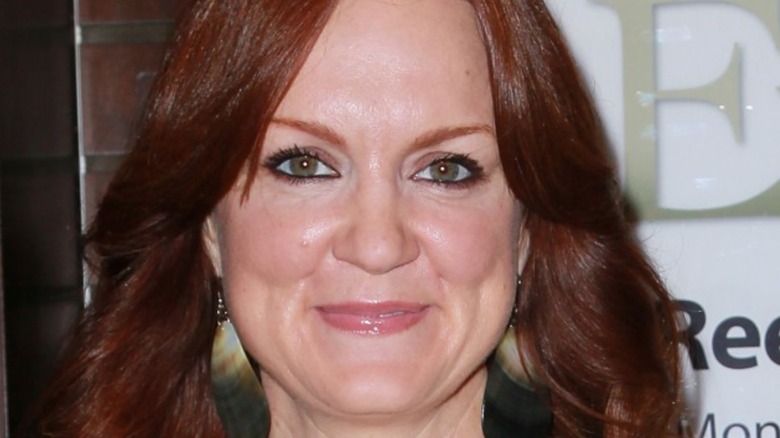 David Livingston/Getty Images
Donuts are an anytime-of-the-day staple. Americans aren't shy about their love for these sugary, deep-fried treats that keep us licking our lips. National Today reports that it surveyed 1,000 Americans and found that 96% of them either liked or loved donuts. So you might be hard-pressed to find someone who doesn't them. Donuts are so iconic, they make a cameo in Washington Irving's, "The Legend of Sleepy Hollow" (via Linda Brazill).
Even famous faces need their fill of donuts. Us Weekly reported that Kim Kardashian is a huge fan; both she and her sisters have been seen grabbing them on occasion. And Prince Harry was photographed buying jelly-filled and custard donuts. There are also celebrity chefs who appreciate these sublime sweets, including Ree Drummond. On her Food Network show, "The Pioneer Woman," Drummond has whipped up homemade glazed donuts for her family to enjoy after a day of fence fixing. They seemed like quite the crowd-pleaser. And as The Pioneer Woman shared on Instagram, during a "football-related road trip" with her son, Todd, in Denver, Colorado, she stumbled upon a donut shop she had never tried. Instagram is loving this treasure trove of treats.
Drummond fell in love with some old-fashioned donuts
In an Instagram post that has received nearly 70,000 likes, Ree Drummond revealed that while getting an oil change, she found herself with time to kill and a Lamar's Donut & Coffee shop to help her do just that. The celebrity cook said she was new to Lamar's and enjoyed the experience. At first, Drummond was drawn in by the siren song of an apple fritter, but that's not the donut that won her heart. Drummond wrote, "I went straight for the apple fritter ... but it was the old-fashioned doughnuts that won my heart forever. My gosh, YUM! Raised the bar forever."
Drummond's followers were all too happy to chime in with their approval for this shop, which boasts 75 different donut types, according to its Twitter account. One wrote, "I have lived in many different states and been to many different donut places. I was raised on Lamar's donuts in KC and nothing, I'm telling you nothing, compared to Lamar's. Always the best treat!!" Another suggested, "They have LaMars in Wichita, KS so if you go through on your way home you can get some more!" Like Drummond, you might not have heard of this place before unless you've been to Colorado, Kansas, Missouri, Nebraska, or Arizona (via Lamar's Donuts). National Today shares that Lamar's made the top 10 list of Americans' favorite donut chains.