Why You Should Eat Salmon And Peas For July 4th
Anyone who loves fireworks, big parades, live music, family gatherings, and good food has a reason to be excited, as the Fourth of July, or Independence Day, is coming fast. This celebration of American independence has been declared a federal holiday since 1941, but it actually dates back to 1776 with Thomas Jefferson's Declaration of Independence (via History). 
The Pioneer Woman published a list of this summer holiday trivia facts, and among them, there are interesting and surprising tidbits of information, such as the fact that Americans consume about 150 million hot dogs on the day and spend over $1 billion on fireworks alone. There's also the fact that it's a New Englander tradition to eat salmon and peas on the Fourth of July. 
While traditional Independence Day foods include barbecue in all forms like burgers, hot dogs (here's the best place to get a hot dog in every state), fried chicken, baked beans, potato salad, deviled eggs, and corn on the cob. But how did salmon and peas become a traditional food in New England?
Eating salmon and peas on July 4th is a New Englander tradition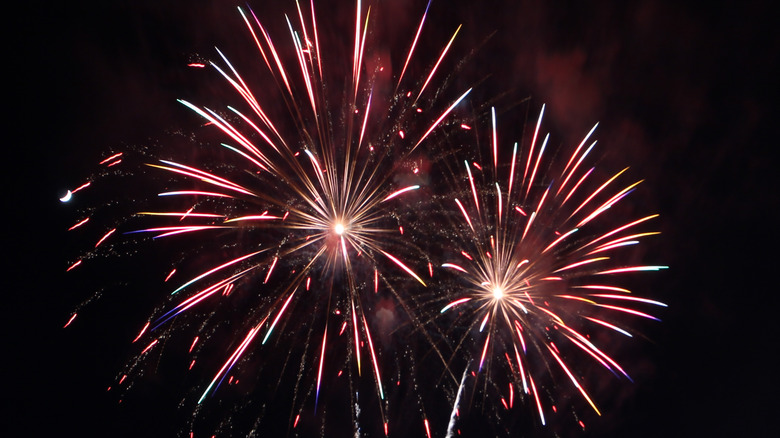 SPSTL/Shutterstock
According to New England Today, salmon and peas are a tradition in New England for the Fourth of July because the salmon used to run at the same time that fresh peas ripened, in late June. Nowadays, the salmon doesn't take the same path, but it's not that hard to buy farmed salmon from a supermarket. Along with salmon and peas, New Englanders used to enrich the dish with the addition of new potatoes. 
There are many ways of preparing salmon and peas for the celebration in New England. Some bake it in the oven, some grill it in their backyards, and others use the traditional way of poaching the salmon and covering it with egg sauce that's based on hard-boiled eggs, butter, flour, milk, and stock. The folks over at boston.com suggest searing the salmon fillets and pairing them with peas, leeks, shiitake mushrooms, cream, and fettuccine pasta. 
Of course, we prefer a nice salmon and mashed peas with tarragon butter recipe, but choose the version that works the best for you and remember to have fun while cooking, eating, and celebrating this Independence Day.