The Real Reason Alton Brown Left Food Network
While the Food Network has brought fame to many of the chefs featured in its programming, perhaps one of its best-known figures is Alton Brown. With 20 years of experience working for Food Network, Brown became one of the channel's most renowned celebrity chefs, with two James Beard Awards and a Peabody to his name, per Food Network. A large amount of his prestige comes from his time working on his culinary education show "Good Eats" that blended recipes with food history, science, and Brown's unique sense of humor.
But Brown may be best known for his time hosting culinary competition shows on the network, including his own "Cutthroat Kitchen," but especially the show "Iron Chef America." The cooking competition is based on the Japanese show "Iron Chef," created by Takeshi Kaga, who was the chairman of the original show during its run from 1993-2002 (via Pogogi). The "Iron Chef America" variant had its own chairman, Mark Dacascos, who hosted the show alongside Brown since its first season in 2004. But now, after 20 years, Alton Brown has left the Food Network behind.
Why Alton Brown left the Food Network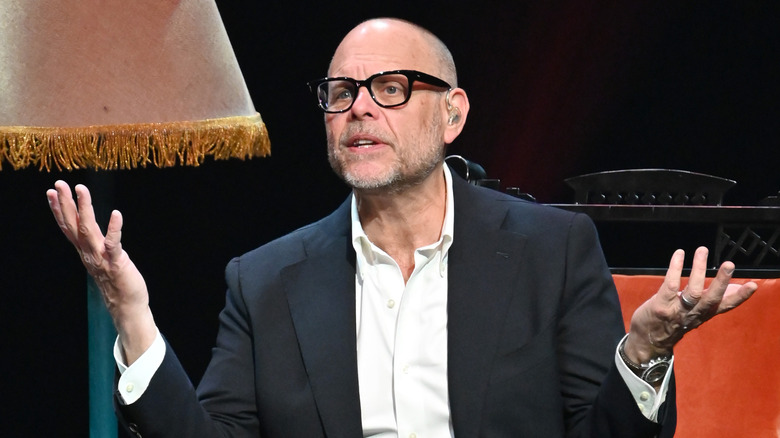 Stephen J. Cohen/Getty Images
In an interview with Entertainment Weekly, Alton Brown revealed why he left Food Network: to join Netflix as they launched their own version of "Iron Chef." Brown will be taking up a similar position as a commentator and host, this time with co-host Kristen Kish, who won "Top Chef" season 10. Brown told Entertainment Weekly that it "would have broken my heart" for Netflix to try and take on "Iron Chef" without him. Brown also mentioned he doesn't consider his leap to Netflix a proper goodbye, saying that would be too "final."
Netflix's new show, titled "Iron Chef: Quest for an Iron Legend," doesn't just have Brown returning, either. He's joined again by Dacascos and a new roster of Iron Chefs — the Chicago Sun Times reports that the chefs in competition will include Curtis Stone, Dominique Crenn, Gabriela Cámara, Marcus Samuelsson and Ming Tsai. While speaking with Entertainment Weekly, Brown mentioned that he believed the new show is going to have a much stronger story arc thanks to the freedom that comes from a Netflix production — "a much deeper dive than we have ever been able to do before."