The Aldi Freezer Pop Trays That Are As Functional As They Are Fun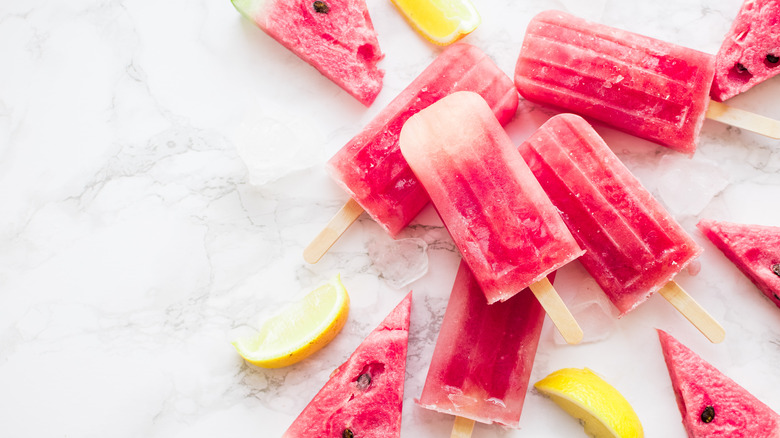 Nelli Syrotynska/Shutterstock
We're not futurists or anything, but we wouldn't be surprised if food historians were to look back on this time period as the era of the freezer. Sure, the first commercial refrigerator hit the scene in the early 1900s (via Frigidaire), but a frozen food revival took hold during the pandemic amid global food shortages that could span years. Why run around to five different grocery stores looking for the cheapest vegetables when you can pour a bag of frozen, unblemished peas into a sauté pan?
Looking beyond the anxiety-inducing reasons behind its comeback, we'd be remiss not to mention that the freezer is also the birthplace of some of the most fun-to-eat foods out there, especially when it comes to dessert. Judging from its latest line of summer freezer accessories, the German discount chain Aldi likely knows this full well. An Instagram post shared this week by @aldifavoritefinds has shoppers clearing away their standard ice-cube trays for seasonal newcomers which might make cooling off a little more fun.
Freeze pop molds and ice cube trays with pizzaz
Freeze pop molds in the likeness of watermelons, unicorns, leaping fish, strawberries, and other cute shapes are on deck at Aldi this summer, per an Instagram post shared by @aldifavoritefinds. Shoppers in the comments are ready to level up the cuteness factor of their summer treats on their next trip to the store. "I bought the shark and penguin ones. Put some of the mootube yogurts in there with some sprinkles. Ready for some frozen treats!" wrote one user. The post also shows off a couple of new silicone ice cube trays that could be used to make classy cocktails. 
If you've never made freeze pops (also known as ice pops) at home, they're as simple as throwing a few ingredients into a tray and letting them firm up in the freezer. Spartans may opt for pure fruit juice, while others might attempt to make creamy concoctions with peanut butter and fudge, and some others might go the boozy route. One Instagram suggested using Aldi's trays to make treats "for the kids with juice or [Kool-Aid]." Whatever people choose, it seems that quite a few shoppers think Aldi's new molds will make frozen summer desserts even more fun to eat.