Classic Bacon Jam Recipe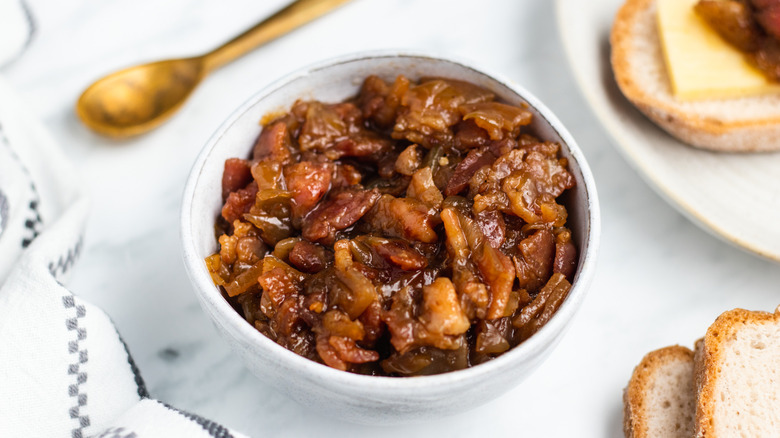 Catherine Brookes/Mashed
Who invented bacon jam? No one really knows for sure. It may seem like an add pairing at first, mixing salty bacon in with sweet ingredients, but as it turns out, it's an undeniably tasty combo. So, maybe it doesn't really matter who invented bacon jam, but all that matters is we continue to enjoy it — a task made easy thanks to recipe developer Catherine Brookes' delightful take on it.
If you've ever had the stuff, you may have thought it might be put to better use than simply being spread on some greasy burger. Well, now's your chance to make up a batch of your own and use it as you see fit. Brookes describes her bacon jam as "the ultimate combination of sweet and savory" and says it can make for "an amazing addition to your cheese on toast." (That's British for grilled cheese sandwich.) In her version of this recipe, she calls for a secret ingredient: coffee. As she tells us, the coffee "helps to enhance the flavors of the other ingredients and adds a slight bitterness to balance the sweetness."
Gather the ingredients for classic bacon jam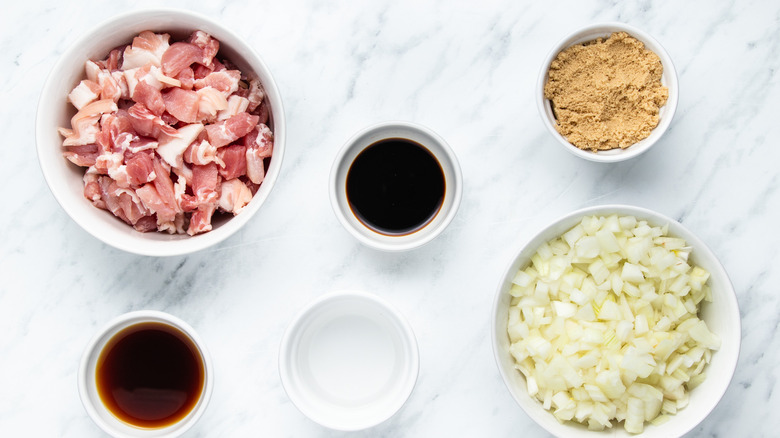 Catherine Brookes/Mashed
To make this jam, you'll start with a pound of bacon. You're also going to be using the aforementioned coffee — this would be brewed coffee, just the standard strength stuff, but you're probably going to want to avoid anything flavored. Other ingredients you'll need for this jam include balsamic vinegar, brown sugar, and onions.
Cook the bacon and the onions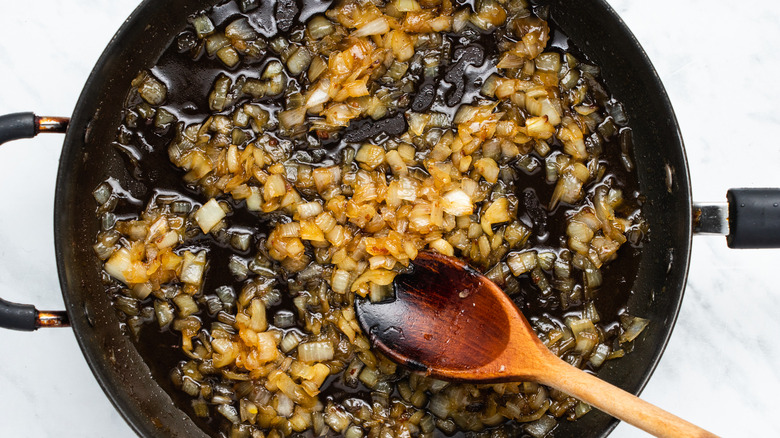 Catherine Brookes/Mashed
Fry the bacon over medium heat until it's nice and crispy. While Brookes likes to chop up her bacon before she cooks it, she does note that you could fry whole pieces as well. Either way, you'll want to end up with fully cooked and chopped bacon pieces.
Once the bacon is done, which Brookes says may take about 10 minutes, remove it from the pan and fry the onions in the bacon grease. You'll cook them for about 5 minutes until they start to soften, then stir in the sugar, lower the heat, and cook them for another 30 minutes or so. While you don't need to be constantly stirring the onions, you should try to do so every few minutes so the onions do not burn or stick to the pan.
Simmer the jam until it thickens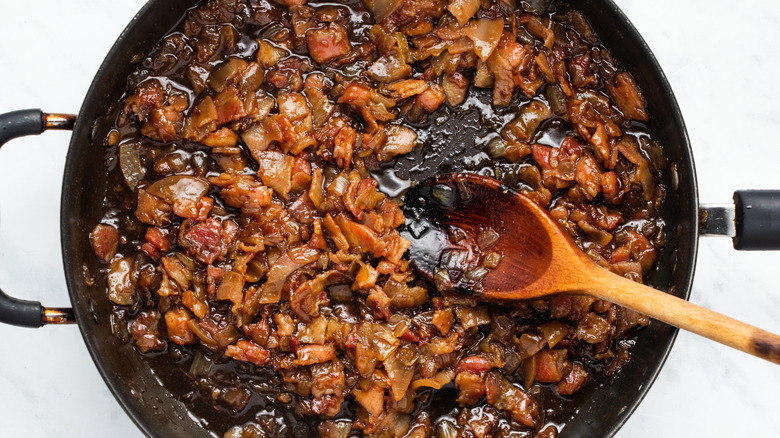 Catherine Brookes/Mashed
Return the bacon bits to the pan, then stir in the water and coffee. Simmer the jam for another 30 minutes until it thickens up. Turn the heat off, then stir in the vinegar. Let the jam cool completely in the pan before transferring it to an airtight container.
Refrigerate the jam until ready to use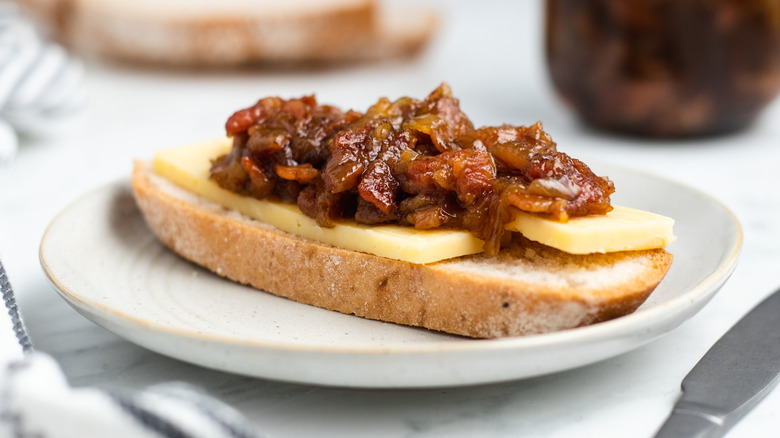 Catherine Brookes/Mashed
Brookes tells us that this bacon jam is "great with cheese and crackers or on a grilled cheese," and goes on to say "you could add it to burgers [or] hotdogs." You might also enjoy it on a chicken breast or steak, use it in an omelet or a salad dressing, or just spread it on a slice of bread or toast. While you're figuring out what to do with the bacon jam, though, make sure to keep it in the fridge since it would be a shame if it spoiled before you got around to using it.
Classic Bacon Jam Recipe
Bacon jam might sound like a strange combo, but one taste of the perfectly sweet and savory flavors will convince you otherwise.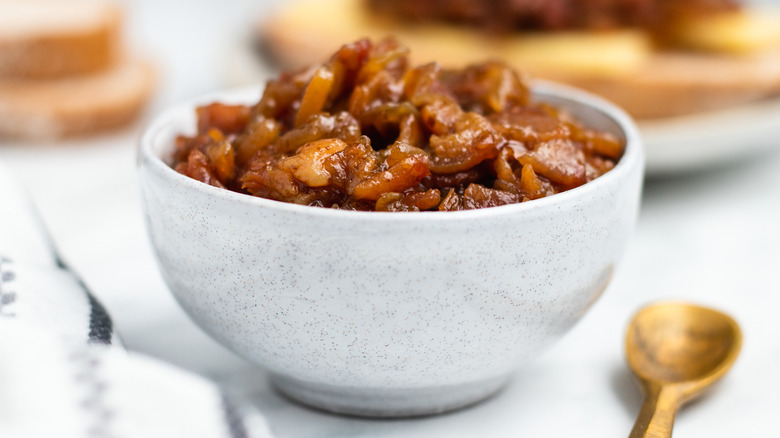 Ingredients
1 pound bacon, chopped
2 sweet onions, chopped
½ cup brown sugar
⅓ cup brewed coffee
½ cup water
2 tablespoons balsamic vinegar
Directions
Fry the bacon over medium heat until crisp, about 10 minutes.
Remove the bacon from the pan and add the onions to the pan, frying them in the bacon grease for 5 minutes, until they've softened.
Stir the sugar into the onions, then reduce the heat to medium-low and cook for 30 minutes, stirring every so often.
Return the cooked bacon to the pan along with the water and coffee.
Stir the jam, then simmer it over medium heat for 30 minutes or until thickened.
Take the pan off the heat and stir in the vinegar.
Allow the jam to cool in the pan before transferring it to an airtight container.
Store the jam in the refrigerator.
Nutrition
| | |
| --- | --- |
| Calories per Serving | 201 |
| Total Fat | 15.0 g |
| Saturated Fat | 5.0 g |
| Trans Fat | 0.1 g |
| Cholesterol | 24.9 mg |
| | |
| --- | --- |
| Total Carbohydrates | 11.0 g |
| Dietary Fiber | 0.5 g |
| Total Sugars | 9.4 g |
| Sodium | 257.5 mg |
| Protein | 5.2 g |