Red Lobster Just Added A New Catch To Its Seafood Summerfest Menu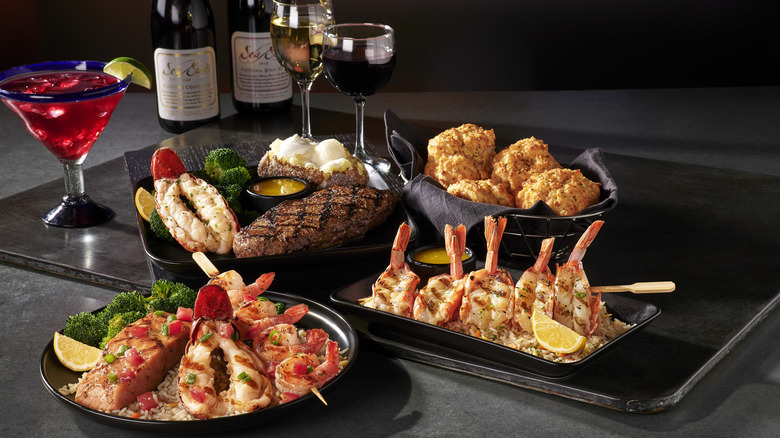 Red Lobster
As deals go, the Seafood Summerfest option at Red Lobster seems like a pretty good one. The popular menu offering allows guests to enjoy three courses for only $18.99 (plus tax and tip, obviously). The three courses include either a soup or salad, plus an "individual-sized starter," according to a company press release. Then, customers can choose from a list of entrees to finish off the experience.
Previously, Seafood Summerfest fans could choose from a list of four savory entrees. The first is a trio of grilled lobster, shrimp and salmon. Or, fans of red meat can opt for the steak & lobster meal, which includes a "wishbone Maine lobster tail and a NY strip." The live Maine lobster is another option that can be ordered either stuffed or steamed, and the Red Argentinian shrimp skewers (served atop orzo rice) is another popular option. Just in case none of those strike your fancy, Red Lobster has now added a new option to its Seafood Summerfest menu.
The latest addition to Red Lobster's Seafood Summerfest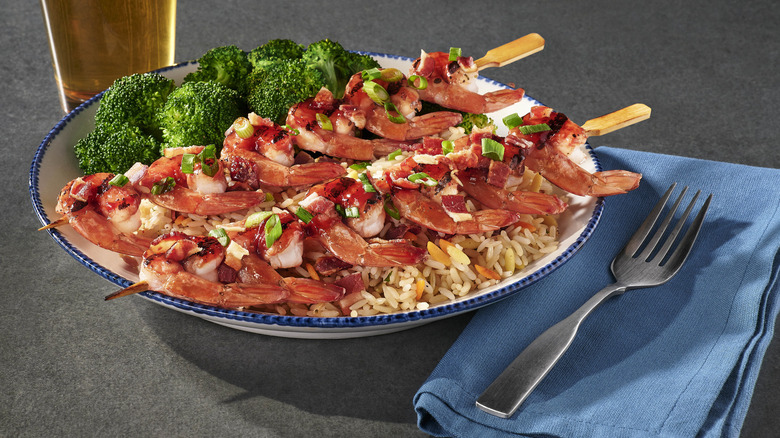 Although there were already two shrimp options on the Seafood Summerfest menu, Red Lobster decided to add one more this year. The brand-new BBQ Bacon Grilled Shrimp includes two "fire-grilled shrimp skewers," which ChewBoom says is glazed in a "sweet and smoky" barbeque sauce. The skewers are topped with both green onions and bacon and served on a bed of orzo rice, plus one additional side item. This and other Seafood Summerfest options are only available for a limited time, either in store or to-go.
The seafood chain also has a new line of adult beverages designed to complement the Seafood Summerfest menu. The Summer Sangarita is a blend of margarita and sangria, both big-time summer faves. The restaurant's wine list is also expanding, with new offerings like Sea Sun California Pinot Noir and Sea Sun California Chardonnay. And of course, each of the three-course meals comes with Red Lobster's ultra-popular Cheddar Bay Biscuits, which are so beloved that the chain is said to sell over 200 million biscuits a year.