Dave & Buster's Wants You To Party All Night In The Great Indoors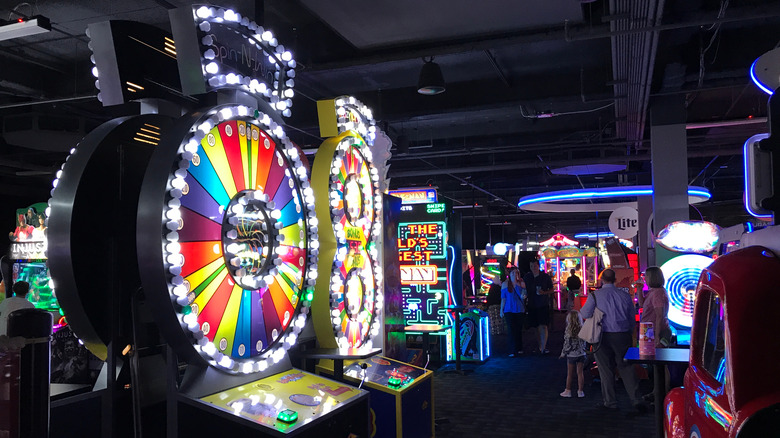 Jeff Bukowski/Shutterstock
Dave & Buster's has always taken the arcade concept to new heights. The chain first came together in the 1980s, when, according to its website, one man with a restaurant plan and another with an arcade idea decided to merge their visions to create one massive restaurant-meets-arcade. Since then, the company has continued to establish itself as a day-and-nightlife option for those looking for games, food, and drinks.
Recently, Dave & Buster's has been on a roll in terms of changing things up and improving customer loyalty. The chain recently unveiled a new spicy taco burger, per Guilty Eats, which is a limited-time menu item that comes with two mini tacos on top of the bun. Back in 2021, D&B remodeled its rewards program to offer more perks to consumers, and it also revamped its food menu to serve 28 all-new items. Plus, after the pandemic nearly pushed the entertainment company into bankruptcy, D&B had a record-breaking first quarter of 2022, with sales increasing by more than 24%, per FSR Magazine.
Now, D&B is aiming to grab customers' attention with another new concept: a one-night only bed and breakfast that's available to just one winner. 
Dave & Buster's introduces a bed and breakfast concept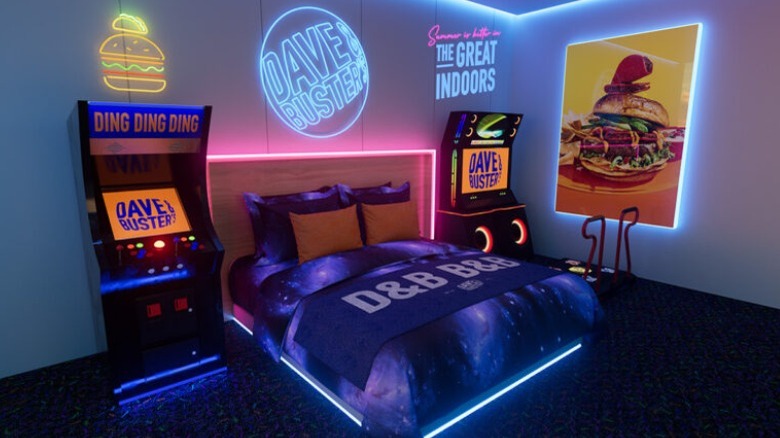 Dave & Buster's
A recent press release from Dave & Buster's reveals that the chain is offering one winner an overnight stay in a "D&B B&B" in Florida, complete with all the amenities of a bed and breakfast. The concept is simple: Hopefuls can enter online to win a one-night experience at a Miami Dave & Buster's location, which will turn its private event rooms into a suite for the winner and a few friends to enjoy an all-expenses-paid Dave & Buster's experience.
D&B is persuading customers to join its "night in the great indoors" contest by arguing, "Outdoors has extreme heat waves, murder hornets, and sharks. In fact, the outdoors kind of suck right now." Meanwhile, the B&B's neon-filled setup will include everything from a full-service cocktail bar and food menu to the chain's "entire selection of games." Fans of the idea can enter to win between June 20 and July 1; the winner will be crowned on July 11 and flown to Miami for the July 16 experience.