In Defense Of A Vegan Fourth Of July
The days of grilling a sad portobello mushroom for the one vegetarian or vegan guest at the Fourth of July barbecue are long gone. There are far more vegans and vegetarians now than ever before and there are so many better options than a grilled mushroom cap now. 
According to Plant Based Foods, the plant-based food market reached a record high value of $7.4 billion in 2021 and outpaced the growth of total food retail sales by 300%.
With more demand comes more variety, and this is evident in the grocery stores where several options of plant-based milks and plant-based meat alternatives line the shelves. Instead of a lonely veggie kabob next to all the juicy burgers and hot dogs on the grill, vegans and vegetarians have plenty of alternatives like Beyond Meat and Impossible that will make them feel included at the holiday cookout. Apart from these easy substitutions, there are a few Fourth of July favorites that are "accidentally vegan" for all to enjoy.
Having a vegan Fourth of July has never been easier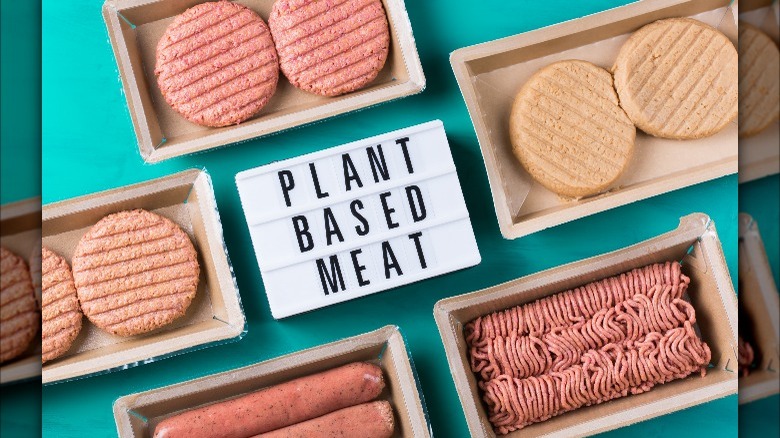 Antonina Vlasova/Shutterstock
Not only are there plenty of plant-based meat alternatives to throw on the grill, but there are abundant vegan options for dessert and drinks. According to VegNews, a couple of "accidentally vegan" pies can be found in the frozen aisle of the grocery store, like Claim Jumper's Dutch Apple Pie and Marie Callender's Lattice Peach Pie. Sierra Club has a recipe for a festive berry fruit tart that is a welcome replacement for the whipped cream-covered flag cake that can often be found at a Fourth of July gathering.
Beer is often the drink of choice for this summer holiday, and while many major brands are vegan, not all of them are, so Vegan.com has a guide for how you should fill your cooler. If you're not a beer drinker, instead of spending all day shaking cocktails, an easy, fun way to get everyone an ice cold beverage is adding a popsicle to your favorite wine or liquor (via VegNews). There are more vegan options out there now more than ever, so everyone's Fourth of July party can be as inclusive as possible.