Why Aarón Sánchez Just Recreated A Viral TikTok Recipe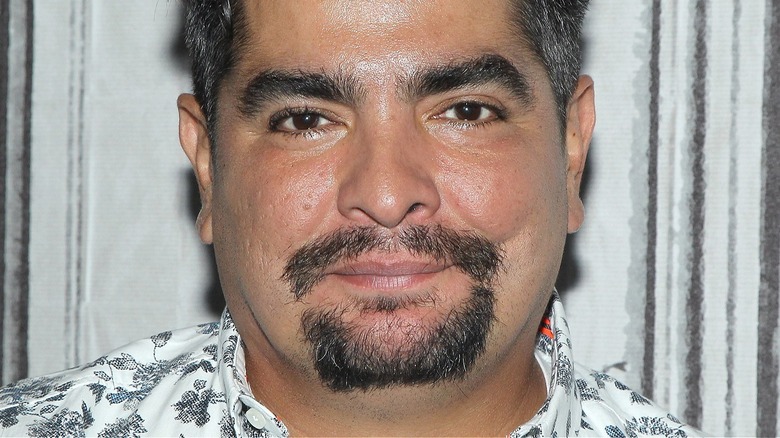 Jim Spellman/Getty
Nothing says "summer" like a fresh, crispy green salad. While many of us are content simply to toss some lettuce and veggies in a bowl, our favorite chefs know how to take this simple dish and elevate it into a true entrée and fulfilling meal. Of these salads, one green goddess salad went viral in 2021 in what Elite Daily lists as one of the "top TikTok recipes of all time," spawning many different celebrity salad takes. 
Lizzo made goddess chopped salad with lemon, while celebrity nutritionist Pooja Makhija includes apple cider vinegar and nutritional yeast in her dressing. Even "The Doctors" has featured a take on this viral recipe.
The original recipe is by "Baked by Melissa" owner Melissa Ben-Ishay, who launched the TikTok that has the world now eating salad with corn chips. Proving a good recipe doesn't retire, summer has inspired Food Network's Aarón Sánchez to add his own expert and unique twist on this dish, inspired by his "love" of the recipe, as shared by PR to Mashed.
A truly Chopped salad
What could be more fitting than a chopped salad for a "Chopped" chef and judge? OK, to be fair, the Aarón Sánchez green goddess salad is prepared a little differently than the original by Melissa Ben-Ishay. In Ben-Ishay's version, all the assembled greens are gathered and chopped into bite-sized, or coleslaw-sized pieces. Ingredients for Ben-Ishay's combo, as listed by one follower, includes "cabbage, cucumber, chives. Souce [sic]: shallot, garlic, chives, olive oil, lemon/lime juice, rice vinegar, walnut, cashews, spinach+basil, [nutritional] yeast."
Chef Sanchez's version of the salad varies a bit in both ingredients and chopping style, but the green goddess scratch-made dressing is at the heart of the recipe. As shared by PR with Mashed, the Sanchez dressing uses cilantro, olive oil, HERDEZ Avocado Hot Sauce, toasted pumpkin seeds, kosher salt, scallions, garlic, and juice from a "smashed" lime.
Says Sanchez on TikTok, "I love @Baked by Melissa's Green Goddess salad, so I decided to do my own version with this Roasted Brussels Sprout Salad! My secret weapon? #HERDEZ Avocado Hot Sauce! Creamy, spicy, made with real avocados, it elevates any dish — main or side."
A Latin twist on the popular salad
Aarón Sánchez's green goddess salad drizzles this tasty, tangy dressing on top of a veggie-forward salad base. As shared with Mashed, salad ingredients include brussel sprouts, roasted delicata squash with olive oil, arugula, toasted pumpkin seeds, pomegranate seeds, cotija cheese, and salt and pepper. The celebrity chef layers in the arugula and vegetables before adding the freshly pureed dressing. Finish the salad with all the toppings, "Scatter the roasted vegetables, pepitas, and pomegranate seeds all over. Garnish with cotija and cilantro," the chef advises. 
Fans are definitely loving this green goddess twist. The TikTok original herself, Melissa Ben-Ishay, commented, "That avocado hot sauce tho! Need to try this one myself," to which Sanchez happily replied, "Mi reina," meaning "my queen," an apparent tribute to Ben-Ishay's skill. The spicy avocado sauce is a hit; another TikToker [TheKimKK] added, "Looks delish!!! I usually always have HERDEZ Avocado Salsa in my fridge as a back-up if I don't make fresh, thanks for recipe." 
But for most of us viewers, this salad simply adds another item to our summer eats list. As fans replied to the video, "This looks so delicious!" "Looks amazing chef!!" and "I need this in my life right now."