Why 'Pornstar Martinis' Can Be A Real Knockout For Some Drinkers
"Pornstar Martini" — What a fantastic name for a cocktail! Let's put that drink in the category of things I will never order sober at a bar, which includes cocktails like "sex on my face," "liquid Viagra," "the leg spreader," and "anus burner," amongst many more dirty named cocktails that could make a bartender blush. So who is behind the pornstar martini (and does everything seem like a euphemism now)? Douglas Ankrah created the cocktail for "The Townhouse Bar" in Knightsbridge, London in 2002.
A concoction of vanilla, passion fruit, and vodka with a prosecco chaser, "the pornstar," was created after Ankrah enjoyed something similar in Capetown, South Africa. The inspiration for the name is simply that Ankrah thought this is what a pornstar might order at a bar, although a competing theory suggests the cocktail was named after the fragrance of a pornstar's perfume. In 2017, Ankrah created a bottled version of the cocktail called "P*Star," which was named the UK's favorite cocktail the following year.
Like most things, the "pornstar" has evolved and can be made with tequila and rum instead of vodka, but vanilla sugar, passion fruit liqueur, and purée are essential. Aside from serving the cocktail in a martini glass, it is unclear why it's called a martini since vermouth is nowhere to be found (poetic license, I guess). The real question, however, is who to blame when something ugly happens; is it the cocktail or our judgment? 
Pornstar martini bottomless brunch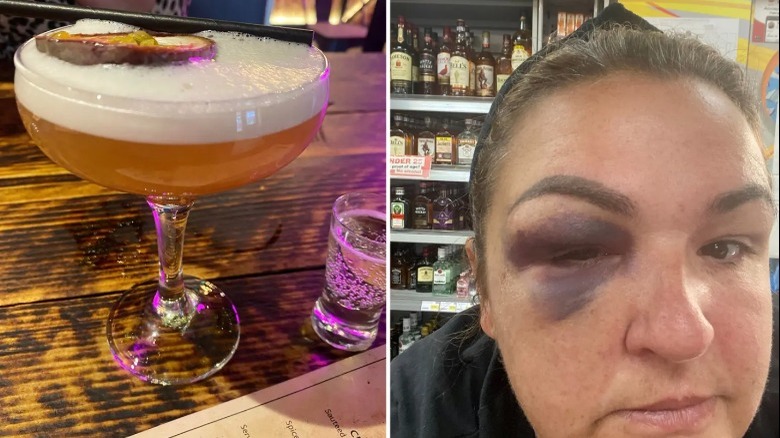 Nat Cooper
When Nat Cooper, 43, mother of six and grandmother of one, was celebrating her birthday with gal pal Siobhan at a bottomless brunch in Makerfield, England, she was partying like it was 1999. Pregaming with vodka drinks and a cider before double fisting for several hours with a "pornstar" martini in one hand and the bottomless prosecco in the other, Cooper remembers eating but not much else.
The New York Post reported that Cooper headed to the loo and took a spill, landing face-first into the toilet, then the floor, resulting in a black eye. Cooper had no memory of falling and refused medical attention or a ride home. Instead, she rallied and hit another pub, collecting a bag of ice from the bartender. We can all agree that Cooper was lucky that she wasn't seriously injured and that she can party like a rockstar, but it does beg the question: since Cooper was too intoxicated to police herself, who should have?
The Civil Rights Act of 1964 prohibits establishments from refusing service based on "race, color, religion, or national origin." The law does, however, allow bars to refuse service to patrons they feel are unhygienic, disruptive, or intoxicated, for their safety as well as others. In London, a similar law prohibits the sale of alcohol to drunk people, so it appears the establishment dropped the ball. Bottomless drinks sound like a good time, but clearly, we need to drink responsibly. Cheers!