The Sandwich-Inspired Aldi Dips Instagram Can't Get Enough Of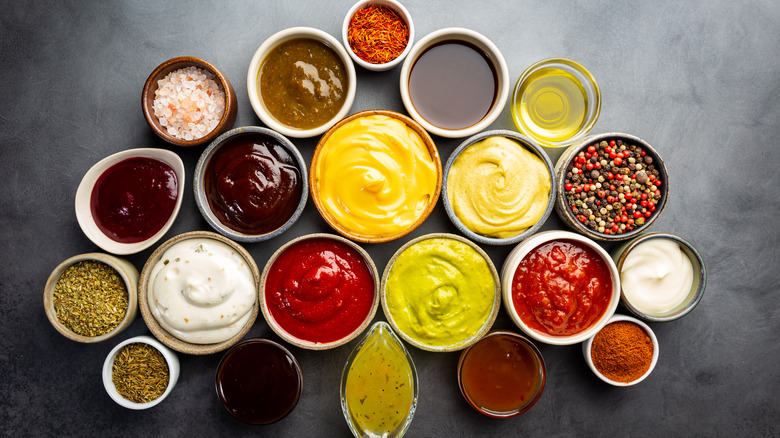 Goskova Tatiana/Shutterstock
Sandwiches are a household staple that we could, and possibly do, eat every day. Whether it's shwarma in a pita pocket or classic peanut butter and jelly with the crusts cut off, there are many forms. And humans have had centuries to pick their favorite kind. As noted by PBS, this food's history is intertwined with John Montagu, the Earl of Sandwich and purported creator of the convenient dish.
Sandwiches are so beloved that they might even feel like friends that you can eat. Perhaps few characters encapsulate our love for this meal wrapped in bread more than the Friends" character Joey Tribbiani. According to "Friends: The Official Cookbook," in one episode, he, Chandler, and Ross went "on a ride-along with Phoebe's boyfriend," who happened to be a cop. When the sound of the officer's backfiring car was mistaken for a gunshot, Joey showed quick thinking and bravery to save his meatball sandwich by using his body to shield it and was mistakenly perceived as trying to protect Ross. 
A good sandwich can really bring out those protective instincts. Maybe that sense of dedication is why so many Aldi fans are sharing their enthusiasm for some sandwich-inspired dips. But this time, there won't be any meatballs, and the friends of these sandwich flavors aren't just coming along for the ride.
Aldi is offering gyro- and Reuben-inspired dips
The Aldi-friendly Instagrammer, Aldi Favorite Finds, took to the social media platform to share two sandwich-inspired dips the German-owned retailer has on its shelves. Per the post, these creamy dips are fashioned after two popular sandwiches: the Reuben and the Gyro. According to the grocery store's website, these dips were created by Park Street Deli. The Gyro style dip is described on the label as made with beef, cream cheese spread, and feta, while the Reuben dip features cured beef, cream cheese spread, and sauerkraut. They are selling for $3.99 at this location, but as the website notes, costs and availability might be different across stores. 
Apparently, IGers are feeling the vibes of these sandwich-inspired dips with one fan sharing, "I did both and I'm obsessed." And another who was team Gyro offered this pro-sandwich-making tip, writing, "I got the gyro dip and put a spoonful in a wrap with lettuce, tomatoes and pickles for a homemade gyro. It was delicious." Naturally, Reuben lovers had to chime in. User sgrieger_7777 described their dip-based take on a classic sandwich: "the Reuben with gouda slices. Swiss cheese. Kraut. All on the best sourdough...Aldi!! =best grilled cheese."