Paula Deen's Husband Claims This Is The Best Tuna Salad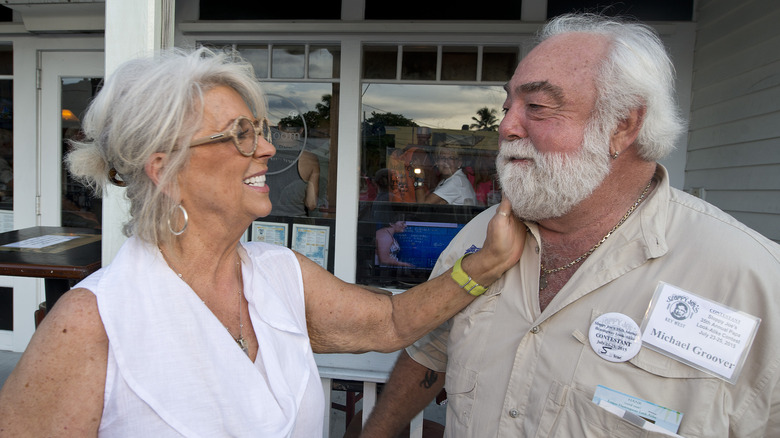 Handout/Getty Images
If Mt. Rushmore honored celebrity chefs, it's very possible that Paula Deen would be smiling down upon us. She's a part of celebrity chefdom history: After divorcing her first husband in 1989, Deen became The Bag Lady, operating a catering business from her home in Savannah, Georgia to support her family. The Bag Lady soon morphed into The Lady & Sons, an award-winning restaurant. After Deen's first two cookbooks hit bookstores, the restaurant became a foodie destination known for Southern comfort food. More cookbooks and restaurants, cookware lines, and an 11-year stint on the Food Network followed before a scandal nearly derailed Deen's career.
If there's anyone who embodies the phrase "Like mother, like son," it's Deen's sons, Jamie and Bobby. The brothers helped Deen deliver lunches for The Bag Lady and assisted with the opening of The Lady & Sons. They're even celebrity chefs in their own right — the two co-hosted Food Network's "Road Tested" and "Southern Fried Road Trip," and Bobby hosted the Cooking Channel show "Not My Mama's Meals." The brothers are also successful authors and continue to operate the family's flagship restaurant.
But what about Deen's second husband, Michael Groover? You'd think she found her happily-ever-after with a chef or a food critic. Try a tugboat captain! The couple married in 2004 — and Mr. Paula Deen knows his way around the kitchen. Groover can whip up a hearty seafood smorgasbord and knows how to make a delicious tuna salad with one particular ingredient he swears by.
Use tuna packed in oil for tuna salad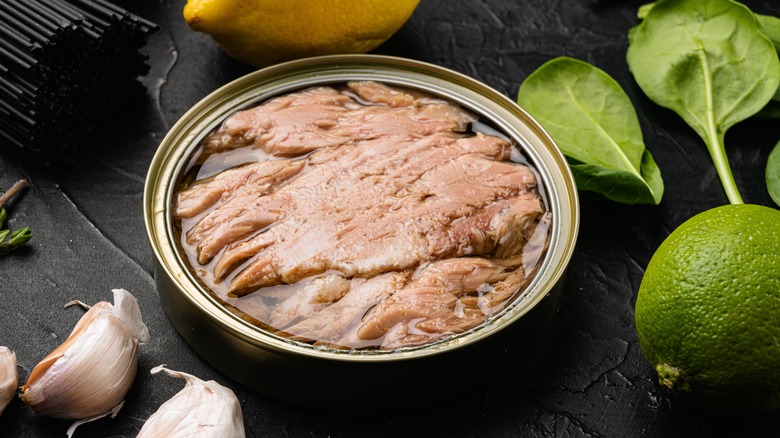 Ilia Nesolenyi/Shutterstock
What happens when a tugboat captain and the queen of Southern cooking are in the kitchen together? "World-famous" tuna salad happens ... served with a side of playfulness. Groover appeared with his wife on an episode of "Love and Best Dishes" on Deen's YouTube channel. "I'm gonna make my world-famous tuna salad if Paula will allow me to do it without too much instructions," he says. "I don't tell you how to do your tuna," Deen retorts with her signature laugh. "Oh, she does, she does," says a deadpanned Groover.
Paula Deen won't be hovering over your shoulder, so use oil-packed tuna to make this tuna salad. Tuna packed in oil is more flavorful and tender due to its moisture, but it has more calories than its water-packed counterpart. According to the USDA, a 6.5-ounce can of tuna in water contains 150 calories; the same size can of tuna in oil contains 317 calories. No matter what kind of liquid your tuna is in, you need to drain it and break up the tuna into smaller pieces, then mix with some diced onion, celery, and hard-boiled eggs. Add dill pickle relish, mayonnaise, and black pepper to taste. Easy-peasy!
You know this tuna salad is a legit contender for world-famous tuna salad when Deen's video shows Groover experiencing complete and total bliss after the first bite. "I've never seen him make that kinda face over anything I've ever cooked," Paula quips.