Qdoba's New Virtual Offering Is Pure Gold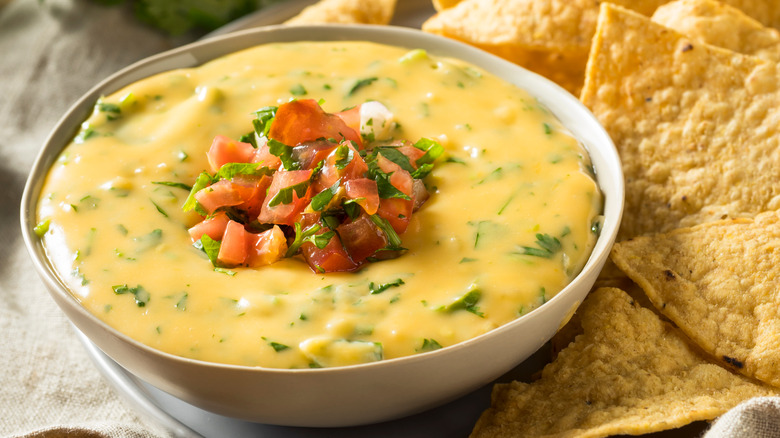 Brent Hofacker/Shutterstock
The country's third-largest Mexican restaurant chain is reinventing itself yet again with a gilded new menu available exclusively online. Qdoba, which notoriously keeps changing its name, has revealed yet another iteration of itself made with cheese lovers in mind. In a press release, the chain announced the debut of their glitziest business move yet: a new virtual-only brand dubbed Pure Gold by Qdoba. The specialty Pure Gold menu, which will be available exclusively through third-party delivery apps, will revolve around the chain's popular gold-hued 3-Cheese Queso.
The Mexican chain, which has been serving customizable burritos, tacos, quesadillas, and salads since the mid-90s, has grown throughout the years into a fast casual juggernaut with over 740 locations across the U.S. Now, with their latest menu innovation, Qdoba hopes to reach more customers than ever — and maybe even snag some cheese-loving customers away from Chipotle.
"The launch of our Pure Gold virtual brand gives guests a convenient and craveable delivery experience," said Karin Silk, Qdoba's Chief Marketing Officer. "Pure Gold fulfills a promise of simple indulgence by bringing guests new ways to enjoy our signature queso." Although the brand's initial Pure Gold rollout confused some Qdoba customers — including one Redditor who asked, "Is Pure Gold a Mexican ghost kitchen operating out of the kitchen of a Mexican kitchen (Qdoba)?" — the company hopes that the online menu will help propel their notable recent growth even further (via Nation's Restaurant News).
The Pure Gold menu will be available exclusively online
Chief Marketing Officer Karin Silk said in the press release, "The exclusive online menu features loaded quesos, leveled-up quesadillas, and unique tacos — all served with bold flavor and just the right amount of attitude." The Pure Gold menu will feature three categories of exclusive dishes available only to delivery app customers. The first is a series of loaded quesos, consisting of the brand's 3-cheese queso topped with a variety of toppings and served with a side of tortilla chips. The specialty loaded queso flavors will include a Priceless Pork Verde Loaded Queso (topped with pulled pork), Hot-Bling Honey Chicken Loaded Queso (featuring Cholula Hot and Sweet chicken), and the So Rich Loaded Queso (with the guest's choice of protein).
Also featured on the menu are 24-Karat Quesadillas, a cheesy twist on the chain's classic quesadillas, and Gold Rush Tacos featuring queso-topped tortillas complete with the proteins and toppings of your choice. Qdoba fans can order the Pure Gold menu now exclusively through major delivery apps like DoorDash in select cities. To encourage queso fans to give the new menu a try, Qdoba is giving customers $5 off any Pure Gold order of $25 or more placed through DoorDash now through July 6. As for the lactose intolerant among us, it might be best to skip this extra-cheesy menu — or at the very least, take your lactose pills before digging in.