Why Summer House's Mya Allen Has A Food 'Issue' With Her Boyfriend Oliver
"He's a 10, but...." TikTok aficionados know the recent popularity of videos that start with a promising relationship start — an attractive and appealing partner — but go on to mention a quality that could be a deal-breaker in the relationship (per the New York Post). Things like, "He's a 10, but he hates Harry Potter;" a clear no-fly zone for fans of the eponymous series. Or, for the foodie set, there are things that can offset a person's lack of physical attractiveness, "He's a 3, but he rolls his own ravioli." Hmmmm ... it can go both ways, you see.
Baker extraordinaire and "Summer House" star Mya Allen is no stranger to the problem. She and Oliver Gray had their first date at the end of March, and she rated the experience a "10 out 10" according to Bravo. While all reports suggest that her relationship with Oliver Gray is going strong (as reported by Films News Feed), there is one small issue that we hope does not destroy the adorable couple's budding connection. Not surprisingly, it has to do with food.
Just say no to white condiments?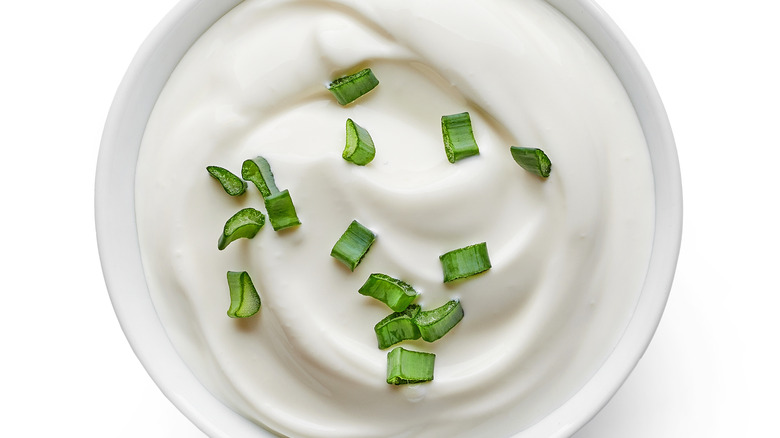 MaraZe/Shutterstock
Sad, but true, Oliver Gray apparently has a distaste for all white condiments. All. Of. Them. And the phobia is not without precedent, according to The Counter.
We don't just mean outlier stuff like blue cheese dressing, either. As Bravo points out, the otherwise-delightful man eschews mayonnaise and even turns his nose up at sour cream. Sour cream? Yup, you heard that right. Mya Allen is working on him, though, and if anyone can convince him, we're sure she's the one to do it. And hey — since a great recipe has converted many a disbeliever. It's definitely worth seeing if a really fresh homemade mayonnaise or sour cream would make Oliver change his tune. Mya could start out with some low-hanging fruit, like sour cream caramel sauce. Maybe Oliver wouldn't realize it had the dairy product in it and things could develop from there ... either way, we hope this is one romantic roadblock that gets worked out soon.