The Unexpected Ingredient That Will Majorly Upgrade Your Pimento Cheese Recipe
It's generally agreed that pimento cheese is a staple of Southern cuisine, but there's a healthy debate about what goes into the rich spread. The basics are mayonnaise, cream cheese and/or shredded cheddar, peppers, and spices, but families each have their own recipes passed down through the generations (via Serious Eats).
Many people swear by a particular brand of mayo: "If you aren't using Duke's, you're doing it wrong," declares Southern Living. Even the addition of pimentos can be called into question. Southern Living notes that, when good farmers market pimentos can't be found, the canned ones in jars are too bland and watery to make a good dip — so make a simple ingredient swap and use roasted bell peppers instead. The recipe for pimento cheese famously served in sandwiches at the Masters Tournament even calls for a little blue cheese, per Golf. However, there's one surprising ingredient that will take this Southern classic to the next level.
Pump up your pimento cheese with pickle power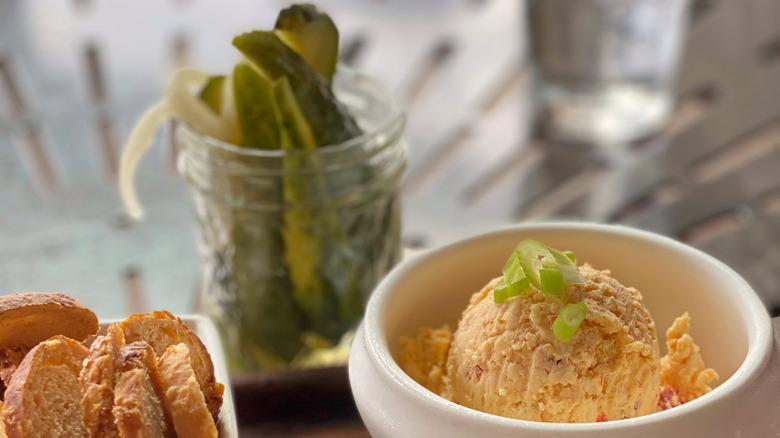 Brookie Cookie/Shutterstock
Pickle juice is an unexpected workhorse of kitchen hacks. You can use your leftover pickle juice for anything from marinating meat to kicking up cocktails, per Bon Appetit. Pickle juice is also the ingredient you never knew your soup needed. Turns out, the herbaceous acidity of pickle brine is also a major upgrade to your pimento cheese dip.
Try subbing in pickle brine one-to-one in place of vinegar in your classic Southern pimento cheese to add a crispness that also matches the onion and mustard your recipe might call for. This will work even if vinegar isn't part of your ingredient list, since the fatty richness of the mayo and cheese will help balance out the extra acidity (via Food & Wine).
And while dill pickles are delicious, you can even reach for other brines besides the classic Kosher sours. In an exclusive recipe for Mashed, recipe developer Erin Johnson says you can get spicy by using brine from pickled jalapeños in your pimento cheese, for instance.