From-Scratch Cinnamon Rolls Recipe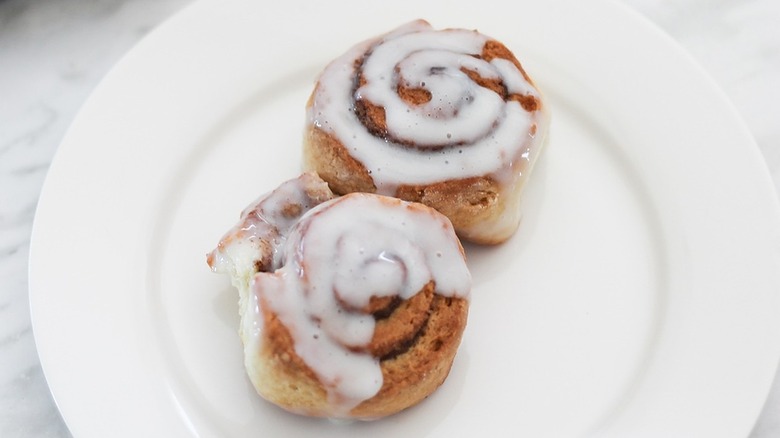 Melissa Olivieri/Mashed
Cinnamon rolls are something that many visitors to this country may think of as the quintessential American breakfast — after all, airports all over this land are filled with the ubiquitous scent of Cinnabon. Cinnabon doesn't own a patent on these rolls, though, so why not try making them at home? While from-scratch yeast rolls can be time-consuming, recipe developer Melissa Olivieri says of her quick and easy recipe, "These cinnamon rolls are amazing ... because they do not use yeast and require no rise time." In lieu of yeast she uses yogurt, an ingredient that she says "helps to keep the buns moist and adds a slight denseness to them."
Not only does Olivieri use yogurt in the dough, but she's also chosen to replace the cream cheese typically used in the frosting with vanilla yogurt. Olivieri explains that the yogurt "gives a nice tang to add to the sweetness of the powdered sugar," adding that "yogurt is a healthier alternative to the usual cream cheese frosting." Don't worry, you likely won't even be able to tell the difference between the yogurt-based frosting and the traditional cream cheese kind.
Gather the ingredients to make these cinnamon rolls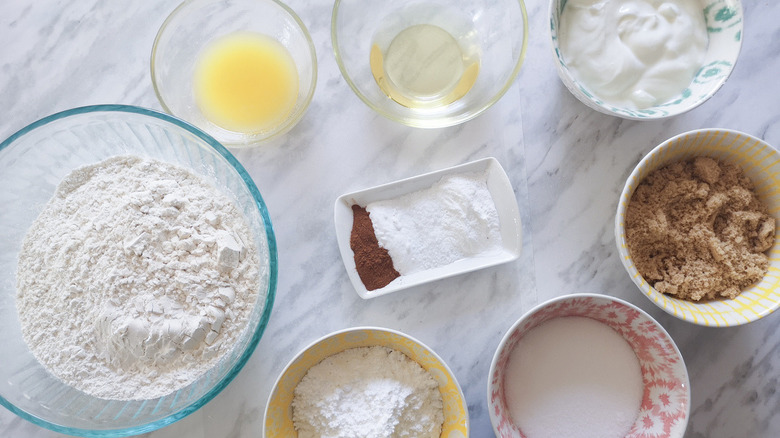 Melissa Olivieri/Mashed
To make the dough for these cinnamon rolls, you'll be using flour, granulated sugar, baking powder, baking soda, salt, vanilla Greek yogurt, and vegetable oil. For the filling, you'll need butter, brown sugar, and cinnamon. The frosting used here is made from more vanilla yogurt mixed with powdered sugar. Olivieri also says that you can use plain yogurt in place of the vanilla, but cautions "that your rolls won't be as sweet" if you do. She also suggests adding extra vanilla if you opt for plain instead of flavored yogurt.
Make the dough for the cinnamon rolls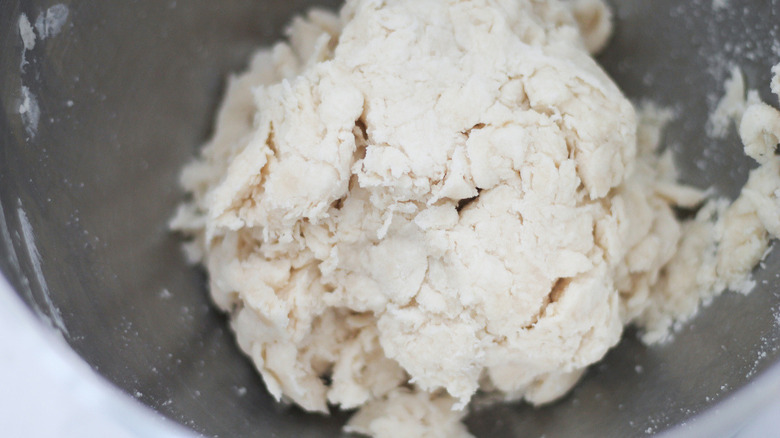 Melissa Olivieri/Mashed
Mix the granulated sugar, flour, salt, baking powder, and baking soda, then mix these with the oil and ¾ cup of yogurt. You should now have a loose dough. Olivieri starts off by kneading her dough in a stand mixer on a low speed for 30 seconds in order to get it to come together, but then transfers it to a floured counter top to finish kneading by hand for 3 minutes, or until it forms a ball. If you prefer to save a step (and some dishwashing), you can just skip the mixer and do all of the kneading by hand.
Once the dough is kneaded, roll it out to make a rectangle about ¼-inch thick, 8 inches wide, and 10 inches long.
Fill and bake the cinnamon rolls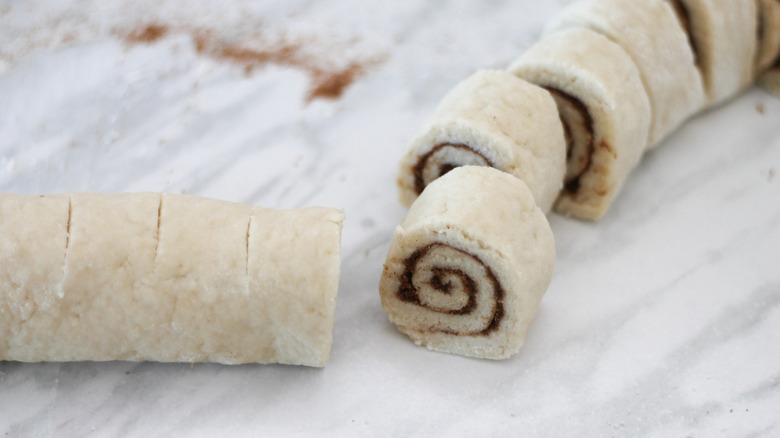 Melissa Olivieri/Mashed
Brush the dough rectangle with the butter. Mix the brown sugar and cinnamon, pressing out the lumps, and sprinkle the mixture over the buttered dough. Roll the dough up into a cylinder, then cut it into 12 slices. Put the rolls in the greased pan. While they may be a bit crowded, it's fine if they touch.
Bake the rolls for 13 to 15 minutes, then check to see if they are done. When cooked, they should be golden in color. Take them out of the oven and let them cool before you frost them. As they cool, you can make the frosting itself. Mix the yogurt with the powdered sugar. Once the mixture is reasonably smooth, use it to frost or glaze the cinnamon rolls.
Frost the cinnamon rolls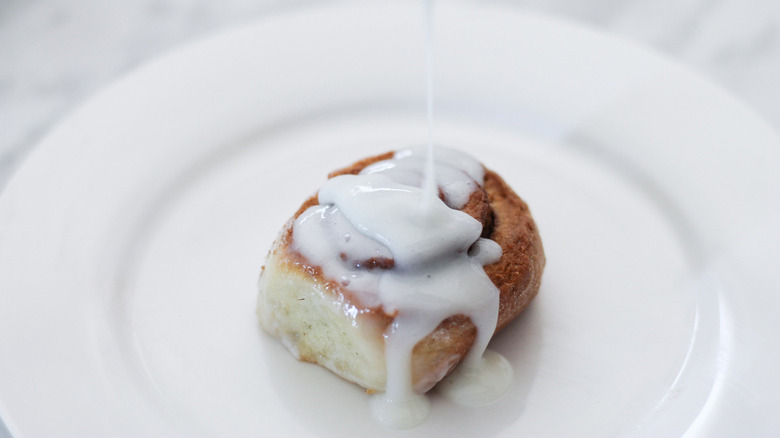 Melissa Olivieri/Mashed
Now, you can drizzle that frosting right onto the cinnamon rolls, then serve and enjoy.
Olivieri notes that "you can freeze these [cinnamon rolls] before baking so they are on hand when you want them." While you don't need to thaw them before baking, she does say that you'll need to bake them for a few minutes longer if they're straight out of the freezer. Hold off on making any type of glaze or frosting until after these pre-made rolls have been baked.
From-Scratch Cinnamon Rolls Recipe
These cinnamon rolls are warm and sweet, and believe it or not, you don't need yeast to make them.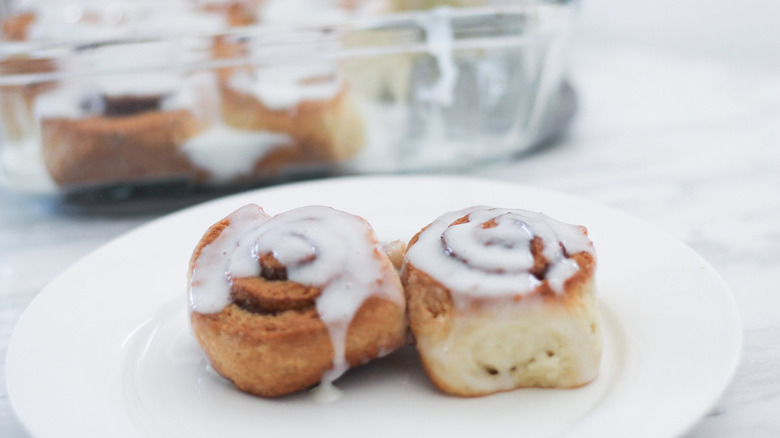 Ingredients
For the cinnamon rolls
¼ cup granulated sugar
2 cups all-purpose flour
2 teaspoons baking powder
1 teaspoon baking soda
¼ teaspoon salt
¾ cup vanilla Greek yogurt
¼ cup vegetable oil
2 teaspoons butter, melted
¼ cup brown sugar
1 tablespoon cinnamon
For the icing
1 cup vanilla Greek yogurt
1 cup powdered sugar
Directions
Preheat the oven to 425 F and grease an 8x8-inch baking pan.
Combine the sugar, flour, baking powder, baking soda, and salt.
Use a stand mixer to mix the dry ingredients with ¾ cup of yogurt and the vegetable oil to form a loose dough.
Knead the dough until it comes together, then continue kneading by hand on a floured surface for about 3 minutes until it forms a ball.
Roll the dough into a rectangle ¼-inch thick, and about 8x10 inches in width and length.
Brush the dough with the butter.
Mix the cinnamon and brown sugar, pressing out any lumps, then sprinkle the mixture over the dough.
Roll the dough into a log and cut into 8 slices (they will be about 1 inch thick).
Put the cinnamon rolls into the greased pan.
Bake the cinnamon rolls for 13 to 15 minutes, until they are golden and the dough is cooked through, then let cool.
Mix 1 cup of yogurt with the powdered sugar until smooth.
Top the cooled cinnamon rolls with the yogurt glaze, and serve.
Nutrition
| | |
| --- | --- |
| Calories per Serving | 228 |
| Total Fat | 7.7 g |
| Saturated Fat | 2.1 g |
| Trans Fat | 0.1 g |
| Cholesterol | 7.3 mg |
| | |
| --- | --- |
| Total Carbohydrates | 35.1 g |
| Dietary Fiber | 0.9 g |
| Total Sugars | 18.3 g |
| Sodium | 203.0 mg |
| Protein | 5.3 g |