Boston Beer Just Let Go Of A Nordic Beverage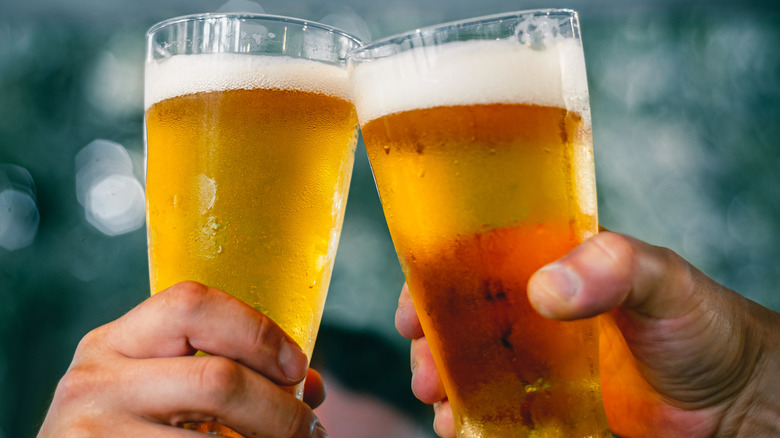 siamionau pavel/Shutterstock
That's all, folks. Less than a year after its debut, Boston Beer has officially discontinued its Bevy Long Drink. The Bevy Long Drink was inspired by the Lonkero, a cocktail of gin, tonic, and grapefruit soda originally developed by the Finnish government to celebrate the 1952 Helsinki Summer Olympics. Boston Beer's version left out the gin and instead incorporated wild juniper berries and citrus flavors into a malt beverage. It came in three flavors: the Hard Citrus Refresher, the Hard Berry Refresher, and the Hard Lemon-Lime Refresher (via Bevy Long Drink's website).
According to a press release from Boston Beer, the Bevy Long Drink hit stores in November 2021, but per VinePair, manufacturing of the beverage has since halted. If you're a fan of this Nordic-inspired drink, there's good news: It may not be discontinued forever. Apparently, the company "believe[s] that Bevy is a great-tasting product that is just a bit ahead of its time," Brittany Zahoruiko, Boston Beer's senior communications manager, told VinePair, adding that the company may "look to reintroduce it to select markets in 2023."
Why is Bevy Long Drink being discontinued and will it actually return?
So, what went wrong? VinePair says Boston Beer dropped $10 million in a launch campaign for Bevy Long Drink in March 2022, which, according to Brewbound, was called "Finnish Summers." The campaign was designed to depict the somewhat contradictory seasonal activities Nordic peoples engage in, as seen in one icy "Pool Party" commercial for the beverage. The intent was for "drinkers to be swept away to a Finnish wonderland," said Lesya Lysyj, Boston Beer Company's Chief Marketing Officer. The campaign was set to release on social media and on television, aligning with the March Madness basketball tournament. VinePair says the brand regrets the national rollout, claiming it should have marketed the "boundary-pushing product" on a "smaller scale" first.
Whether or not Bevy Long Drink does return to the market in 2023 remains to be seen, but if you count yourself as one of the forlorn Bevy Long Drink fans out there, you're not alone. Untappd reports the beverage has a 3.59 out of five star rating on its website based on 925 votes, suggesting the discontinued canned drink was in fact mildly popular.