What's So Special About Burger King's Hashtag Menu In Thailand?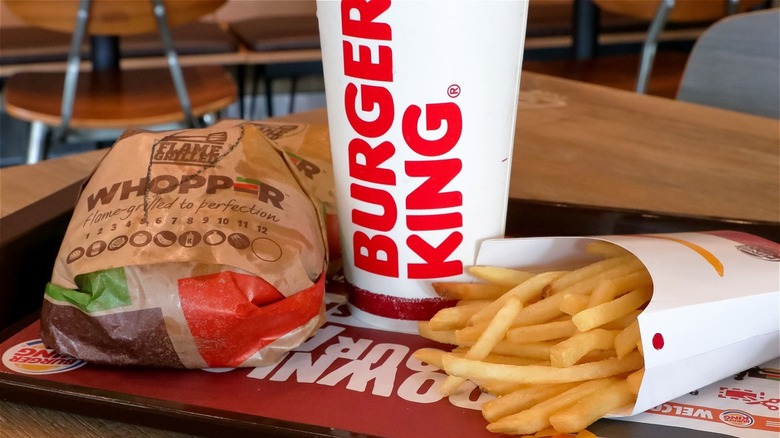 agencies/Shutterstock
If you've ever traveled to another country and stopped at a fast food chain for a familiar meal, you may have noticed a few menu options you've never heard of before. That's the great thing about traveling — you never know what gems you'll discover along the way! In Thailand, Burger King debuted its crisp Hashtag Fries along with a juicy Hashtag Burger for customers to savor for a limited time. The name is a clever nod to waffle fries being shaped like hashtags. With such a simple yet effective idea, it's easy to see that the Hashtag menu would be an absolute winner in America.
When you order the Hashtag Burger off the menu, you'll get to enjoy a flame-grilled 100% Australian beef burger with melty American cheese, BBQ sauce, rich mayo, and salty Hashtag fries between toasted sesame buns (via Chew Boom). This heavenly combination of flavors has burger connoisseurs here in the States watering at the mouth. But what makes the Hashtag menu so special?
The secret is in the hashtag fries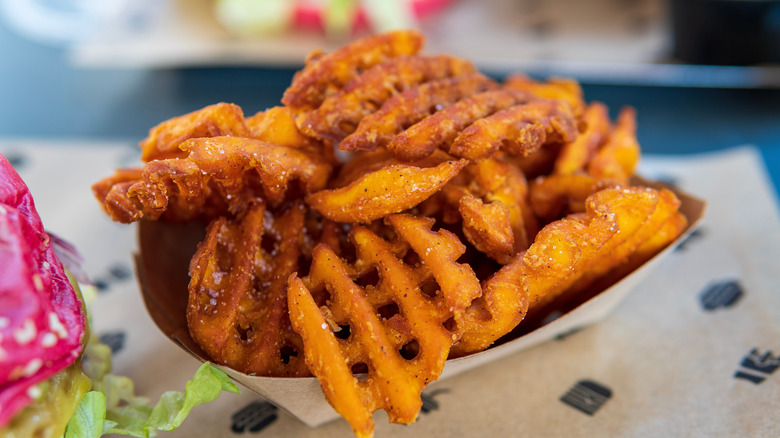 uniqueton/Shutterstock
Simply put, Burger King in Thailand has its potatoes imported from American growers. This gives a whole new meaning to having fries with your burger, which is a must! Its initial announcement in early April promoted the Hashtag Burger by describing it as, "Verified delicious with a layer of crispiness," via Instagram. Fry fiends who love theirs served hot, fresh, and seasoned to perfection might see this appetizing burger as the stuff of dreams. The fact that the Hashtag fries on the burger are both cheesy and BBQ-drenched is almost enticing enough to book a flight to Thailand!
Craving that satisfying crunch of biting into a Hashtag Burger for yourself? You could try recreating this tempting menu item at home by using a waffle fry recipe, or just cook up some store-bought waffle fries. Better yet, grab yourself some famous Chick-fil-A waffle fries and shove them into your favorite burger. An American foodie might not get to enjoy the Hashtag menu directly, but we can dream.