The Item Reddit Can't Believe Trader Joe's Is Discontinuing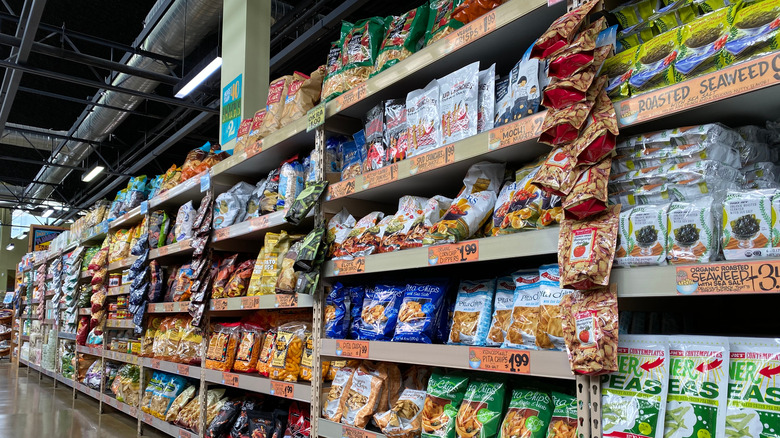 Larry Zhou/Shutterstock
Going to the grocery store to pick up your favorite item only to find it has been discontinued can feel like a personal attack. Some consumers who may know that feeling all too well are Trader Joe's shoppers. Over the years, a number of popular items have already seen their last days on the store's shelves including everything from chicken chile verde burritos to cookie butter cheesecake.
Though it may seem like Trader Joe's is simply out to crush dreams when it removes a beloved product from its lineup, there's apparently a method to the retailer's madness. According to its website, products that don't "earn" their keep are discontinued to "make room for something new." Trader Joe's also acknowledges that the removal of some items can be "devastating." Recently a shopper posted an image of one item labeled with an ominous "endangered" sign warning of the product's upcoming discontinuation, and Redditors weighed in with their feels.
Trader Joe's is discontinuing its dark russet potato chips
Fans of Trader Joe's dark russet kettle-cooked potato chips were in for some heartbreak after a Reddit post revealed the retailer's intention of discontinuing the snack. The post titled "RIP Dark Russet potato chips" (followed by a loudly crying face emoji) received feedback from several snackers who enjoyed the chip flavor. One of those disappointed Redditors wrote, "Oh no! These are my favorite chips." While another fan pondered the important questions: "How?? Why?!? These are so good and not like any other chip out there. And I thought they were quite a popular item."
Other Trader Joe's shoppers had somewhat different feelings about the dark russet potato chips. One person shared an observation: "At my store, they're consistently one of the worst-selling potato chips. Maybe the worst seller." Several helpful responses offered up substitutions for the chips including similar offerings from Cape Cod and Utz brands. As one Redditor points out, there may even be an upside for shoppers who are going to miss the dark russet potato chips. "These are my favorite chips! But on the bright side, I've definitely gotten my fill of them, and I actively have to resist purchasing three bags because I will eat them all in one sitting."