The Reason Some Aldi Shoppers Aren't Happy With Its Keto Cereal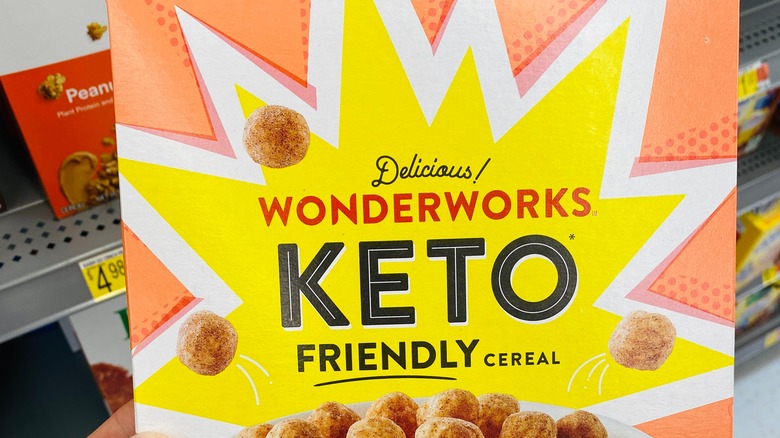 ZikG/Shutterstock
By now, many people have heard about the ketogenic diet. This way of eating consists of high fat, low carbs, and moderate protein as a way to improve your health and shed pounds. Healthline explains that by consuming a low amount of carbs, your body will be forced into a state of ketosis. In ketosis, your body will begin to burn fat rather than carbs, resulting in an increase in both physical and mental energy.
Per Healthline, the macronutrients of a standard ketogenic diet should fall in the range of 70% fat, 20% protein, and 10% carbs consumed in a day. In other words, some carb-filled foods that you think you could eat on a keto diet are simply not an option. This limits the amount of bread, pasta, and fruit you can consume. Typically, it also means that cereal is completely out of the question. Luckily, this changed when Wonderworks Foods came forward with a keto-friendly cereal that fits within the appropriate macros.
An explanation of the issues
According to Wonderworks Foods, this cereal comes in chocolate, cinnamon, peanut butter, or frosted fan, and it contains only 3 net carbs per serving. This makes it feel like a total win for keto followers who enjoy their morning bowl of cereal. Like anything, though, it comes with its problems. When Instagram account @aldi.mademedoit excitedly shared their Aldi's find, their comments section was flooded with complaints. One big problem is the price of the cereal itself. "Ours was $7.98 which absolutely insane for a box of cereal," one Instagrammer stated. Another commenter said that "More than 4.50 for cereal is crazy to me."
Another issue seems to lie in the actual flavor. "It is disgusting!!! Tastes like soggy cardboard," an Aldi fan said. "It's nasty and has a soapy aftertaste," another commented. Not every comment was completely negative. One user said, "I have tried the chocolate and it's good." Another shopper described the cereal as "not awful, but not very flavorful." The silver lining is that everyone is bound to have a different opinion. If you maintain a keto diet, you may want to try out Wonderworks Cereal and decide for yourself if it's right for you. You may also want to check out the 20 best keto cereals to learn about the available options.