Chrissy Teigen's Favorite Snack Isn't What You'd Expect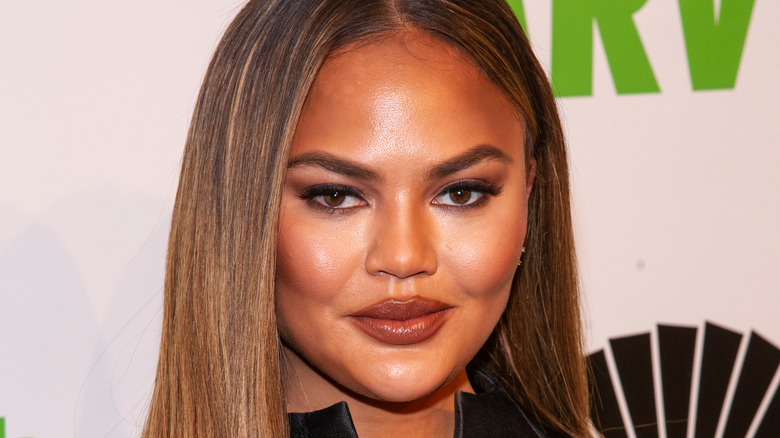 lev radin/Shutterstock
We can't help but love Chrissy Teigen. She is so authentic and relatable when it comes to food. Per Elite Daily, Teigen likes Shake Shack and partakes in Taco Bell's Doritos Locos tacos. She also tweets her love for the Del Taco chicken soft taco and likes to share the number of Jack in the Box's egg rolls she noshes on. The "Cravings" author's honesty is captivating and she has boldly gone where most celebrities are scared to go: the drive-thru window for a hot fresh fry from McDonald's. 
However, the celebrity cook also confessed that she is a fan of all things healthy and organic. In 2017, she told Delish, "When I cook, everything is organic and very clean; I'm meticulous and kind of insane about it." In 2021, Teigen told People, "I eat things when I want them. Because if I don't my mind personally goes crazy," she shares. "I kind of put my mind over body a little bit, mind and spirit over body. If it's going to make me happy and make me feel good, then I indulge in it." These two philosophies are what make Teigen's favorite snack so unexpected.
Doritos powder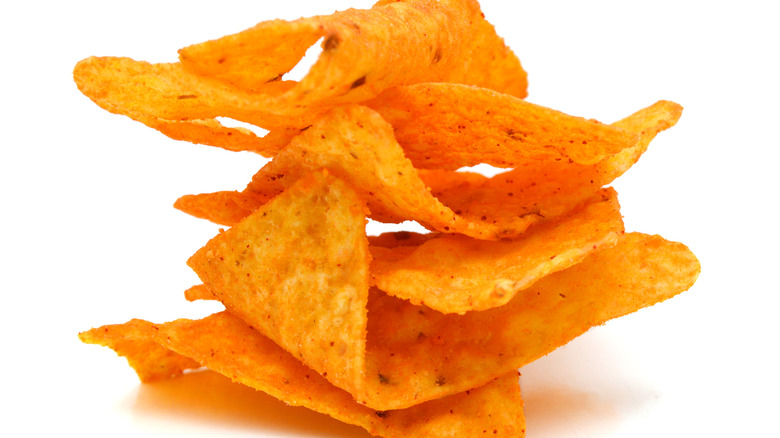 Hong Vo/Shutterstock
According to People, Teigen is a fan of Frito Lays Doritos dust and she is proud to say so. Teigen told Delish, "I lick off the nacho cheese seasoning and put the chips back in the bag. You still get all the flavor, not all the carbs!" Truth. Of course, we do wonder what she does with those chips she's licked and put back into the bag, but no judgment. That salty goodness from this savory snack is definitely delish. 
But what we really love about the judge of "Chrissy's Court" is how she creatively incorporates Doritos into some of her dishes. The foodie's love for the cheese-flavored tortilla chips prompted her to use them in her Cool Ranch Taco Salad recipe (via My Recipe Reviews). But that's not the only meal Teigen uses chips in. She also adds her favorite crunchy jalapeño potato chips to her tuna casserole that her hubby, John Legend, has been known to make.