Serena Williams' Daughter Looks Fit For Bridgerton In A Sweet Tea Time Pic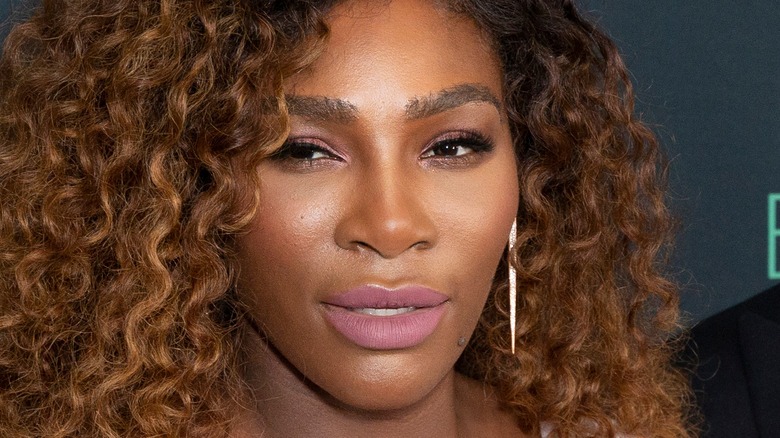 lev radin/Shutterstock
Every year in late June comes the annual rite known as Wimbledon, and what would a major tennis event be without a Williams sister or two? While Serena Williams was eliminated fairly early from the competition this year, she at least had a nice British vacation with the family: hubby Alexis Ohanian and the couple's 4-year-old daughter, Olympia. Since Reddit co-founder Ohanian apparently lives by the modern mantra of "pics or it didn't happen," we don't even have to guess at how Williams and her entourage are keeping themselves amused now that she's no longer busy lobbing tennis balls around.
We can't confirm for sure whether Olympia is a fan of period costume dramas, but it seems as if Mommy and Daddy might be binging the hit Netflix show, "Bridgerton." As a treat, the couple took their little princess to a Bridgerton-themed tea hosted by London's venerable Lanesborough hotel (despite the fact that, as The Telegraph points out, many Brits aren't fans of what they see as Netflix's very American spin on their history). As per Ohanian's photo spread posted to Instagram Stories (via People) and Twitter, Olympia was looking pretty in peach, but that didn't stop her from attacking the teatime spread with gusto. While she did have a cup of tea at her place setting, she was not shown to partake of the genial beverage. She did, however, imbibe what we assume was juice from a Champagne flute.
The Lanesborough's Bridgerton-themed tea is quite the elegant repast
What did the Williams/Ohanian family enjoy at that Bridgerton-themed tea? The meal is most definitely not a high tea, which is, contrary to what the name might imply, not the elegant meal you think it is. Tea at The Lanesborough, however, is quite the sophisticated spread, offering a selection of scones with clotted cream and fruit preserves (nothing so inelegant as jelly!); pastries with names such as The Queen's Diamond and The Lady Whistledown; and sandwiches of "egg mayonnaise" (British for egg salad), smoked salmon, roast beef, and coronation chicken. (The latter dish was created for the current queen and is therefore far too modern for the Regency period, but we'll magnanimously overlook the anachronism.)
The beverage selection includes a variety of teas ranging from classics like Earl Grey and Darjeeling to ones flavored with chocolate, mint, and even rhubarb. Grown-ups can also get a glass of Champagne (Moet & Chandon or Dom Perignon) or a Pall Mall cocktail blending gin and white port. The price for such munificence? Just £65 for a non-boozy tea (around $77 at current exchange rates), with the cocktail costing an extra £11 ($13) and the Champagne upgrade adding £15 ($18). While The Lanesborough doesn't seem to offer discounts for under-12s, Ohanian and Williams are, as they say, "not short of a bob or two," so they probably didn't bat an eyelash at paying full freight for the small fry.