Take A Dip Into Summer With Jeni's Pool-Inspired Ice Cream Flavors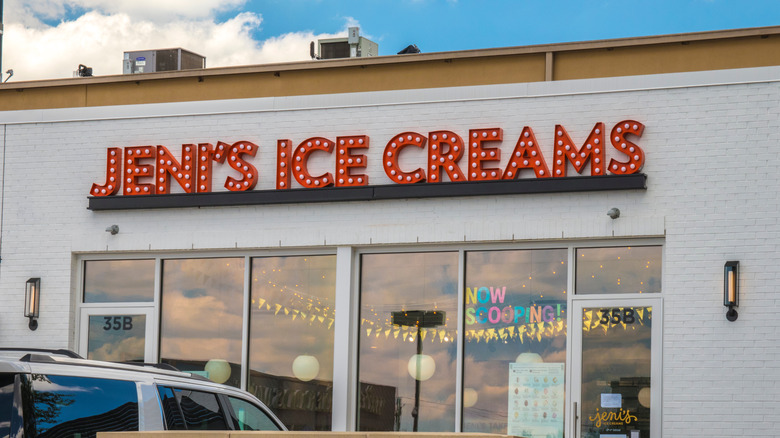 Billy F Blume Jr/Shutterstock
Swimsuit? Check. Sunscreen? Check. Floppy hat? Check. Lounge chair? Check. Pool float? Check. What else could we possibly be missing for a day of summer fun by the pool? Why, ice cream, of course! When it comes to ice cream flavors designed to be enjoyed by the pool, Jeni's Ice Cream did not disappoint this summer, recently dropping a line of five sun-inspired ice cream flavors in its "At The Pool" collection (via Jeni's website).
The "At The Pool" flavors include Watermelon Taffy (being sold now), described as "an uber creamy, tart candied watermelon" flavor; Golden Nectar (available July 7), which tastes like a "chilled summer chai with cracked caramel; Bombastix Sundae Cone (available July 14), a flavor featuring "double vanilla cream with gooey fudge and chocolate-covered waffle cone chunks;" Butterscotch Popcorn (to be released July 21), described as similar to a kettle corn taste with "sun-popped popcorn ice cream with a butterscotch crunch;" and Lemon Bar (available July 28), a vegan ice cream made from lemon curd with shortbread crust and coconut cream mixed in (via Chew Boom). Fans of the brand seem to have positive reactions to the exciting news.
The sweetest summer scoops are served poolside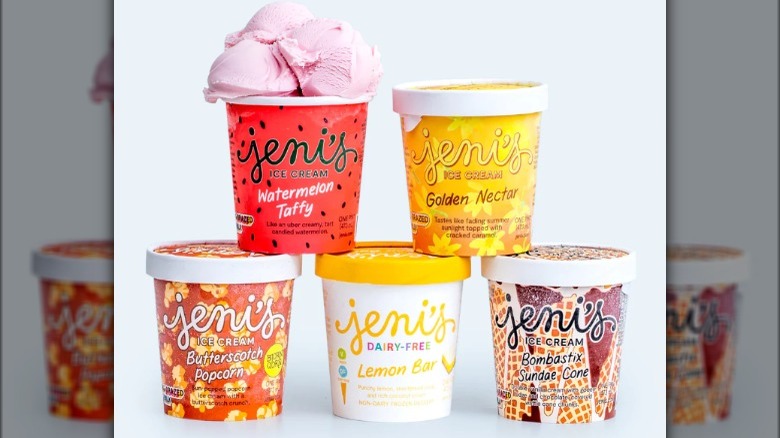 Jeni's Splendid Ice Cream
Jeni's fans have been raining hearts on the brand's social media posts promoting the release of the new summer "At The Pool" collection flavors. When Jeni's teased the release on Instagram on June 29, users took to the comments to share what flavors they hoped would return from previous summers, including the to-be headliner, Watermelon Taffy. "If it's not watermelon taffy I'm boycotting," wrote on Instagrammer while another chimed in, "Listen ... I have DREAMS about Watermelon Taffy." When Jeni's confirmed the return of Watermelon Taffy with another post, Instagrammers were just as excited, including a user who commented, "Running to a scoop shop RIGHT NOW."
You can currently head to Jeni's website to buy a set with one pint of each of the summer's five hit flavors for $58. Each flavor will also be released individually on the website for $12 per pint and in scoop shops on specific dates throughout July (via Chew Boom).