Chicken Chop Suey Recipe
Ting Dalton/Mashed
Chop suey is one of the most popular dishes you'll find on a Chinese-American restaurant menu, and each spot may have their own variation or spin. But while this dish is so universally associated with Chinese food, its roots are actually in the United States, albeit the specifics are murky. According to Food and Wine, one common origin story involves a Chinese diplomat named Li Hongzhang, who visited New York City in the late 1800s. He asked his chef to make a dish that would be suitable for Chinese and American palates. Another theory has the dish born out of a San Francisco restaurant feeding a bunch of rowdy miners.
Recipe developer Ting Dalton of Cook Simply UK came up with her own spin on chicken chop suey, and this is a dish that certainly evokes takeout, but on an elevated scale. "There are many stir-fry recipes, but this chop suey is a great Chinese dish full of sauce, tender chicken, and vegetables," Dalton shares. She also notes that this dish is reminiscent of a "staple Chinese dish" that her parents would make.
Gather the chicken chop suey ingredients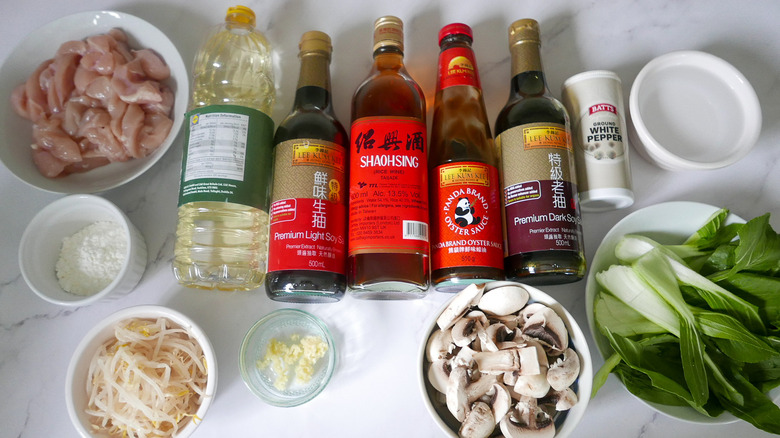 Ting Dalton/Mashed
For this recipe, you will need chicken breasts, cornstarch, oyster sauce, light soy sauce, dark soy sauce, Chinese cooking wine, water, minced garlic, vegetable oil, bean sprouts, mushrooms, bok choy, and white pepper. Have all those? Great, let's get cooking!
Marinate the chicken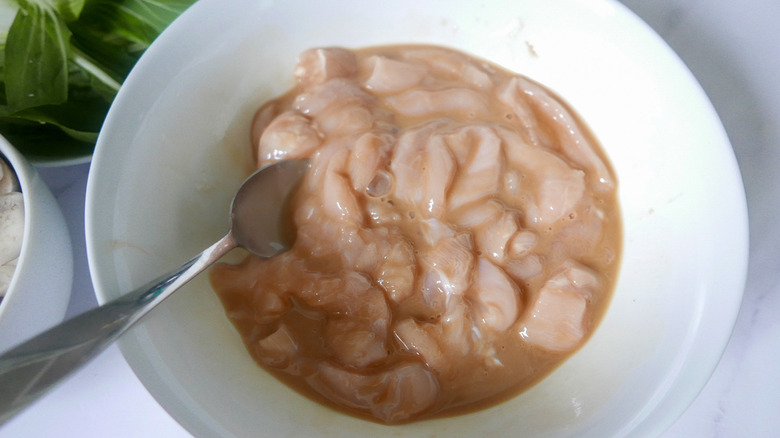 Ting Dalton/Mashed
Grab a large bowl and add the chicken. Next, throw in a bit of water, some of the oyster sauce, cornstarch, and Chinese cooking wine. Mix well, so the chicken gets coated evenly with all the ingredients. "The chicken becomes very tender when you marinade it for a few minutes with cornstarch and oyster sauce," Dalton explains. The latter, she says, "adds a distinctive earthy, sweet, and salty taste that adds a depth of flavor to this stir-fry dish."
Set this mixture to the side for the time being; we have some more prep to take care of.
Prep the sauce for later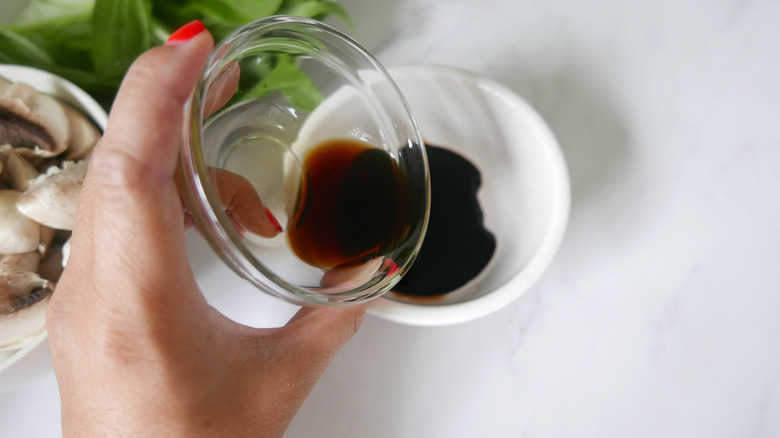 Ting Dalton/Mashed
Using a different bowl, combine the remainder of the oyster sauce with the light and dark soy sauces, remaining water, and pepper. Set that aside as well.
Heat the wok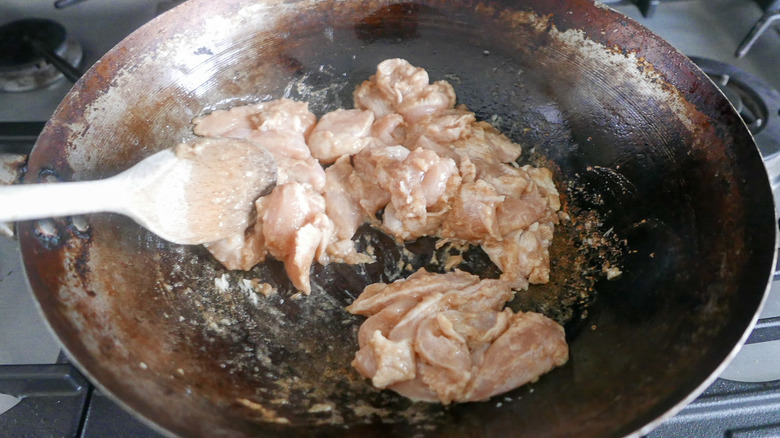 Ting Dalton/Mashed
Grab a wok (or a similar large pot or skillet). Toss in some oil and the chicken. Continue cooking the chicken until it's no longer pink in the middle; this should take about 2 to 3 minutes. Once thoroughly cooked, remove the chicken from the wok and transfer it to a plate.
Stir fry the veggies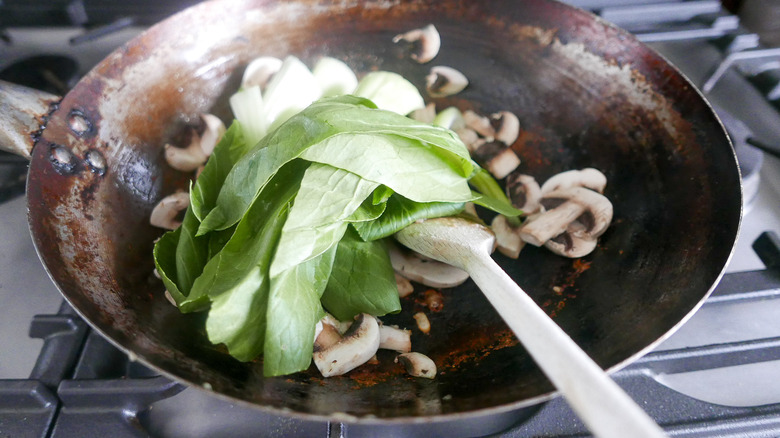 Ting Dalton/Mashed
Go ahead and add the remaining oil to the wok. Toss in the garlic, bok choy, and mushrooms. "You can use alternative vegetables including shredded carrots, onions, snow peas, Chinese cabbage, and baby sweetcorn," Dalton suggests. Stir-fry them for about 1 minute, and then add that sauce you prepared, letting it deglaze the bottom of the wok. As the sauce continues to cook, it should thicken a bit. Once it does, return the chicken back to the wok and give everything a good stir.
Add more water, cornstarch, and bean sprouts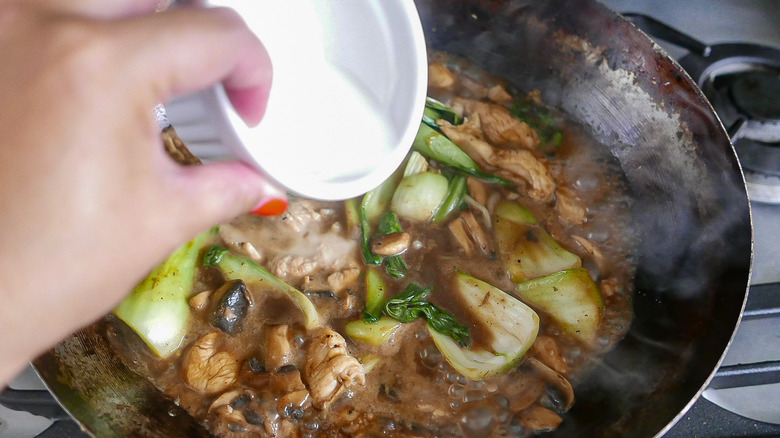 Ting Dalton/Mashed
Mix the remaining cornstarch and a little water to make a slurry. When you add that to the current sauce, it will help it to thicken more. The last thing you will need to add are the bean sprouts. Once again, give everything a good stir to combine.
Serve and enjoy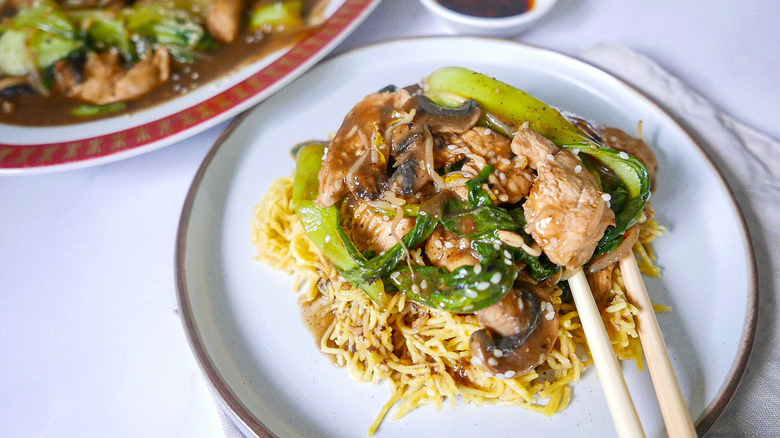 Ting Dalton/Mashed
This dish is certainly filling with just the chicken and the veggies. However, there are a few additional serving suggestions that make the dish even more substantial. "This is a dish with lots of delicious gravy, so [it would be] perfect served over noodles or rice," Dalton shares.
Anything left? "Leftovers can be frozen for up to 3 months, or kept in the fridge for up to 3 days," Dalton notes.
Chicken Chop Suey Recipe
Find out how to make this ever-popular, ultra-sauce, and endlessly riffable pick for Chinese takeout enthusiasts.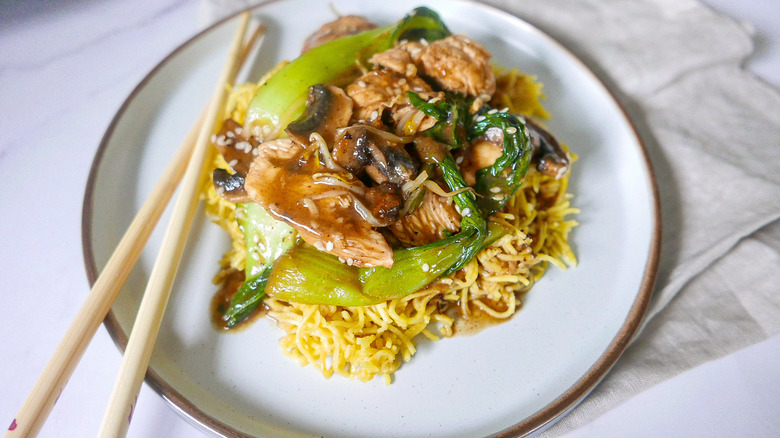 Ingredients
2 large chicken breasts, thinly sliced
1 ½ cups water, divided
3 tablespoons oyster sauce, divided
5 teaspoons cornstarch, divided
1 teaspoon Chinese cooking wine
1 ½ tablespoons light soy sauce
1 tablespoon dark soy sauce
⅛ teaspoon white pepper
2 cloves garlic, minced
3 tablespoons vegetable oil, divided
1 bulb bok choy, sliced thinly
1 ½ cups sliced mushrooms
1 ½ cups bean sprouts
Optional Ingredients
cooked rice or noodles, for serving
Directions
In a bowl, combine the chicken with ¼ cup water, 1 tablespoon oyster sauce, 3 teaspoons cornstarch, and the Chinese cooking wine. Mix well so the chicken is well-coated. Set aside.
In another bowl, combine the remaining oyster sauce, the light and dark soy sauce, 1 cup water, and the pepper.
In a wok, heat half the vegetable oil. Add the chicken and stir-fry until the chicken is no longer pink, about 3 minutes. Transfer chicken to a plate and set aside.
Heat the remaining oil and cook the garlic, bok choy, and mushrooms for about 1 minute.
Add the sauce prepared in Step 2, allowing it to deglaze the bottom of the wok.
Let the sauce cook and thicken slightly. Return the chicken back in the wok, then give it all a stir.
Stir the remaining cornstarch into remaining ¼ cup water to make a slurry. Add it to the sauce and stir immediately. It should begin to thicken further.
Add the bean sprouts and mix thoroughly.
Remove from heat; serve over noodles or with rice.
Nutrition
| | |
| --- | --- |
| Calories per Serving | 334 |
| Total Fat | 20.9 g |
| Saturated Fat | 3.6 g |
| Trans Fat | 0.2 g |
| Cholesterol | 69.6 mg |
| | |
| --- | --- |
| Total Carbohydrates | 10.6 g |
| Dietary Fiber | 1.8 g |
| Total Sugars | 3.0 g |
| Sodium | 869.3 mg |
| Protein | 26.5 g |