Classic Buttermilk Pie Recipe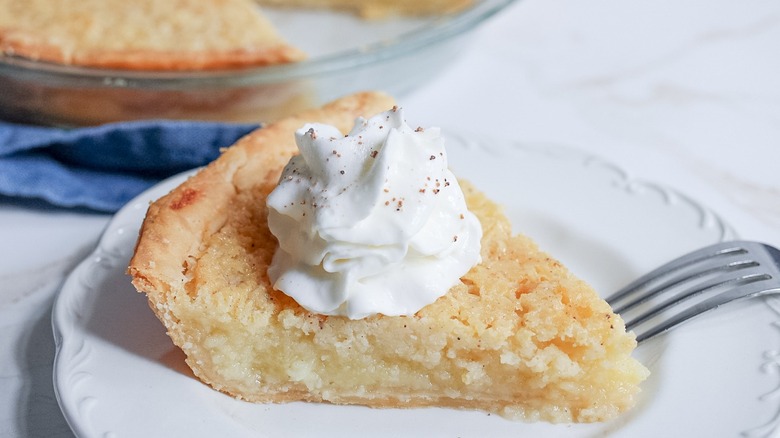 Jessica Morone/Mashed
For some people, a stack of fluffy, syrup-adorned pancakes might be the first thing that comes to mind when they think of buttermilk. But this tangy, yogurt-ish dairy product has so many more uses than that — you can whip up some homemade biscuits, craft some Bobby Flay-approved fried chicken, or if you have powdered buttermilk, add it to salad dressings for some extra creaminess.
Another sweetly decadent use for buttermilk is pie. Tired of chocolate, cream, or fruit-filled pies? This buttermilk pie from recipe developer Jessica Morone just might be the dessert you didn't know you needed. "The buttermilk makes the pie flavor kind of sweet and tangy. The filling ends up being a very smooth, creamy custard," Morone says, adding that the final product gets a "warm nutty flavor" from a sprinkle of nutmeg. "This pie is very easy to make, so you [can] serve it for pretty much any occasion." Easy, creamy, and sweet? You don't need to tell us twice. Here's how to make this simple yet indulgent treat.
Prepare your buttermilk pie ingredients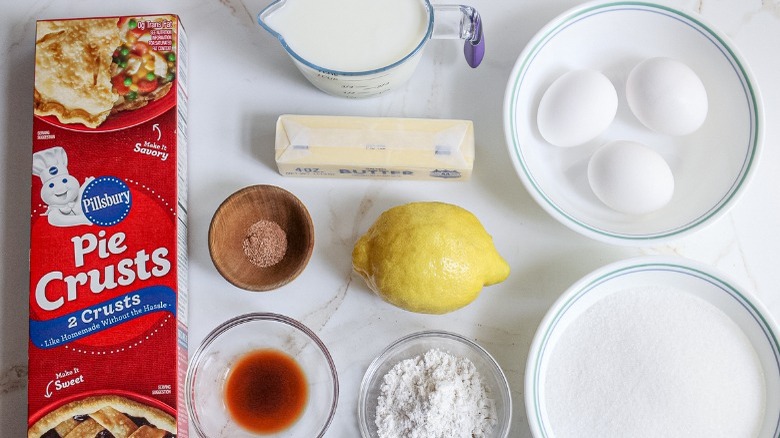 Jessica Morone/Mashed
Baking is a more precise process than cooking, so it's extra important to make sure you have your ingredients ready. You'll need pie crust, melted butter, eggs, granulated sugar, flour, lemon juice and zest, vanilla extract, nutmeg, a 9-inch pie plate, and of course, buttermilk. "The lemon in the buttermilk pie is very subtle, so it wont taste like you are eating a mainly lemon flavored pie. The flavor overall will be more like rich vanilla," Morone notes.
Prep the pie crust
Jessica Morone/Mashed
It's time to get started. Preheat your oven to 350 F and get out your pie plate. Don't feel overwhelmed about the notion of making your own crust: "I use a pre-made crust for this recipe to make it a very simple, easy recipe," Morone says. "But there's no reason you couldn't use a homemade pie dough recipe, that would just make the pie even more delicious." To keep things manageable, get out that handy pre-made crust and drape it over the pie plate. It's that easy!
Whisk up the filling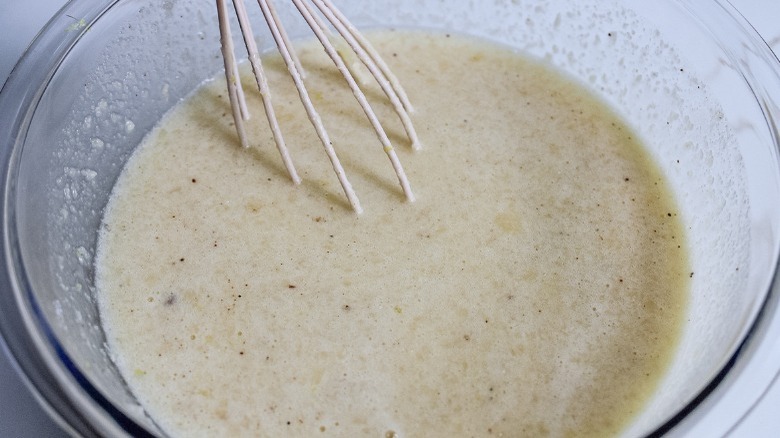 Jessica Morone/Mashed
Now, it's time to make the filling. Get a big bowl and whisk up the flour, eggs, and sugar. Melt the butter if you haven't already, then add that along with the rest of the ingredients (nutmeg, buttermilk, vanilla extract, and lemon zest and juice) and stir everything up until you have a smooth and uniform mixture. Pour that into your prepared pie crust, and pop it in your preheated oven.
Bake to perfection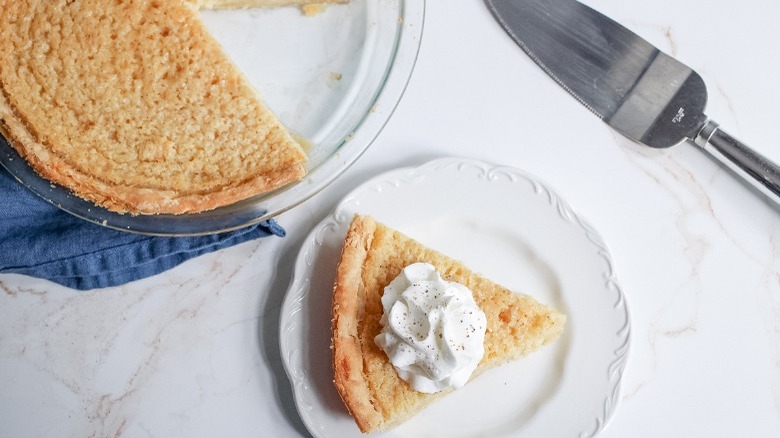 Jessica Morone/Mashed
So you've waited for your buttermilk pie to bake and made sure it's fully set by sticking a toothpick in there. You're not quite done yet — you still need to wait for the pie to cool. After you've been patient enough for that, it's time to cut into it and enjoy! Since the prevailing flavor of this pie is a custard-y vanilla, the possibilities are nearly endless when it comes to what you serve it with. "I love to top it with just simple whipped cream and a bit of fresh nutmeg grated on top. But you could also top it with something like fresh fruit or ice cream," says Morone.
This recipe makes about eight servings, so if you end up with leftovers, you can always enjoy it another day for dessert or even an indulgent breakfast if you want. "You should store this pie covered in the refrigerator, and it will last up to 3 days," Morone says. Now, the next time you have buttermilk in the house, don't just default to pancakes. This buttermilk pie recipe will always be here, waiting for you to dig in.
Classic Buttermilk Pie Recipe
If you're tired of fruit-filled pies, give this tangy buttermilk pie recipe a spin.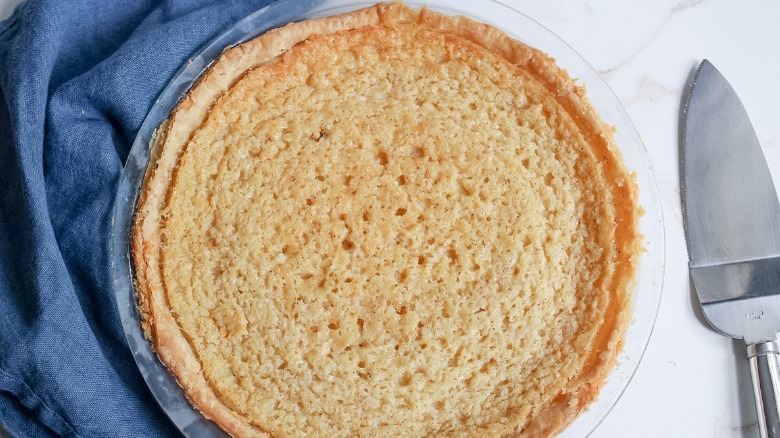 Ingredients
1 (9-inch) unbaked pie crust
3 large eggs
1 ½ cups granulated sugar
3 tablespoons all-purpose flour
½ cup butter, melted
1 cup buttermilk
1 teaspoons vanilla extract
1 tablespoon lemon juice
1 tablespoon lemon zest
¼ teaspoon ground nutmeg
Directions
Preheat the oven to 350 F.
Line a 9-inch pie plate with the unbaked pie crust. Set aside.
In a large bowl whisk together the eggs, sugar, and flour until well-mixed.
Add in the melted butter, buttermilk, vanilla extract, lemon juice, lemon zest, and nutmeg, and whisk until mixture is smooth.
Pour the liquid into the prepared crust and bake in the preheated oven for 45 to 55 minutes, until the center is set and a toothpick inserted into the center of the pie comes out clean.
Cool completely before cutting and serving.
Nutrition
| | |
| --- | --- |
| Calories per Serving | 427 |
| Total Fat | 20.9 g |
| Saturated Fat | 10.8 g |
| Trans Fat | 0.5 g |
| Cholesterol | 101.5 mg |
| | |
| --- | --- |
| Total Carbohydrates | 56.3 g |
| Dietary Fiber | 0.7 g |
| Total Sugars | 39.1 g |
| Sodium | 204.0 mg |
| Protein | 4.7 g |