Simple Egg Noodles Recipe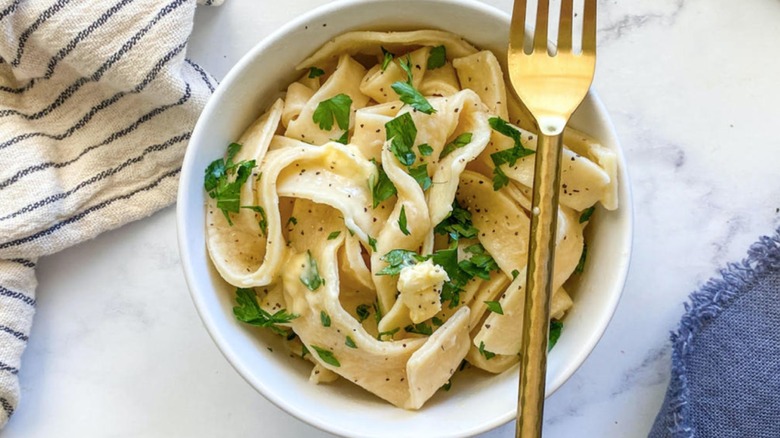 Miriam Hahn/Mashed
The thought of making your own pasta noodles can sound intimidating. However, you'd be surprised at how easy it actually is. This recipe for simple egg noodles takes less than 45 minutes from start to finish, and best of all, it doesn't require any fancy equipment. Just stir, knead, roll, and slice — even the most novice chef can do it.
Recipe developer and health coach Miriam Hahn likes to serve these egg noodles in a variety of ways. "These noodles are great with butter and salt but are very versatile and work with all types of sauces," she says. She recommends trying these egg noodles served up with a marinara sauce or even a peanut lime dressing. If you want to try something a little more creative, Hahn suggests serving these up "as a base of a buddha bowl with tofu, broccoli and asparagus (or any veggie combo) and just a splash of soy sauce."
Gather your ingredients for simple egg noodles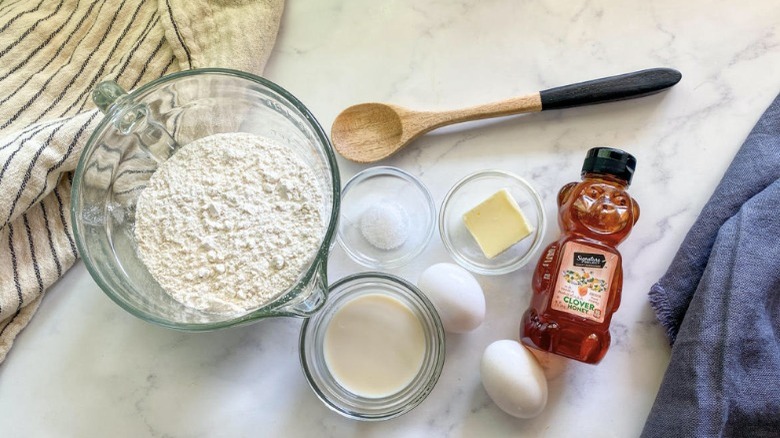 Miriam Hahn/Mashed
To make these simple egg noodles, you will need all purpose flour, salt, eggs, milk, butter, and honey. "I like using honey as an ingredient here because it adds just a touch of sweet to something that is typically very savory," Hahn explains. "Honey also helps the dough retain its moisture which helps the noodles taste even more fresh."
Assemble the dough, knead, and rest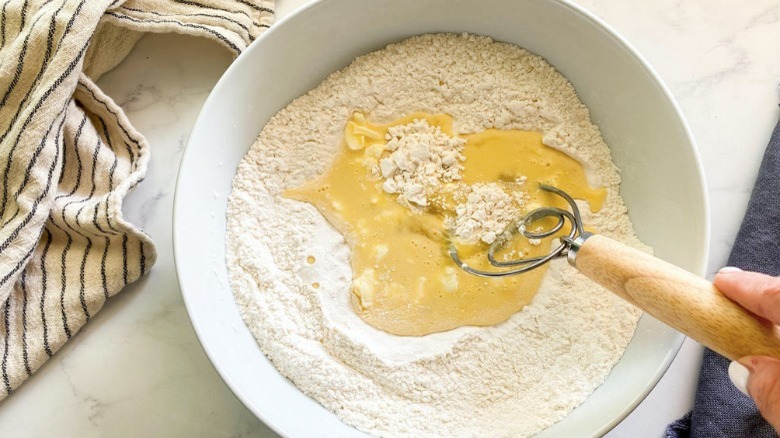 Miriam Hahn/Mashed
In a large bowl, add the flour and salt and whisk to combine. Next, in a separate bowl, stir the wet ingredients of beaten eggs, milk, softened butter, and honey. Then, add the dry ingredients to the wet ingredients, stirring until they are thoroughly combined. Remove the dough from the bowl and knead for about 5 minutes until the dough looks smooth. Then, cover the dough with plastic wrap and let it rest for 20 minutes.
Cut the egg noodle dough into strips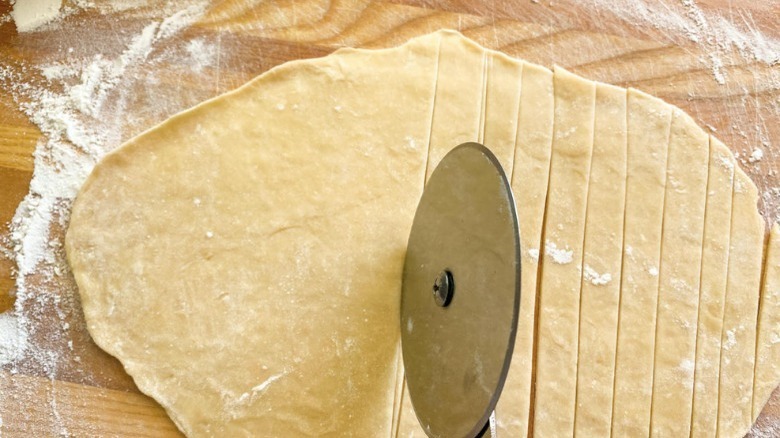 Miriam Hahn/Mashed
Next, cut the dough into fourths. Using parchment paper and a rolling pin, roll out the dough to about ⅛-inch thickness. Keep in mind that the dough will expand when cooked, so if you want even thinner noodles, you may want to roll them even thinner. Hahn used a rolling pin, but suggests you can use a pasta roller attachment to a stand mixer if you have one. She adds, "If you don't use a roller attachment, keeping the rolling surface well floured is a huge help. The noodles peel off easily and retain their shape." Then, you can cut the rolled out dough into pieces about ½-inch wide and 6 inches long, using a pizza cutter.
Boil the egg noodles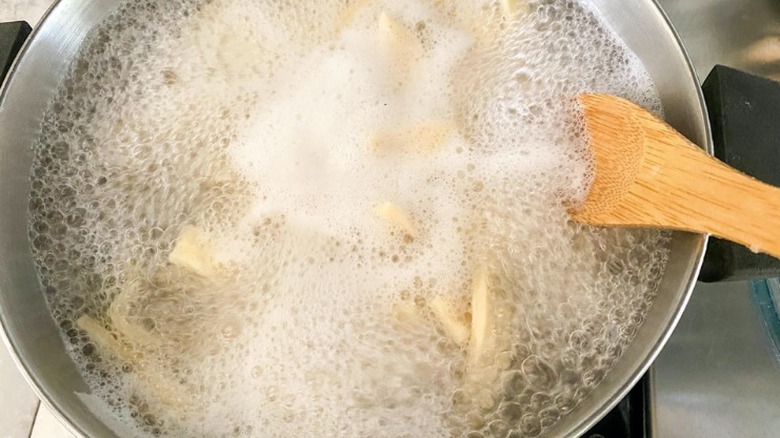 Miriam Hahn/Mashed
Now that you have created your strips of dough, you can boil these noodles. Heat a large pot of water to a boil. Add the remaining salt and toss in the noodles. Because these are fresh noodles, you only need to cook them for about 3 minutes. Then, drain them and serve. "The noodles are best if eaten right away but they will actually last for up to 5 days if you keep them in a sealed container in the fridge," Hahn says.
When you do eat them, you can enjoy them with any type of pasta sauce, in soup, or with a simple drizzle of olive oil and a sprinkle of fresh parsley — the possibilities are endless!
Simple Egg Noodles Recipe
Don't be intimidated by the thought of making homemade pasta — with this simple egg noodles recipe, it's never been easier.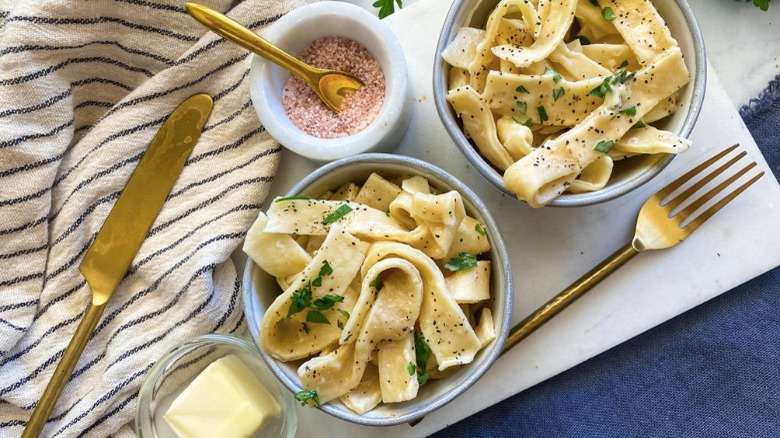 Ingredients
2 cups all-purpose flour, plus more for kneading and rolling out
1 ½ teaspoons salt, divided
2 eggs
⅓ cup milk
1 tablespoon butter, softened, plus more to add to noodles if desired
1 teaspoon honey
Optional Ingredients
fresh parsley, for serving
Directions
In a large bowl, whisk together the flour and ½ teaspoon of salt. Set aside.
In a medium bowl, beat the eggs and add the milk, butter and honey. Stir to combine with a wooden spoon or Danish whisk. Now add this mixture to the dry ingredients and mix again.
Once combined, remove the dough from the bowl and lay on a floured work surface. Knead the dough for 5 minutes. It should look smooth when you are done.
Wrap the dough in plastic wrap and let it rest for 20 minutes.
Cut the ball of dough into 4 equal pieces.
Starting with one of the dough pieces on a floured surface, and roll it to ⅛-inch thickness. The noodles expand while cooking so if you want thinner noodles, roll them even thinner. Cut into ½-inch wide and 6-inches long strips using a pizza cutter.
Add the remaining salt to a large pot of water and bring to boil. Drop in the noodles and when it returns to a boil, cook the noodles for 3 minutes.
Drain the noodles and serve them as desired.
Nutrition
| | |
| --- | --- |
| Calories per Serving | 278 |
| Total Fat | 3.3 g |
| Saturated Fat | 1.2 g |
| Trans Fat | 0.0 g |
| Cholesterol | 82.5 mg |
| | |
| --- | --- |
| Total Carbohydrates | 50.7 g |
| Dietary Fiber | 1.7 g |
| Total Sugars | 2.7 g |
| Sodium | 248.1 mg |
| Protein | 9.9 g |