The Trader Joe's Tea Instagram Is Elated To Have Back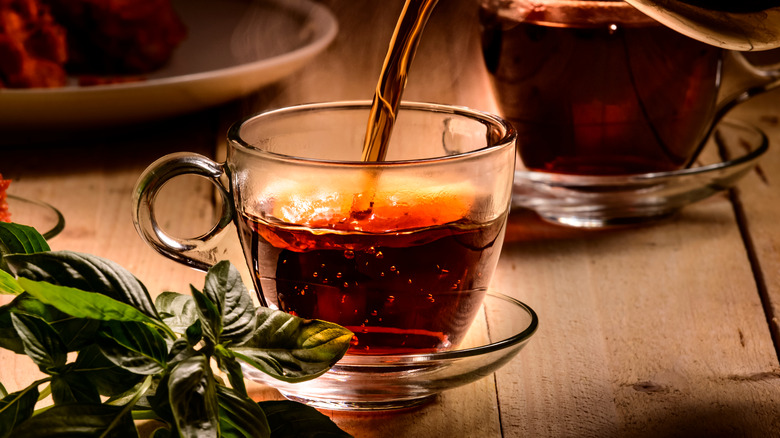 P.V.R Murty/Shutterstock
On a hot summer day, nothing beats relaxing poolside with a chilled glass of iced tea. While it might not get the same hype as coffee, tea has a lot of advantages over its caffeinated counterpart. Tasty, soothing, and energizing, tea is the second most popular drink in the world, as noted by Coffee Affection, bested only by packaged water. According to Insider, tea also provides drinkers with a more consistent boost of energy over time, which creates a nice contrast to the immediate jolt of energy that is associated with coffee. If you tend to feel a little too jittery after a cup of Joe, then tea might be the go-to beverage you never knew you needed.
One of the best parts about tea? The variety. There are more than 3,000 varieties of tea around the world, each one with its own special taste and health benefits (via Stash Tea). That said, with so many options to choose between, there are arguably teas you should be drinking and teas you shouldn't. Every grocery store chain also has its own unique collection of teas, from the Hawaiian teas at Aldi that are turning heads to the boozy teas that Aldi fans are freaking out over. Trader Joe's also just re-stocked a fan-favorite tea that's got customers buzzing.
TJ's popular summer tea tastes a lot like candy
From green to mint, chamomile to ginger, there is an infinite list of tea options to choose between at the grocery store. But which one is the most popular of them all? According to Coffee Affection, black tea is the most popular tea in the world, and is particularly beloved in the United States.
If you are a fan of this popular beverage, then you may be particularly intrigued by Trader Joe's hot new item. User @traderjoeslist took to Instagram to share that TJ's mint watermelon flavored black tea is back on shelves. "A summer favorite is back!" @traderjoeslist captioned the post. "Will you be revisiting this refreshing summer tea?"
For the majority of TJ fans, the answer is most likely a decisive "yes." Users expressed their excitement in the comment section, with one user writing "My favorite summer tea!!," while another raved "A true favorite. soooo good." While this tea can be consumed hot or cold, many users recommended trying this tea chilled. Previous buyers also hinted at some of the tea's flavor profiles. One user claimed that the tea tasted a lot like bubblegum, while another revealed that it was reminiscent of a jolly rancher.