How Mountains Inspired The Invention Of The Root Beer Float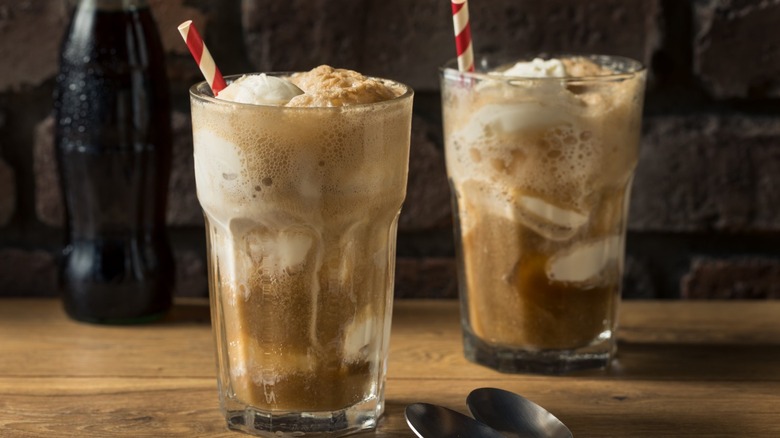 Brent Hofacker/Shutterstock
There are few better things than swigging down a frothy root beer float, no matter the occasion or time of year. Root beer floats are not only super fun to drink, but they are also super easy to prepare, as the recipe calls for only two ingredients: the iconic sarsaparilla soda and velvety vanilla ice cream.
If you do your research, you'll find that there are multitudes of float-making methods people swear by. From the exemplary soda-to-ice cream ratio, to the ideal type of glass used, the techniques vary quite a bit. For one, Sprecher Brewing Company, the Milwaukee-based brand best known for its award-winning craft root beer and other flavorful pops, offers a foolproof strategy for whipping up the best root beer float. For an extra cool treat, place your favorite glass or mug in the freezer for a few minutes. Add two scoops of vanilla ice cream to the frosted drinkware, slowly pour in an entire bottle of root beer, and — voila! Sweet, pure magic.
So, how did this classic creation come to be in the first place? Legend states that the foamy, fizzy, ice cream-infused delicacy was inspired by Mother Nature herself.
A snow-capped mountain top in Colorado reminded the inventor of ice cream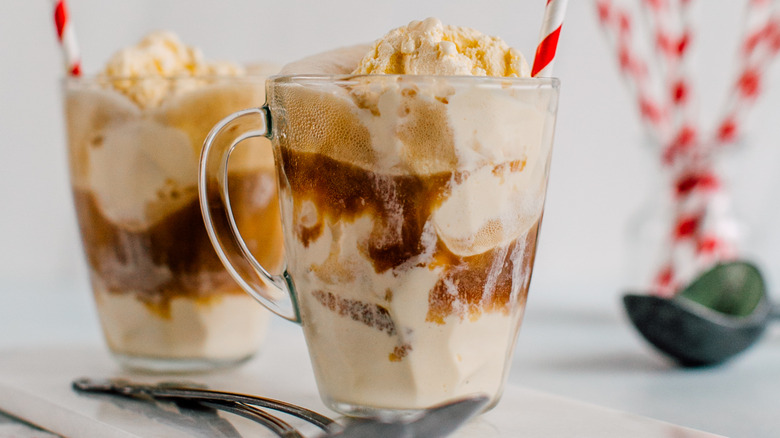 Katheryn Moran/Shutterstock
As the story goes, Frank Wisner, the owner of Cripple Creek Cow Mountain Gold Mining Company, was working on perfecting a formula for a new style of root beer at his brewery. One late summer night in 1893, per Eat My Words, a full moon shone brightly over Cow Mountain. The bright white snow caps at the summit resembled vanilla ice cream and he wondered what would happen if he mixed two of his favorite indulgences together. Gathering the ingredients the very next day, he plopped a scoop of ice cream into a glass of Myers Avenue Red Root Beer, and the result was, as one would imagine, nothing short of glorious. He eagerly shared the recipe of his serendipitous, sippable masterpiece, which he dubbed the "Black Cow Mountain," with his friends, family, and neighbors. And, of course, they absolutely loved it. The product's name was eventually shortened to "Black Cow" and later became known simply as a root beer float, signifying the dollop of ice cream floating atop the quintessential frosty mug.
Today, more than a century after their debut, root beer floats are loved by folks of all generations and walks of life around the world. In fact, National Root Beer Float Day is celebrated each year on August 6 to commemorate and indulge in the creamy, sudsy dessert drink.