The Connection Between Nailed It! And Is It Cake?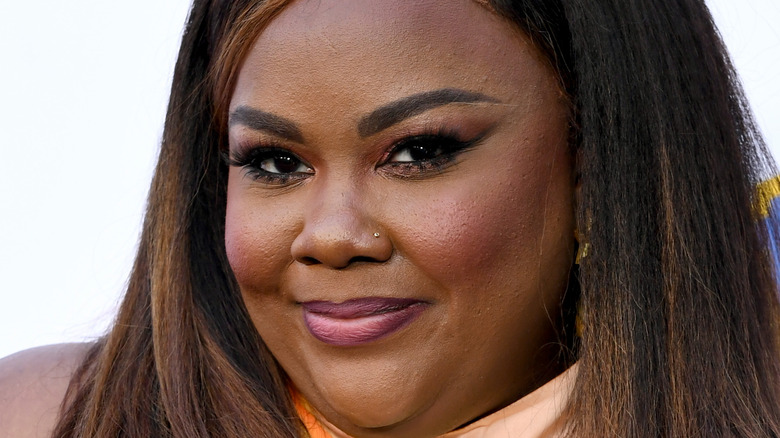 Jon Kopaloff/Getty Images
If you're a Netflix fan, you've probably heard about or watched at least a couple of episodes of their hit show "Nailed It!" in which the contestants that don't really know how to bake take a crack at recreating cakes and similar desserts for a big cash prize. The series is hosted by Nicole Byer, a comedian, actress, and author who had one of her first roles on the gone-but-not-forgotten satirical sitcom "30 Rock." It happened in 2012, when Byer played a Mo'Nique döppelganger in a Season 6 episode called "Grandmentor." 
But the days of acting alongside Tina Fey and Alec Baldwin are long gone, and Nicole Byer now has eight seasons of hosting "Nailed It!" to brag about. And if you thought that "Nailed It!" is the only foodie show on Netflix worth laughing over, think again, because there's another hit show called "Is it Cake?" and there is a curious connection between these two shows.
The folks behind Nailed It! also made Is it Cake?
Netflix's baking competition "Is it Cake?" is hosted by Mikey Day of "Saturday Night Liv," who will remain on "SNL" even after some of the cast left the show at the end of Season 47. He will also continue filming "Is it Cake?" Season 2 since it's been renewed by Netflix (via TV Line). The show is based on TikTok and YouTube memes, and the contestants try to recreate everyday objects into delicious, realistic cakes. If the judges are fooled, the bakers receive a cash prize, and we get to enjoy watching their tribulations. 
Mikey Day shared a post on Instagram hyping the first season, and revealed that he's working on the show "with the awesome folks behind 'Nailed It!'" who introduced him to the "insane world of hyper-realistic cake creation." It's not a surprise that the people who made "Nailed It!" also have their fingers in "Is it Cake?" as both shows are laugh-out-loud funny and deal with insane-looking cakes. 
Day's followers were quick to comment, saying "You are the funniest!!!" and "Best show ever — bring on season 2!" However, there's still not an official release date for Season 2, but it's expected to arrive in 2023 (per Web News Observer). Meanwhile, there's still time to binge-watch the first season once again, so we'll do just that.