Taco Bell Customers Are Loving The Original Menu At Its Hawaii Locations
Eager Taco Bell fans are sure to always stay on top of its ever-changing menu so they might get the chance to try one of the popular fast food chain's limited-time offers. You can hope for discontinued Taco Bell fan favorites like the syrup-drenched Waffle Taco, seasoned Nacho Fries, and Beefy Crunch Burrito to make a return. And who can forget the recent comeback of the beloved Mexican Pizza that had the internet excitedly buzzing, only become temporarily unavailabl mere weeks later because demand was higher than anticipated (via Twitter).
It's one thing to be disappointed by just how briefly some of these mouth-watering menu choices are available to enjoy. However, when only a small portion of the nation is treated to a deliciously resurrected Taco Bell item, it can leave a bitter taste for those who aren't able to access it. A handful of such items recently made their glorious comeback to Taco Bell in Hawaii only, per a Reddit post. Some of the menu options will seem familiar, but there's one item specific to the region that fans are hoping will become a nationwide thing at some point.
The Kalua Pork menu returns to Hawaiian Taco Bell locations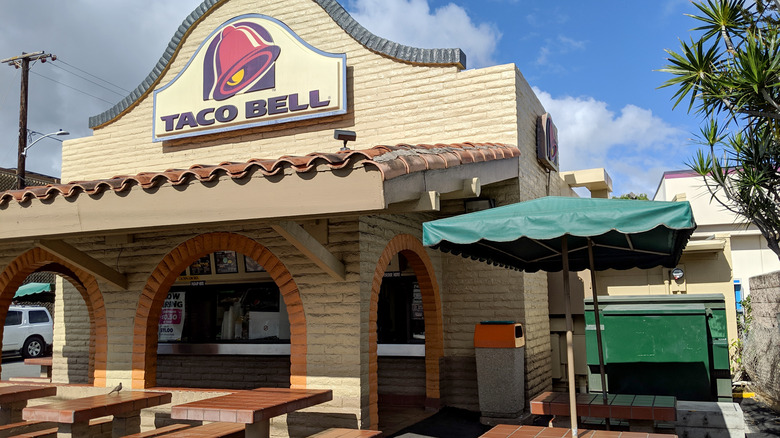 Eric Broder Van Dyke/Shutterstock
Taco Bell has offered Kalua pork off and on since 2008 to Hawaii locations only (via The Street) and it has returned for a limited time, according to Reddit. Shredded pork is not currently offered on Taco Bell menus across the country, but would surely be a smash hit if offered in the rest of the States. Kalua pork is a traditional Hawaiian staple that is commonly served at luaus and other large feasts. Its succulent, smoky flavor comes from the unique way it's cooked and prepared (via Cooking Classy).
The menu features a Kalua Pork Power Menu Bowl, XXL Quesadilla, the Grilled Stufft Burrito, and some form of heavenly loaded nachos called Nachos Bellgrande. Excited Redditors expressed their mighty need to try this tasty limited-time menu while it lasts. One user decided, "I am going to Hawaii in 3 weeks. I am finding a Taco Bell while there." Another commented, "I would freakin love to see this nationwide."