Decadent Hot Chocolate Recipe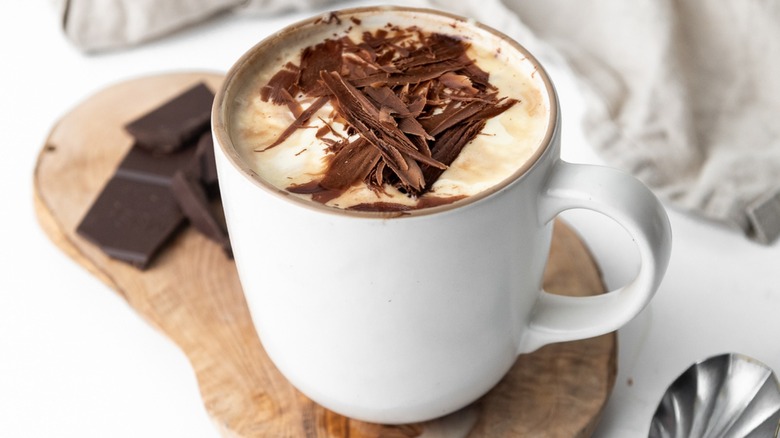 Jennine Bryant/Mashed
According to the Oxford English Dictionary, something that is decadent is "characterized by or reflecting a state of moral or cultural decline," which, we assure you, is not the case with this hot chocolate. Instead, we are simply using the term in its more modern sense, meaning "food that tastes good." And maybe a little indulgent. As recipe developer Jennine Bryant puts it, "this hot chocolate is truly decadent. It's deeply chocolatey, thick and rich — exactly the way a good hot chocolate should be!"
The recipe does include one ingredient not typically found in hot chocolate, or in any beverage, for that matter: cornstarch, something that is frequently used to thicken sauces, soups, and stews. Bryant explains why she's using it here: "It thickens the hot chocolate ever so sightly, which adds to the richness. It feels as though you are drinking a cup of liquid chocolate." As the cornstarch is cooked in the milk for a few minutes, this will eliminate any starchy flavor.
Assemble the ingredients to make this hot chocolate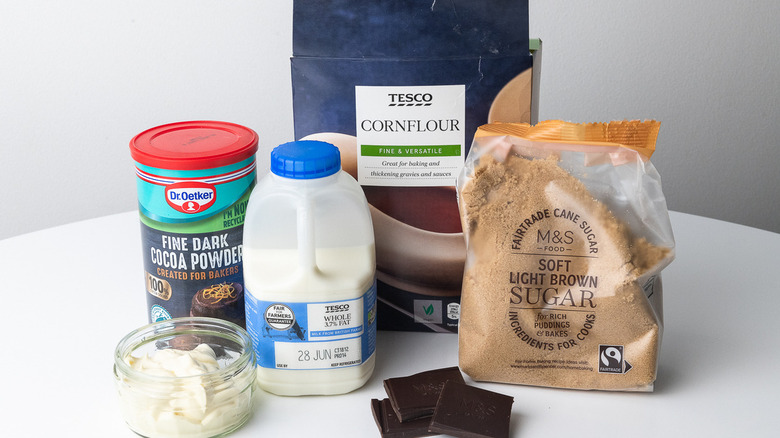 Jennine Bryant/Mashed
You only need 5 ingredients to make this drink, plus whatever you use to top it off with (whipped cream, marshmallows, etc). For the base, you'll be using milk –- Bryant likes to use whole milk for added decadence, but you can use whichever type of milk you typically keep in the house, even the plant-based kind. You'll also need cocoa, cornstarch, and sugar. Here, Bryant favors another ingredient not always used to make hot chocolate: brown sugar. As she explains, "it has added molasses, which gives it a deeper, caramel-like flavor." That said, "white sugar could definitely be used in place of brown sugar in this recipe."
Bryant also likes to finish off the drink by stirring in some chopped semisweet chocolate –- chocolate chips or a broken-up candy bar could both work here. "It's perfectly possible to make hot chocolate just using sugar and cocoa powder," she says, "but it doesn't have the same depth of flavor or texture."
Make a chocolate-cornstarch paste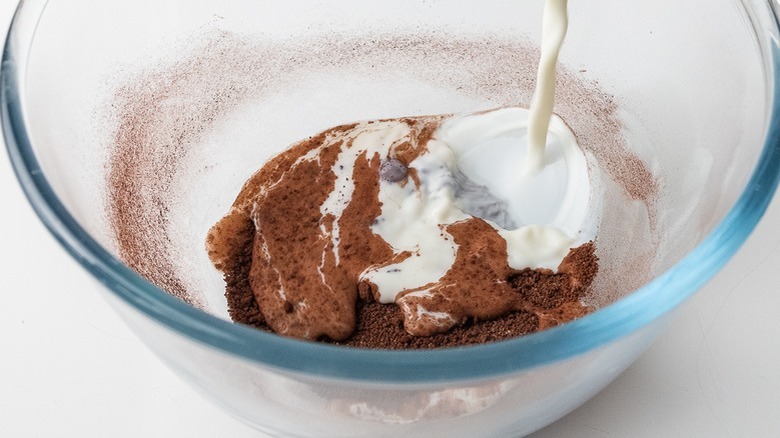 Jennine Bryant/Mashed
Mix all of the dry ingredients –- the cocoa powder, cornstarch, and sugar — in a small mixing bowl. Slowly whisk in up to ¼ cup of the milk to make a smooth paste with no lumps of cornstarch or cocoa. To ensure a lump-free mixture, slowly add the milk in 4 small increments (1 tablespoon at a time), whisking between each addition.
Heat the hot chocolate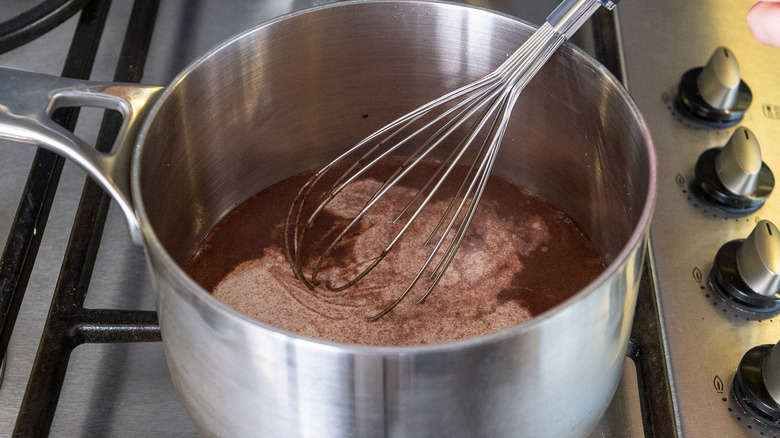 Jennine Bryant/Mashed
Combine the chocolatey paste with the rest of the milk in a pan and cook the mixture over medium heat. Keep stirring as you cook, as milk can scorch pretty quickly, and that is something that can't be fixed.
Once the milk is steaming, switch off the heat. You don't want the mixture to reach a full boil. Stir in the chocolate pieces to finish off the hot chocolate.
You can top this hot chocolate in a variety of ways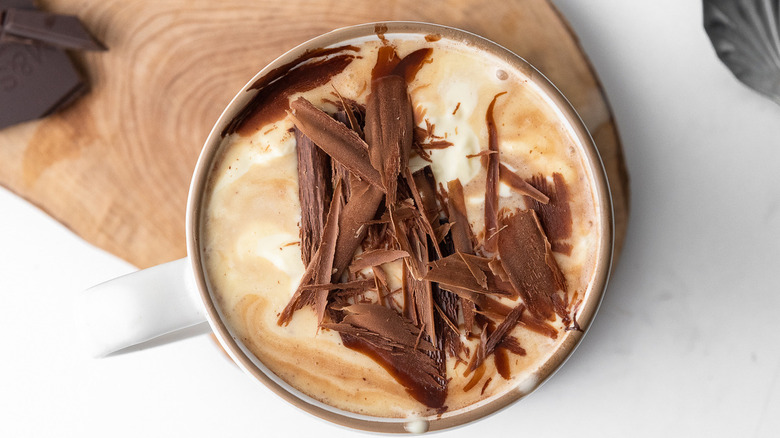 Jennine Bryant/Mashed
Bryant suggests using whipped cream and chocolate shavings to top this drink off. If you're more of a marshmallow person, though, then you go right ahead and use those, instead. If you're drinking this during the winter holidays, a candy cane would also be a nice addition, and you can always scatter some festive colored sprinkles appropriate to any occasion -– orange and black for Halloween, pink for Valentine's Day, green for St, Patrick's Day –- over the top.
Decadent Hot Chocolate Recipe
Get cozy with a mug of pure comfort. This hot chocolate is full of cocoa flavor, thick, and super rich — exactly the way a good hot chocolate should be.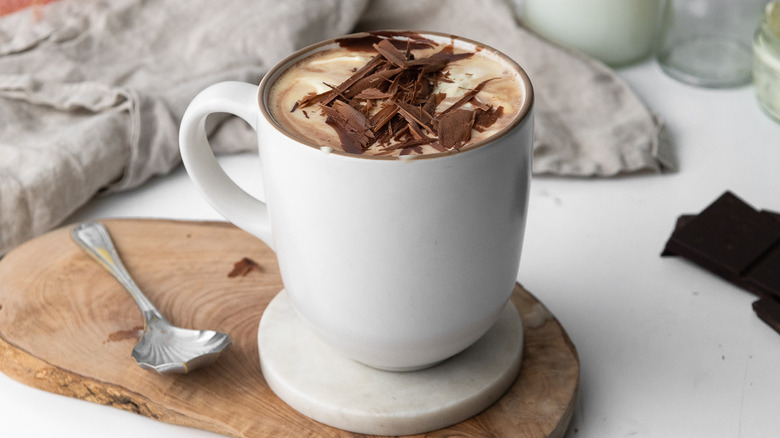 Ingredients
1 cup milk
1 ½ teaspoons cocoa powder
½ teaspoon cornstarch
1 tablespoon light brown sugar
1 ounce semisweet chocolate pieces, finely chopped
Optional Ingredients
whipped cream or marshmallows, for serving
chocolate shavings, for serving
Directions
Mix the cocoa powder, sugar, and cornstarch in a small bowl.
Whisk the dry ingredients with ¼ milk to form a smooth paste.
Combine the chocolate mix with the rest of the milk in a saucepan and heat, stirring, until steaming hot but not quite boiling.
Turn off the heat and stir in the chocolate pieces until melted.
Pour hot chocolate into mug and top with whipped cream, chocolate shavings, or other embellishments as desired.
Nutrition
| | |
| --- | --- |
| Calories per Serving | 330 |
| Total Fat | 16.8 g |
| Saturated Fat | 9.8 g |
| Trans Fat | 0.0 |
| Cholesterol | 24.4 mg |
| | |
| --- | --- |
| Total Carbohydrates | 41.5 g |
| Dietary Fiber | 2.7 g |
| Total Sugars | 36.6 g |
| Sodium | 111.3 mg |
| Protein | 9.4 g |