Eitan Bernath Added A Curious Ingredient To Pani Poori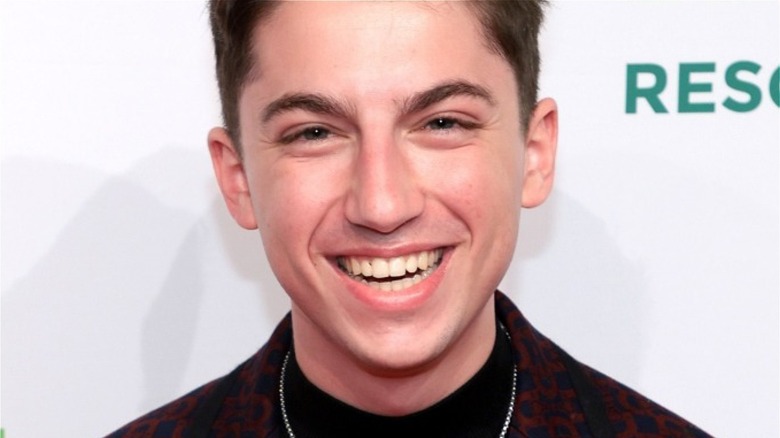 Dimitrios Kambouris/Getty Images
At just 20, Eitan Bernath has made quite a little career for himself. Strike that. He's huge. What doesn't this kid have his hands in? It all started in 2019 when then-17-year-old Bernath bet a teacher at his New Jersey high school that he could make a TikTok video that would rack up "a million views by the end of the year." Sounds pretty ambitious, but, as Bernath told Insider, he always gives 110%. Back then, he had about 100 TikTok followers to his name. He said carefully studying the social media app's users helped him choose a topic that would resonate with the Gen-Z audience. Indeed, in just one day, his video, which he described as "World's Best School Cafeteria Check," had received more than a million views.
The high-energy influencer has taken his serious love of food and cooking as well as some savvy social media inspo from influencers like the YouTube makeup pro, Jeffree Star, and built a multi-media empire that includes YouTube (156,000 subscribers), Instagram (645,000 followers), and, of course, TikTok (2.2 million followers).
Recently, Bernath, whose secret ingredient for s'mores is Reese's, made a tasty-looking snack. Some, but not all, of Bernath's followers are ready to try it. The treat he made is pani poori, which, if you like Indian food, you may already know and love. But Bernath added an unexpected ingredient that for sure adds some gorgeous color, and, depending who you ask, some yummy extra flavor as well.
Bernath adds pomegranate seeds to pani poori
Eitan Bernath, the 20-old social media food influencer, author, and television personality recently made food festival favorite pani poori and posted it to his social accounts, including Instagram. Traditional pani poori – popular in India, Bangladesh, Pakistan, and Nepal (per Taste Atlas) – starts with a flaky, hollow, deep-fried bread that's filled with spiced pani water (via Recipe Funnel) and such ingredients as tamarind chutney, chaat masala, boiled potatoes, chilis, and garbanzo beans.
Bernath's version of this popular street food includes non-traditional ingredients. He adds fresh cilantro to his well-spiced potatoes, and mint leaves, ginger, and brown sugar to his pani water. But the surprise that packs the most punch? Gorgeous, ruby-red pomegranate seeds. In addition to color and health benefits, these little gems add a layer of sweet-tart flavor to pani poori. Some of Bernath's followers were excited about the unexpected twist. Others were less so. Instagram follower anushehnoor commented, "It looks bomb! The pomegranate idea was genius." Thekrutikasampat, however, wrote "Pomegranate in Pani puri? Hell no." Put Bigdawgjosh__ in the pro-pom column: "The pomegranate probably gives it a sweet/savory taste and that must be bomb," they wrote. But not_manas_ disagreed: "Bruh there's no pomegranate in pani puri." And Itz_shibangi opined: "No not the pomegranate....... Dude don't ruin that godly dish." Us? We're reserving judgment until we try the recipe ourselves.