Why The Internet Went Wild For A Virginia County Fair Food Contestant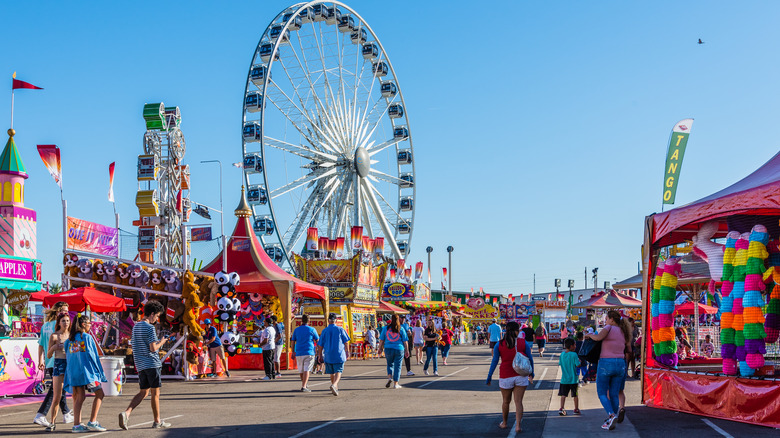 Gregory E. Clifford/Shutterstock
Although there seems to be less state and county fairs as the years go on, there are a few places in the U.S. that keep old traditions alive (via Arcadia Publishing). The first fair in the U.S. was in Pittsfield, Massachusetts in 1807 and only featured sheep shearing demonstrations. Over the years, fairs evolved to highlight agriculture, which is more in line with what we see today. The largest state fair in the U.S. today is the Texas State Fair, which runs for 24 days and welcomes 2.25 million visitors annually (via Readers.com).
While people may flock to fairs today for the entertainment and crazy fair foods, there are still groups that educate the public about agriculture at these events, like 4-H and Future Farmers of America (via Arcadia Publishing). Recently, the internet went wild for a contestant at the 2022 Virginia-Kentucky District Fair who wasn't there for educational purposes, but basically put on a clinic for how to win the most ribbons (via NPR).
Linda Skeens swept several categories in the home economics division
The results sheet from the Baked Goods category of the 2022 Virginia-Kentucky District Fair (pictured above) will make you do a double take, because Linda Skeens is the only name on it. Not only did she sweep the baking category, but the multi-faceted queen placed in several canned foods and embroidery contests, per Today. The fair posted the results on Facebook, and the Baked Goods results have over 20,000 comments and 23,000 shares. The internet is begging for Skeens to cook for them or have her own baking show, but she told @masononthemic on TikTok that she is too busy cooking for her family.
"Awwww she needs to be everyone's family and make a cookbook," @gabrielle commented on the TikTok. "The internet wants everything for Linda. You're our hero, Linda," said another TikToker. One Facebook user said what we were all thinking: "We have found the lady who can take down Bobby Flay." Despite the internet's desire to see Skeens in the spotlight, she remained humble in the interview and is declining further interviews at the moment, according to Today. People on the internet seem to want her recipes because state fair food is often over the top, but her recipes sound relatively simple. Unfortunately, the magic behind her best overall strawberry fudge may remain a mystery, which may drive the internet completely insane.