How Boston Market's New Nuggets Literally Go Against The Grain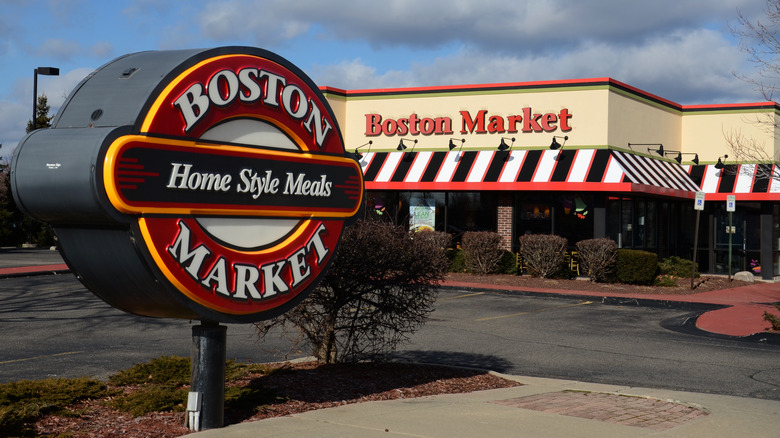 Susan Montgomery/Shutterstock
If you're not familiar with the name Robert C. Baker, then you may be curious to find out what the agricultural scientist's legacy has to do with chicken nuggets. Well, according to some, Baker is the man who invented them. History has it that though the origins of chicken nuggets aren't entirely agreed upon by everyone on the planet, it's "commonly accepted" that once upon a time — 1963 to be exact — in a laboratory at Cornell University, Baker molded ground chicken, wrapping it in breading, and basically created what we think of as chicken nuggets today.
Baker's invention made it easy to freeze and fry chicken, two activities that Boston Market isn't known for when it comes to their chicken. According to its website, the chain serves up rotisserie-style chicken that is "never frozen." So, how will Boston Market, a restaurant lacking a single fried chicken option, be serving up the "future of nuggets" beginning July 11?
Boston Market's chicken nuggets won't have any breading
Diners looking for a bite-size, non-breaded, non-fried chicken option, will soon have somewhere to get their nugg-fix on. According to Chew Boom, Boston Market will be rolling out rotisserie chicken nuggets at all locations starting July 11. Unlike the chain's limited-time chicken strips offering in 2017 that were actually breaded and baked strips of chicken breast (via Brand Eating), the new chicken snacks are made from roasted chicken. As Boston Market's president and chief rotisserie expert, Jay Pandya, tells it, "They are bigger than our competitors, healthier than fried alternatives and packed with flavor — there is no other true rotisserie option on the market" (via People).
Boston Market's new nuggets will be made from all-white meat and come in both signature and spicy flavors. Cooking chicken rotisserie-style, or on a rotating spit, as Taste Cooking explains, goes all the way back to medieval times and happened to be a favorite of Napoleon Bonaparte. Boston Market's answer to rotating its new nuggets over the heat will, according to Chew Boom, be a new "proprietary basket" that rotates while enabling the nuggets inside to roast. The rotisserie-style chicken nuggets will be available in signature and spicy flavors a la carte, in a kid's meal, and in a small and large combo meal. Or, if you happen to be planning to feed an army like in Napoleon's case, catering platters will also be available.