Nestle Toll House Is Ready For Fall With Its Returning Cookie Dough Flavors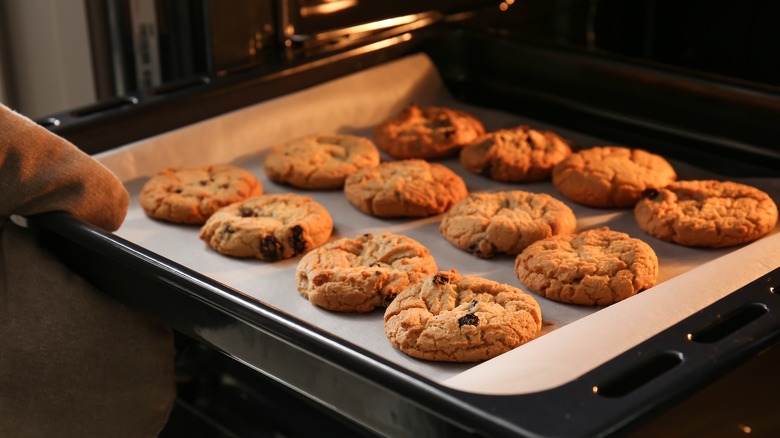 Pixel-Shot/Shutterstock
With cooler weather, fluffy sweaters, Halloween, and pumpkin-flavored everything, it's easy to see why fall is such a well-loved season. In fact, despite its lack of warmth, most Americans have a sunnier disposition in autumn, according to a survey from People. So as we enter into the hot and humid depths of midsummer, many people are longing for the time of year where the leaves start to change from green to red.
Luckily, Nestle Toll House seems to be on the same page as its fall-loving fans. The company, best known for its chocolate chips and break-and-bake cookies, has been a longtime producer of seasonally themed pre-made cookies. 
Earlier this year, Toll House brought its Easter-egg themed cookies to the refrigerator aisle to celebrate the holiday. And now, Nestle Toll House is giving cookie fans an early taste of fall with the return of some of its familiar autumn-influenced flavors.
Bite into the fall spirit with these two Nestle Toll House cookie dough flavors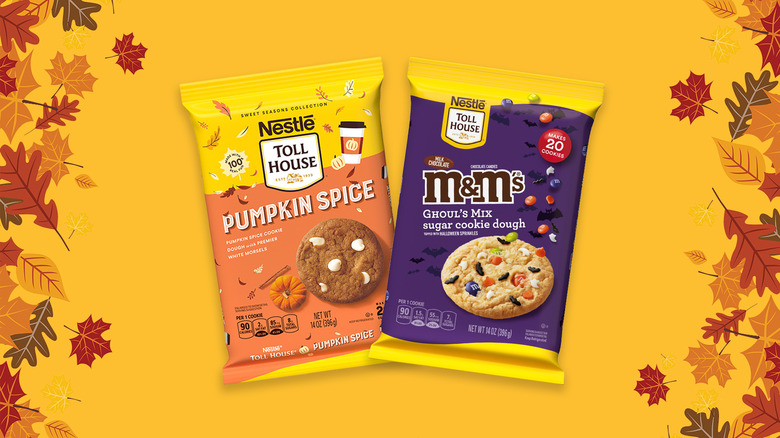 Mackenzie Matouse/Nestle Toll House
Nestle Toll House revealed in a July 11 Instagram post that two of its fall-themed cookie doughs will be back in stores at the start of August. The returning flavors include the traditionally autumn-themed pumpkin spice cookie dough, which features white chocolate morsels, and the spooky season-inspired "M&M's Ghoul's Mix Sugar Cookie Dough," which consists of colorful M&M's and a Halloween-themed candy topping.
Instagrammers seemed to either be excited for the return of these autumn treats or felt that they were reappearing too early. One user, expressing their anticipation for the fall-themed snacks, posted "Bring on FALL." Another user, who believed the cookies were making their reappearance too soon, wrote "Let's just enjoy summer! Live in the moment!" 
However, bringing back seasonal flavors a little earlier than their designated time of year does seem to be a trend for Nestle Toll House. The brand has already announced in another July Instagram post that it will be creating an all-new coffee creamer flavor in partnership with Coffee Mate for the holiday season. And in 2021, the two released coffee creamer collaborations around the beginning of September (per Spoon University). So ,Nestle Toll House fans may not have to wait much longer, not only to eat their fall-themed cookies but also to discover a new holiday season-influenced creamer.