TikTok Is Loving The Nostalgic Gift One Woman Bought Her Grandfather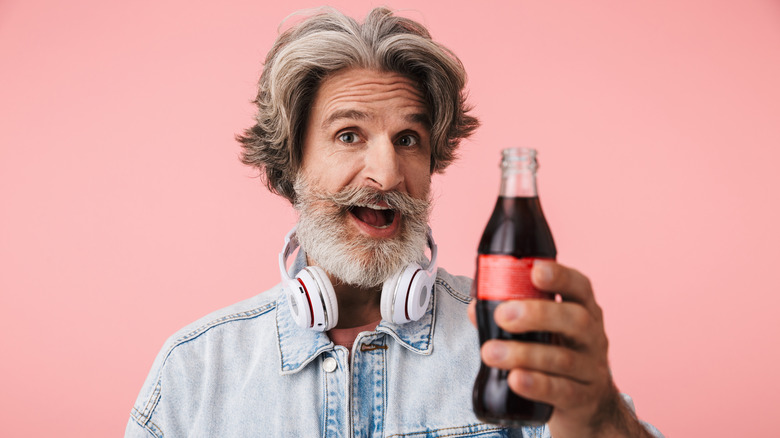 Dean Drobot/Shutterstock
Every once in a while, it's more than reasonable to indulge in pleasantries of days gone by, especially those involving the foods and beverages we connect with good times. And no matter the occasion, a taste of sweet nostalgia is the best way to treat ourselves and our loved ones. In fact, studies suggest that recipes that remind us of childhood or other meaningful moments in our lives can conjure the emotions we felt at the time.
A University of Massachusetts professor of psychological and brain sciences, Susan Whitbourne, explained to HuffPost that "food memories feel so nostalgic because there's all this context of when you were preparing or eating this food, so the food becomes almost symbolic of other meaning." Perhaps that phenomenon is behind the kind gesture of one TikTok user, who recently presented her dear grandfather with a joyful piece of his past. It's implied that Grandpa was sharing stories of his youth with his family, which led to his kin searching for a long-lost treasure. The result has social media users raining hearts and happy replies.
A TikTok user surprised her grandfather with a case of Green River soda
TikToker @rachelmtho shared a video featuring a large box shipped to her home from Sprecher Brewing Company, the Milwaukee-based brand best known for its craft root beer and a variety of renowned sodas. Sprecher has been manufacturing Green River, a soda beloved in the Midwest, since its acquisition of the brand in October 2021, according to OnMilwaukee.
"My 89-year-old grandpa told me about a lime soda he loved as a kid," the video's voiceover reads. "He couldn't remember the name, but after a long night of Google searches, we finally found it. He didn't think he'd ever get to drink it again, but what he didn't know is that I ordered it straight from the brewery." The video then shows Rachel's grandpa opening his "just because" gift, which was filled with glass bottles of the bright green soda he seemed to remember immediately. The text overlay suggests that as he takes his first sip in ages, he remarks, "It's slimy. It's awesome." But we suspect he said "limey."
Viewers reacted to the deed with beaming positivity, even sharing their mutual love for the legendary viridescent soft drink. One user commented, "Sprecher. If you know, you know." Another wrote, "Green River is amazing. This was a nice treat for your pop pop." The post also brought back memories for a commenter who shared, "[Green River] was one of my favs growing up now I want one."