BBQ Expert Reveals The One Thing Most People Get Wrong About Ribs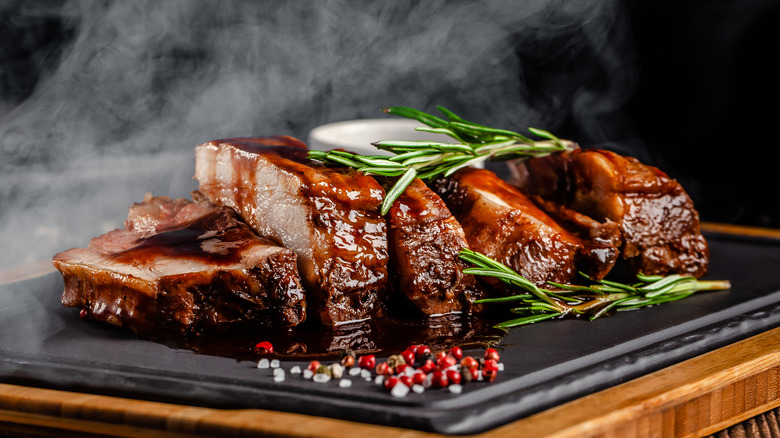 Zu Kamilov/Shutterstock
Though ribs are prepared in restaurants and kitchens throughout the world, they are an especially integral part of the American barbecue scene. Pork ribs are the most popular choice — typically spareribs or baby back ribs, per TasteAtlas — and the meat is usually grilled slowly over low temperatures. Before the grilling process, the ribs may be treated to a flavorful marinade or dry-rubbed with several spices, then brushed with barbecue sauce once they hit the grates for a sticky, crispy finish.
Of course, some barbecue professionals have their own secret techniques for ribs. One such figure was deemed "The Legend," AKA multi- championship-winning pitmaster Mike Mills, the founder of the 17th Street Barbecue restaurants in Southern Illinois. Mills made some of the absolute best ribs in the U.S. before his passing on December 29, 2020, as the restaurant shared on Facebook. The Barbecue Hall of Fame member's legacy lives on, as his daughter, Amy Mills, continues to share what she's learned over decades in the barbecue business.
Ribs shouldn't fall off the bone, Amy Mills says
In an essay for HuffPost, James Beard Award-nominated "Peace, Love, and Barbecue" author Amy Mills shared interesting tidbits about her lifelong relationship with barbecue. After working with "thousands of barbecue entrepreneurs" through her barbecue consulting business over the years, she's picked up on some meat-cooking quandaries that people consistently want to be clearer about. One common misconception, she says, is that BBQ fans think good ribs should fall off the bone. "If that happens, that means it's been boiled or overcooked," she wrote, elaborating that you should get "a clean bite" with "a little tug" when your teeth tear into the meat. Who'd have thought? 
Mills' advice aligns with that of World Champion Pitmaster Danielle Bennett, who broke down the best way to cook ribs in an exclusive interview with Mashed. You shouldn't cook your ribs until they fall off the bone, Bennett said, but instead until they reach around 205 degrees Fahrenheit. Once you grill your ribs to perfection, Mills said to keep them tasty for several hours by wrapping them properly, as "air is the enemy of barbecue."