Simple Spiced Lamb Chops Recipe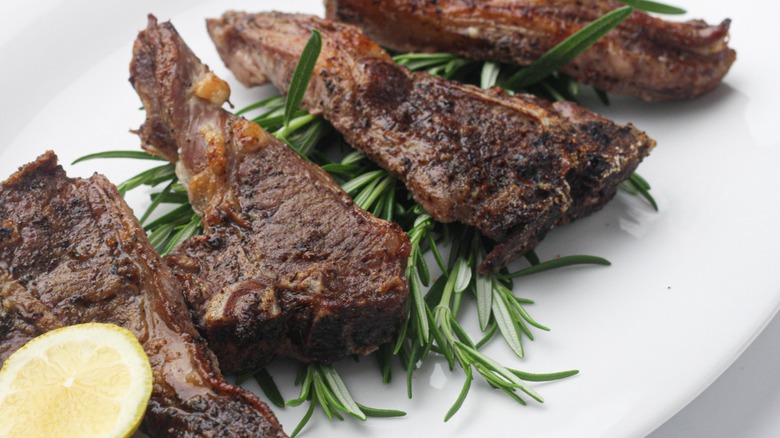 Susan Olayinka/Mashed
While these spiced lamb chops may be pretty simple and straightforward to cook, the main ingredient (besides the lamb) may be something that you're not familiar with. It's a spice called sumac — no, not the poison kind that gives you a rash (the plants are related, but not identical). Instead, this kind of sumac is a seasoning that recipe developer Susan Olayinka describes as having a "sour, citrusy flavor that's a bit sweet." She also says that it "gives the lamb a nice, flavorful kick."
Your best bet for finding sumac of the non-itchy variety is to shop at a grocery specializing in Middle Eastern products as Olayinka notes that it's "really common in Mediterranean and Middle Eastern cuisine." Should you be unable to find it, though, lemon pepper makes a great substitute for sumac, while za'atar will give you a somewhat similar Middle Eastern flavor. You could also just cook the lamb chops as directed here using any other seasonings you happen to prefer. Your lamb chops will still be, as Olayinka puts it, "full of flavor and so easy to make."
Collect the ingredients for the spiced lamb chops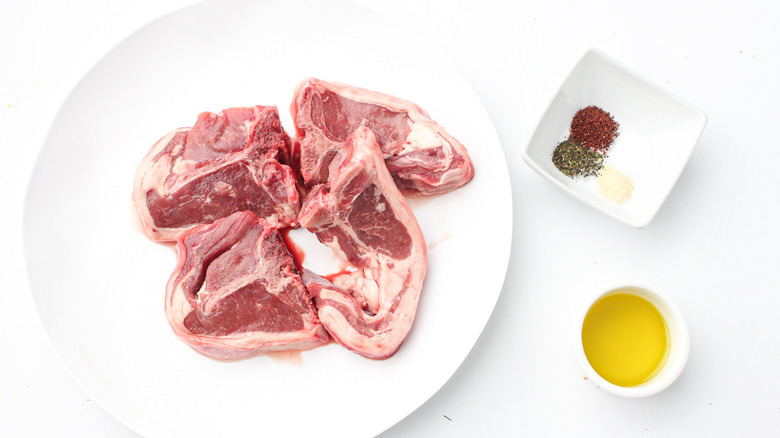 Susan Olayinka/Mashed
To make this recipe, you'll need lamb chops, of course. For seasonings, Olayinka goes with garlic powder, thyme, and salt in addition to sumac. She also likes to use avocado oil, although olive oil will also work here.
Season the lamb chops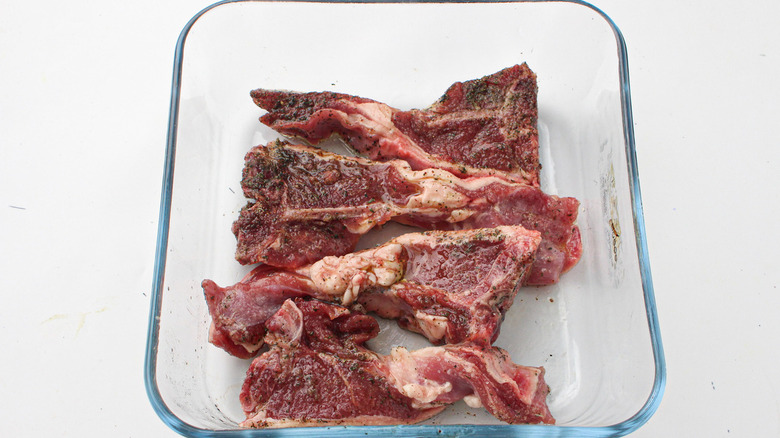 Susan Olayinka/Mashed
Preheat the oven to 375 F, then combine the dry seasonings and rub them all over the lamb chops along with the oil. Put the chops on a baking sheet. Olayinka likes to line the baking sheet with parchment paper and says using it here "helps to keep things tidy" and "makes cleanup easier," but if you do use it, be sure to remove it before you broil the chops as it's only heat-proof up to 450 F and can parchment paper can catch fire at a higher temperature. You can use foil instead of paper to prevent this hazard, or you can just skip this step as it's not really necessary. Better to spend an extra few seconds scrubbing off any baked-on spice than to risk a kitchen fire.
Cook the lamb chops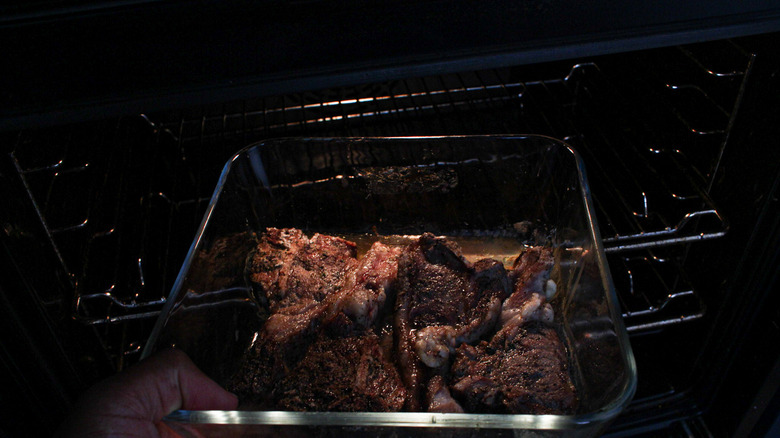 Susan Olayinka/Mashed
Bake the chops for 23 minutes. When the time has elapsed, turn the oven to the broil setting. Take the baking sheet out of the oven, making sure to remove any parchment paper if you've used this. Move the sheet to the top rack, then broil the chops for 3 minutes or until they are slightly charred.
These sides go well with lamb chops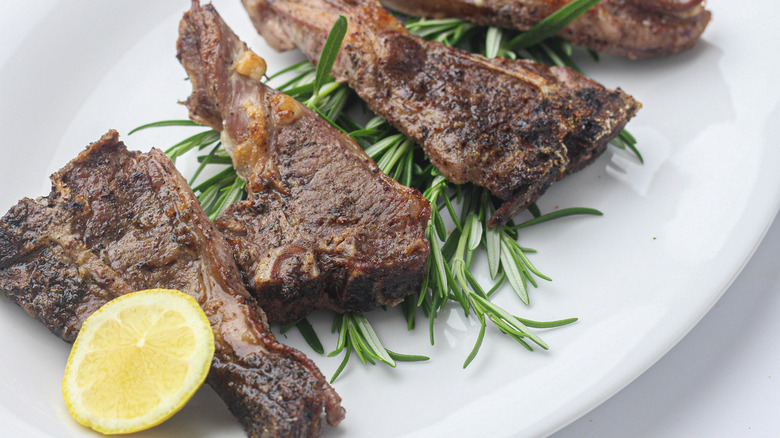 Susan Olayinka/Mashed
While Olayinka likes to garnish her lamb chops with green herbs and lemon slices, you're probably going to want a few side dishes if you're planning to make a meal out of them. Lamb chops, after all, are pretty darn tiny, so even with two chops per person, you'll still need something more on your plate.
Olayinka says you can serve salad or cooked vegetables with these chops, but adds "If you're looking for something a bit heartier, you could also serve them with mashed potatoes or roasted potatoes." Rice pilaf would be another great choice as this would be in keeping with the Middle Eastern theme assuming you've been able to find sumac or za'atar.
Simple Spiced Lamb Chops Recipe
Learn how to cook delicious spiced lamb chops your friends and family will love that feature Middle Eastern flavor thanks to one key ingredient.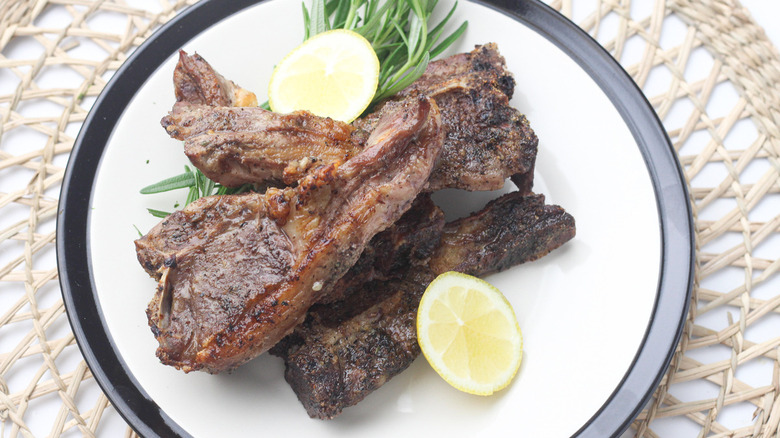 Ingredients
½ teaspoon sumac
½ teaspoon garlic powder
½ teaspoon thyme
1 teaspoon salt
1 tablespoon avocado oil
4 3-ounce lamb chops (12 ounces in all)
Directions
Preheat the oven to 375 F.
Combine the sumac, garlic powder, thyme, and salt.
Rub the oil and spice blend all over the lamb chops.
Line a baking pan with foil or parchment paper, if desired.
Bake the lamb chops for 23 minutes.
Turn the oven heat setting to broil.
Move the chops to the top rack (removing the parchment paper if you've used this) and cook them for 3 minutes or until they are slightly charred.
Nutrition
| | |
| --- | --- |
| Calories per Serving | 483 |
| Total Fat | 42.9 g |
| Saturated Fat | 16.6 g |
| Trans Fat | 0.0 g |
| Cholesterol | 99.4 mg |
| | |
| --- | --- |
| Total Carbohydrates | 0.9 g |
| Dietary Fiber | 0.2 g |
| Total Sugars | 0.1 g |
| Sodium | 415.1 mg |
| Protein | 22.1 g |