Easy Fish Chowder Recipe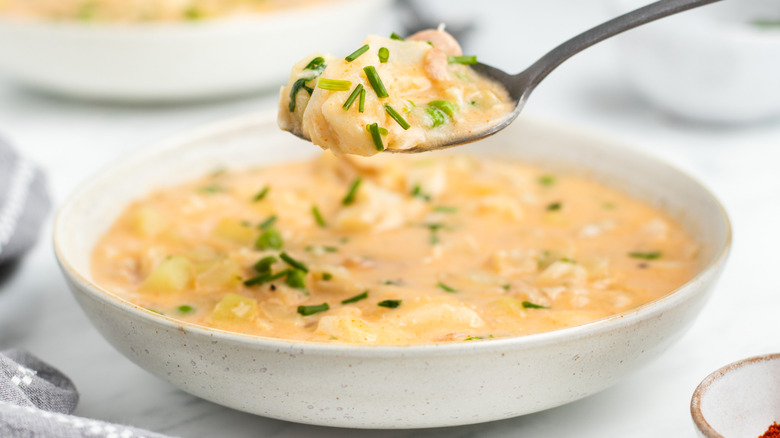 Catherine Brookes/Mashed
If you hear the word "chowder," then you're most likely picturing either a soup with clams or corn. If you're a fan of the former, then you'll likely love this easy fish chowder, brought to us courtesy of recipe developer Catherine Brookes. The recipe is very similar to clam chowder and has that irresistible seafood taste, but instead of clams, this soup is loaded with cod. 
"The rich, savory taste of the broth and succulent flaky fish make this dish really delicious," Brookes raves. And while this recipe is one that "fish lovers will enjoy," according to Brookes, she assures us that the fishy flavor isn't too overbearing. "The fish flavor isn't overwhelming as cod is quite a mild-flavored fish," she explains. There are plenty of other flavors going on in this chowder, from the veggies to the bacon, all the way down to the creamy broth. Pair it with some oyster crackers or a piece of crusty bread and you'll relish in this delectable soup that works well as either an appetizer or a main dish.
Gather the ingredients for fish chowder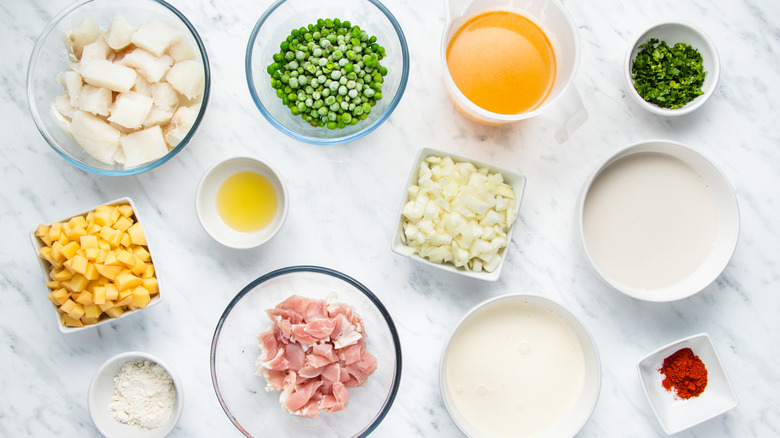 Catherine Brookes/Mashed
Aside from the aforementioned cod, of which you'll need four fillets, you'll need a few other ingredients to whip together this chowder. You'll also need olive oil, a diced onion, chopped bacon, all-purpose flour, fish stock, a peeled and diced baking potato, milk, paprika, heavy cream, peas, fresh chopped parsley, and salt and pepper to taste. "Adding a little paprika gives the dish a hint of color and spice that balances the creaminess really well," Brookes explains of her special ingredient.
Oh, and if you were hoping to get some extra veg in there, you're in luck. "You could add carrots, corn, green beans, [or] broccoli," Brookes suggests for some healthy additions.
Fry the onion and bacon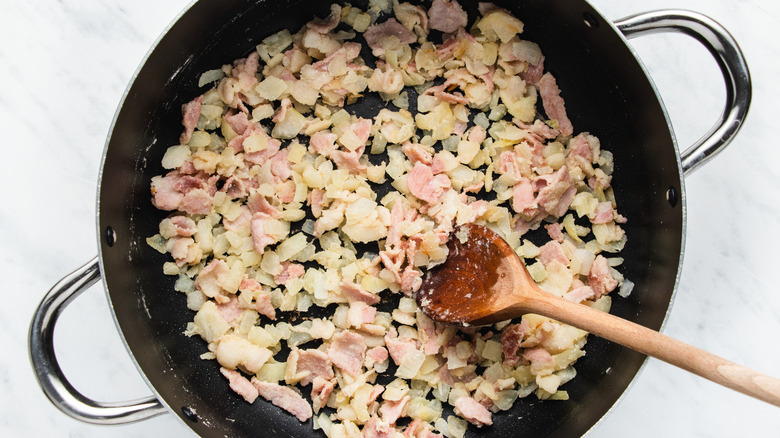 Catherine Brookes/Mashed
In a large pot over medium heat, add the olive oil. Add the chopped bacon and diced onion, and let those fry for about 10 minutes. During this time, the onion should soften and the bacon should cook completely. At that point, sprinkle in the flour and thoroughly stir it into the mix. 
Add the rest of the chowder ingredients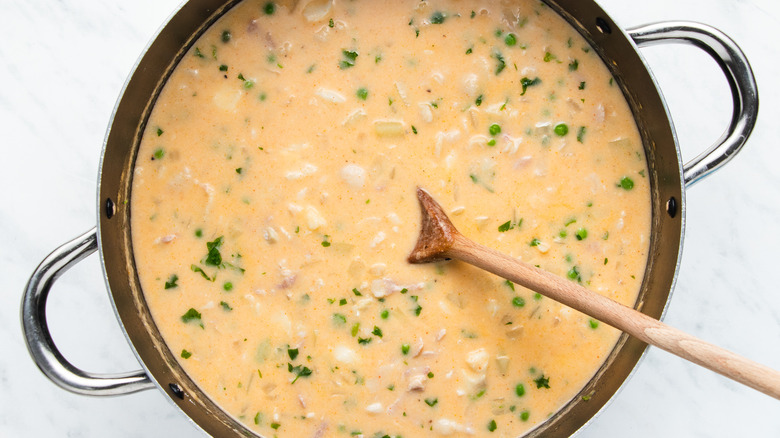 Catherine Brookes/Mashed
Pour the fish stock into the pot, then add in the diced potato. Stir everything together, then bring the mixture to a boil, before finally lowering it to a simmer for 10 minutes. Then, add in the milk and paprika, and let that cook for another few minutes. 
Now, in goes the cream, peas, and cod, which you may want to chop up into bite-sized pieces. Stir it all in, then allow the chowder to simmer for another 10 minutes, during which time the fish will cook and those flavors will meld. As the last addition, stir in the fresh parsley, then give the soup a taste. Add salt and pepper as your taste desires. 
Serve up this decadent chowder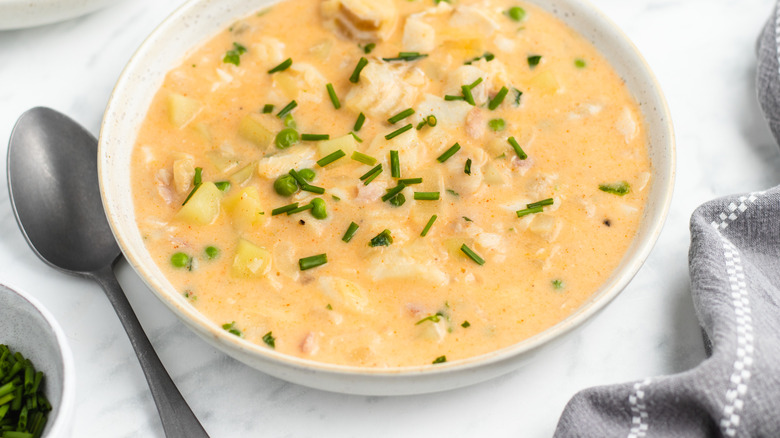 Catherine Brookes/Mashed
After all that simmering, the only thing left to do is to enjoy the chowder! Serve the dish in bowls and optionally garnish each dish with some fresh chopped chives. This recipe yields four servings so it's great for a family, but you can easily make it for yourself and enjoy leftovers. "You can keep [leftovers] for the next day in the fridge and reheat in the microwave," Brookes says. Cheers to a chowder recipe that — for once — isn't focused on clams or corn!
Easy Fish Chowder Recipe
If you love chowder but want a recipe that uses something other than clams or corn as its base, this easy option might be a perfect dish to try out.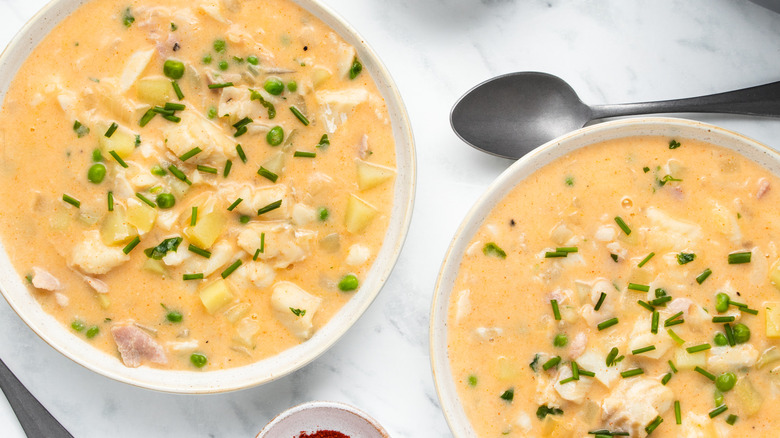 Ingredients
1 tablespoon olive oil
1 onion, diced
4 rashers of bacon, chopped
2 tablespoons all-purpose flour
3 cups fish stock
1 large baking potato, peeled and diced into small cubes
1 cup milk
1 teaspoon paprika
1 cup heavy cream
4 cod fillets
1 cup peas (frozen or canned)
2 tablespoons fresh chopped parsley
salt, to taste
pepper, to taste
Directions
Heat the oil in a large soup pot. Fry the onion and bacon on a medium setting until the onion is softened and the bacon is cooked through, about 10 minutes. Then sprinkle over the flour and stir through.
Pour in the fish stock and add the diced potato. Stir, bring to a boil, and let it simmer for 10 minutes.
Add the milk and paprika and cook for another few minutes.
Add the cream, peas, and cod. Stir well then leave to simmer for another 10 minutes.
Stir through the chopped parsley and some salt and pepper to taste.
Serve with optional fresh chopped chives sprinkled on top.
Nutrition
| | |
| --- | --- |
| Calories per Serving | 747 |
| Total Fat | 42.3 g |
| Saturated Fat | 19.9 g |
| Trans Fat | 0.0 g |
| Cholesterol | 207.8 mg |
| | |
| --- | --- |
| Total Carbohydrates | 34.6 g |
| Dietary Fiber | 4.5 g |
| Total Sugars | 9.1 g |
| Sodium | 1,690.5 mg |
| Protein | 56.9 g |