Sweet And Sour Kamikaze Shot Recipe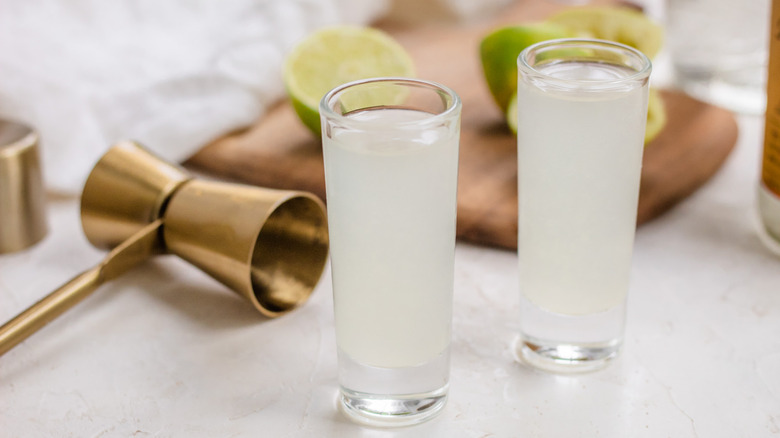 Jaime Shelbert/Mashed
The kamikaze is a drink with a somewhat iffy place in cocktail history: It holds the dubious distinction of having ushered in the infamous shooter era. As per First We Feast, the kamikaze dates to 1976. While the word kamikaze may hark back to WWII-era suicide bombers, at least the drink doesn't have one of the sexual (and extremely embarrassing to order) names that were popular with later shooters.
As recipe developer Jaime Shelbert describes the kamikaze, "This is a quick, easy to make, sweet and tart vodka shot" that is "basically a margarita, but with vodka instead of tequila," although the shooter typically does not have a salted rim. (Feel free to add one if you like.) While the traditional kamikaze is made from a 1:1:1 combination of vodka, triple sec, and lime juice, here Shelbert is doubling up on the vodka for an extra-boozy shot. If you prefer a more classic kamikaze, however, you may wish to dial it back to the original proportions. Doing so also makes it easier to scale the drink to make as many (or as few) shots as you wish.
Gather the ingredients for a sweet and sour kamikaze shot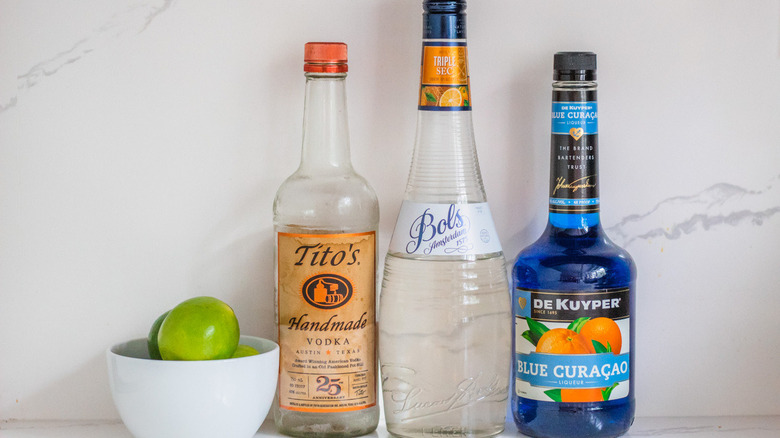 Jaime Shelbert/Mashed
A kamikaze contains just 3 ingredients: vodka, triple sec, and lime juice. Back in the "old days," kamikazes were often made using sweetened bottled lime juice, but Shelbert prefers to use fresh lime juice. She tells us that in order to obtain the amount called for here, you will need to squeeze about 1 ½ limes.
How to mix your drinks if you don't have barware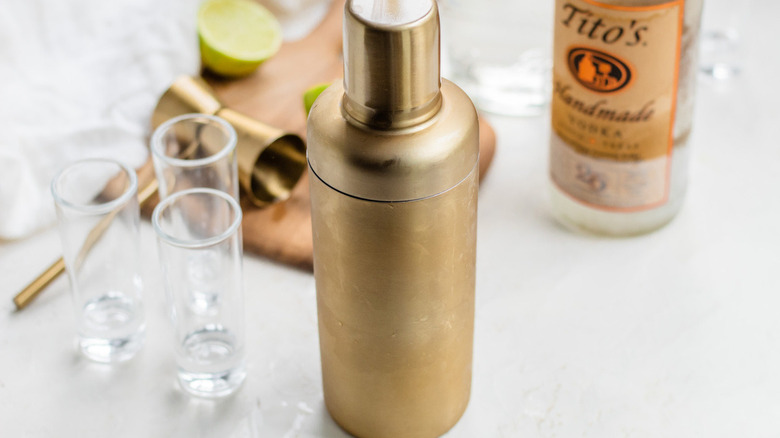 Jaime Shelbert/Mashed
While many cocktail recipes will tell you that you need a jigger, a shaker, a bar strainer, and other tools of the mixologist's trade, this simply isn't so. As long as you have basic kitchen equipment on hand, you can easily DIY your barware. In place of a jigger, a tablespoon measure will do, as 2 tablespoons = 1 ounce and 3 tablespoons = 1 ½ ounces. As for a shaker, if you have 2 large plastic cups of slightly different sizes, simply invert the one over the other to make a closed shaker. You can also use a lidded jar or even a thermos — any lidded container, as long as it's big enough for a handful of ice and a few ounces of liquid, can be pressed into service. For a strainer, any type of kitchen strainer or colander will do.
Mix the kamikaze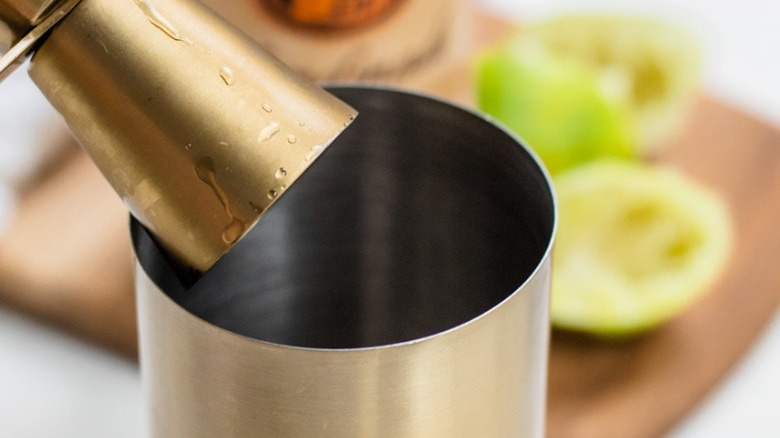 Jaime Shelbert/Mashed
Combine the lime juice with the triple sec and vodka in a shaker, then add about a cupful of ice. Cover the container, then shake the drink for 10-15 seconds, until it feels cold. Strain the drink into a pair of shot glasses.
Try these kamikaze variants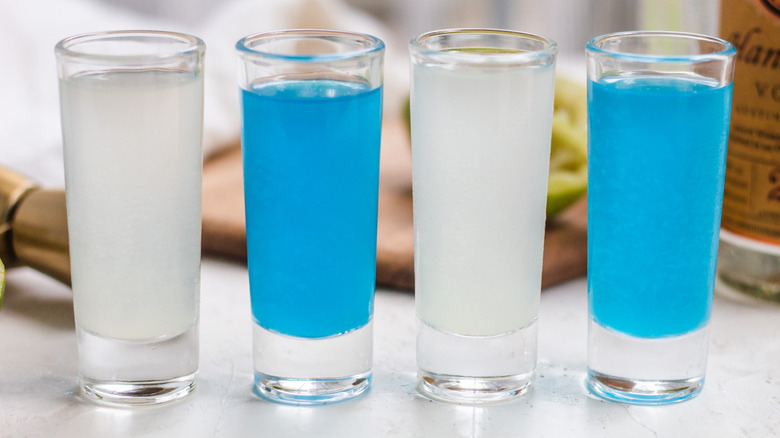 Jaime Shelbert/Mashed
As we mentioned earlier, to make a classic version of the kamikaze, you'd reduce the amount of vodka used here by half, so you'd be using equal amounts of all 3 ingredients. Shelbert also suggests that "It's fun to swap out the triple sec with blue curaçao to give [the drink] a vibrant blue hue." You could also turn the shooter into a cocktail by pouring it into a tall glass and topping it with seltzer or lemon-lime soda. Shelbert notes that you can also "add ice and blend [the kamikaze] into a frozen cocktail."
Sweet And Sour Kamikaze Shot Recipe
When you're looking to whip up shots for a party, this sweet and sour kamikaze recipe is guaranteed to hit the spot. It's like a margarita in a shot glass.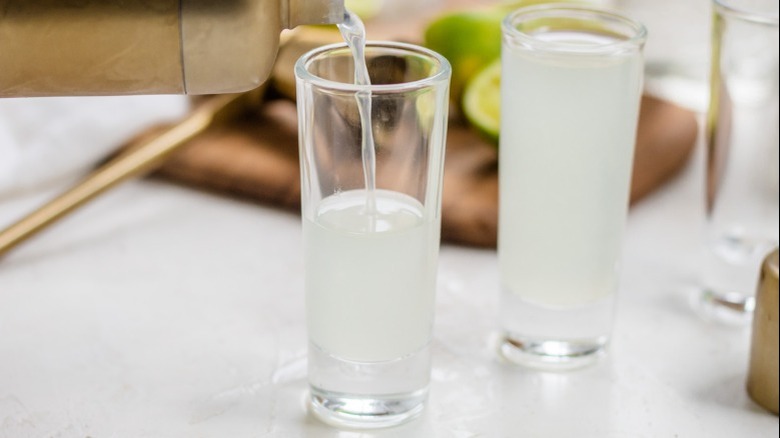 Ingredients
3 tablespoons lime juice
1 ½ ounces (3 tablespoons) triple sec
3 ounces vodka
Directions
Add the lime juice, triple sec and vodka to a cocktail shaker.
Add about 1 cup of ice to the shaker. Shake to combine.
Strain the mixture into two shot glasses.
Nutrition
| | |
| --- | --- |
| Calories per Serving | 169 |
| Total Fat | 0.1 g |
| Saturated Fat | 0.0 g |
| Trans Fat | 0.0 |
| Cholesterol | 0.0 mg |
| | |
| --- | --- |
| Total Carbohydrates | 8.8 g |
| Dietary Fiber | 0.1 g |
| Total Sugars | 7.2 g |
| Sodium | 2.6 mg |
| Protein | 0.1 g |