The Classic Aldi Sandwich Bites That Are Taking Over Instagram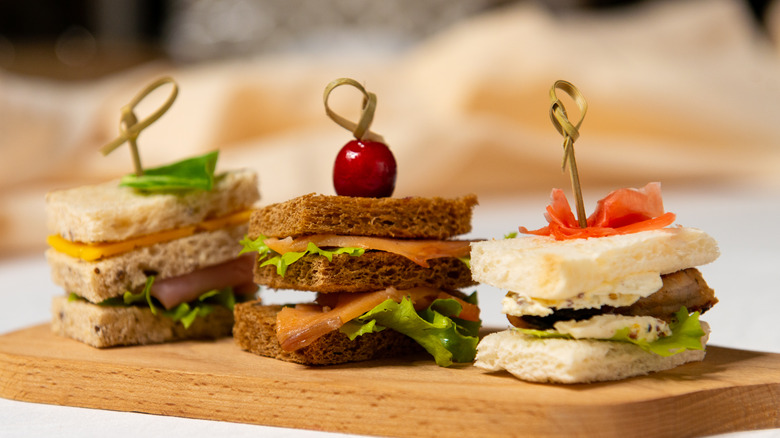 PushAnn/Shutterstock
Let's face it, breakfast, lunch, and dinner are all important meals, but one may often be more challenging to squeeze into your schedule than the others — lunch. Whether you are a student, an employee with a hectic job, or a busy parent who's always out and about, a mid-day meal is often eaten on the go — or skipped altogether (via PR Newswire). Many people either need to carve out time to pack a lunch in the morning or spend extra money on a meal out. Sometimes, neither of those options seems particularly appealing.
Thankfully, ready-made grocery store options provide lunch-goers with a compromise — affordable and healthy meals that save people time and money. While Trader Joe's has items such as tofu spring rolls and lentil soup, as noted by Spoon University, Costco has quinoa and brown rice bowls with garlic and an avocado ranch chopped salad kit (via Clean Plates). As for Aldi? This discount grocery store chain has a lunch option that is reminiscent of one of the greatest sandwiches of all time, hands down. 
Aldi's PB&J snacks are loved by kids and adults alike
The official Aldi U.S. account took to Instagram to share some of its most popular products including memory foam walking shoes, woven serving trays, and seaweed snacks. "What do you tell someone who missed out on one of these fantastic #ALDIFinds? Hope you never find out," @aldiusa captioned the post. The photo that headlined the series, however, was none other than Aldi's PB&J bites. With six packs to a bag, these snacks are filled with strawberry and peanut butter, and also happen to be gluten-free.
Unsurprisingly, parents are loving Aldi's peanut butter and jelly bites. One user commented, "My daughter is obsessed with the PB+J bites so please make them permanent!!!" However, these bite-sized munchies have a broader appeal than you might have thought. "My son is obsessed with the PB&J bites (so am I)," a user wrote, while another shared "'Listen, if you don't keep those pb&j bites as a permanent item, I'll literally burst. They're my favorite snacks ever. Am I an adult yes! Do I like pb normally? Heck no. Are these crunchy snacks amazing? (The 100 emoji)." 
If you are looking for a snack for people of all ages, it seems like Aldi's PB&J bites fit the bill. According to Instagram user @ohheyaldi, these bites have a $4.69 price tag.