The Spicy Canned Food Special Ingredient Reddit Swears By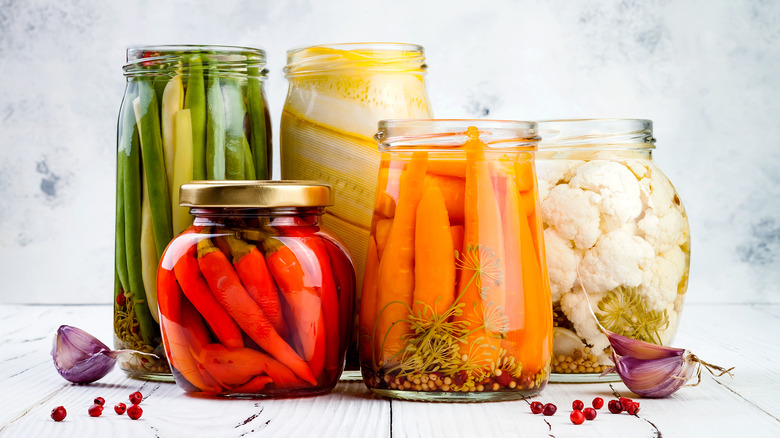 zarzamora/Shutterstock
Anyone who does a lot of cooking knows that keeping a few staple ingredients in your pantry at all times can set you up for success. For example, some basic ingredients you should always have on hand include garlic, lemons, olive oil, broth, and canned beans.
However, celebrity chefs swear by underutilized ingredients too, such as anchovies, whole grain mustard, pickle brine, duck fat, and silken tofu. Although some of these may seem a little out of the ordinary, it makes sense to keep versatile ingredients in your kitchen. Pickle brine, for instance, can add acid to tuna salad, serve as a base for sauces, or tenderize meat (via Serious Eats).
Another must-have pantry staple comes to us from the good people of Reddit. Per their recommendations, every kitchen needs a can of El Pato Salsa de Chile Fresco. Like duck fat or garlic, this canned ingredient promises to jazz up any recipe. 
Redditors sing the praises of Salsa de Chile Fresco
According to Reddit, canned El Pato Salsa de Chile Fresco is "better than anything in a jar" and is the perfect addition to countless recipes. One person noted that, in general, the salsa is great with tacos, beans, and anything else you would normally want salsa for.
Another Redditor suggested using the El Pato salsa in place of tomato sauce in an authentic Mexican red rice recipe. Yet another person said they mix the salsa with ground beef, bacon, and mushrooms to make a "spicy spaghetti." Others recommended mixing the salsa with mayonnaise to make taco salad dressing, using it for Cuban-style black beans, and serving it as the perfect shrimp cocktail dip.
If you decide to try the salsa out for yourself, keep in mind that it packs a bit of heat. One Redditor wrote, "It's not a burning spice, but it'll definitely pack a punch," later joking that the salsa contains actual fire. That just means it must be good, right?