Here's What Happened To Cup Board Pro After Shark Tank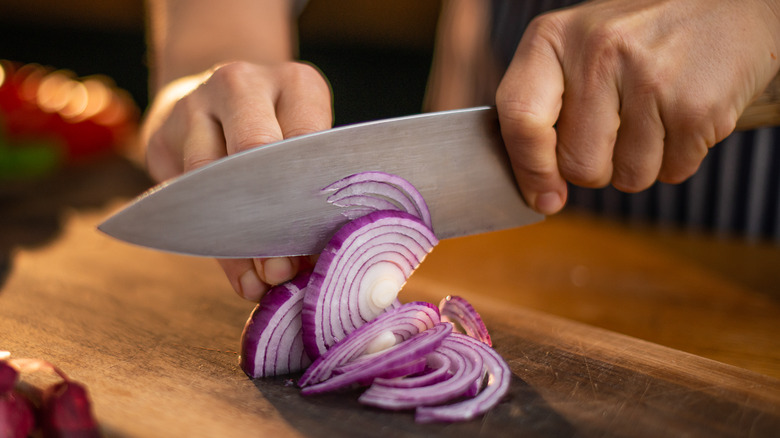 husjur02/Shutterstock
We may receive a commission on purchases made from links.
Cup Board Pro is not just a cutting board; the business has an incredible backstory. Cup Board Pro was invented by Keith Young, a former New York City firefighter and "Chopped" champion. The invention is the ultimate cutting board, made with an eco-friendly material called Richlite, which Williams-Sonoma says is "a wood fiber and recycled-paper composite." The cutting board is different from traditional cutting boards, in that, it has a tray that extends over the edge of your kitchen counter to collect extra juices and scraps of food.
After years of working on the Cup Board Pro and coming up with several prototypes, Young finally received his first shipment of finished cutting boards in 2015. But shortly after, he was diagnosed with cancer related to working at Ground Zero on 9/11 (via Cup Board Pro). Having also lost their mother to cancer, his children, Kaley, Christian, and Keira brought the invention to Season 10 of "Shark Tank" (via Shark Tank on Facebook).
Cup Board Pro has become a success and helped FDNY
On "Shark Tank," the children of Cup Board Pro inventor Keith Young won over the Sharks and struck a deal with each one of them. The Youngs say that every board they had in their inventory sold out within an hour of the show airing, and they received 100,000 emails from fans trying to order the board. That's when the Sharks connected the kids with Williams-Sonoma, which began manufacturing and selling the cutting boards (via Shark Tank on Facebook).
But the story doesn't end there. The Youngs say they also received thousands of emails from people who wanted to help firefighters. They set up a GoFundMe account and raised $41,119 — almost double their $25,000 goal — which they presented to the New York City Fire Department in 2019 (via Cup Board Pro). All five Sharks were seated in the front row at the ceremony. "The way it's working out, they will never have to work for anybody else again, and that was what their dad's dream was," said Shark Matt Higgins. Kaley Young hopes her father would be proud, stating, "We're super grateful to be able to continue our dad's dream and to share our story with more people all over the world."
A firefighter's legacy lives on through his food
And, as if all this success wasn't enough, sales of the Cup Board Pro have soared at Williams-Sonoma, with Techie + Gamers claiming the cutting boards are the store's "best-selling item." Cup Board Pros were also being sold on Amazon, where the product showed a majority of reviewing buyers had given the cutting board a five-star rating. Those who criticized the product said they thought the juices could be collected more efficiently and that they wished the scrap holder would lock into the cutting board better, but most reviewers raved about the Cup Board Pro. One reviewer wrote, "As a retired firefighter/paramedic and someone that enjoys cooking I purchased this item ... not only to support a wonderful cause but to enjoy some excellent Firehouse meals while quickly and easily prepping whatever is needed."
The success of the Cup Board Pro has also spurred a cookbook titled "Cooking With the Firehouse Chef" by Keith Young, written in collaboration with Kaley and published posthumously. The cookbook gives a glimpse into Young's life as a firefighter all while sharing some of his original recipes including ones for Manhattan clam chowder, chicken marsala, and strawberry cheesecake. One Amazon reviewer gave the cookbook five stars, writing "Great recipes written by an amazing man!!" and noted, "a must have for all firefighters."