Easy Cajun Spice Mix Recipe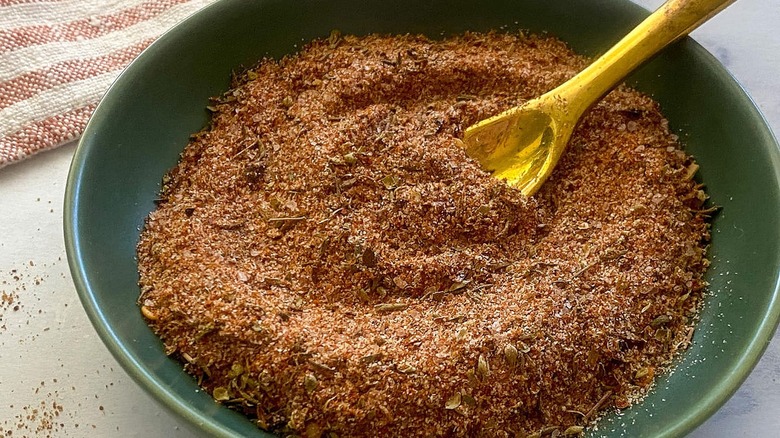 Miriam Hahn/Mashed
The right blend of spices goes a long way, and this Cajun spice mix, courtesy of developer Miriam Hahn, is a prime example. She describes this blend as being "so delicious and flavorful," and she loves that "you can use it for many things to spice up any meal." Hahn likes to spice up potatoes with this mix, but there really is no limit to what you can add it to. "You can use this blend on any type of meat, fish, shellfish, or chicken ... it makes a good rub before grilling," Hahn suggests. She also notes that it's great in soups, gumbo, jambalaya, in a dip, or even as a garnish on popcorn — the possibilities really are endless here!
There are quite a few spices that go into this Cajun seasoning blend, but many of them you likely already have on hand. From the paprika to the thyme all the way down to the optional cayenne pepper, there really is an abundance of flavor to enjoy. And, once you mix all the spices together, you'll be able to seal it up and pop it in your spice cabinet to use as you would any other spice or seasoning for months to come.
Gather the spices to make this Cajun blend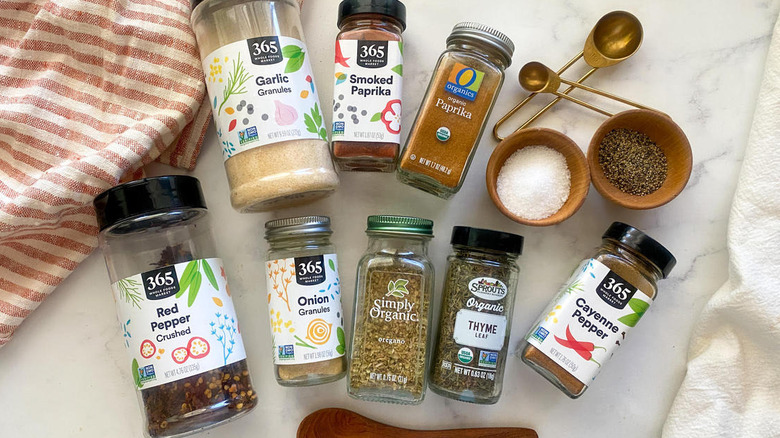 Miriam Hahn/Mashed
To make this Cajun spice mix, you'll need regular and smoked paprika, garlic granules, onion granules, oregano, salt, thyme, pepper, red pepper flakes, and optionally, some cayenne pepper. As for Hahn's special ingredient, it's the smoked paprika: "I like using a mix of regular and smoked to really elevate the taste and bring a little smokiness in," she explains. 
Mix all of the spices together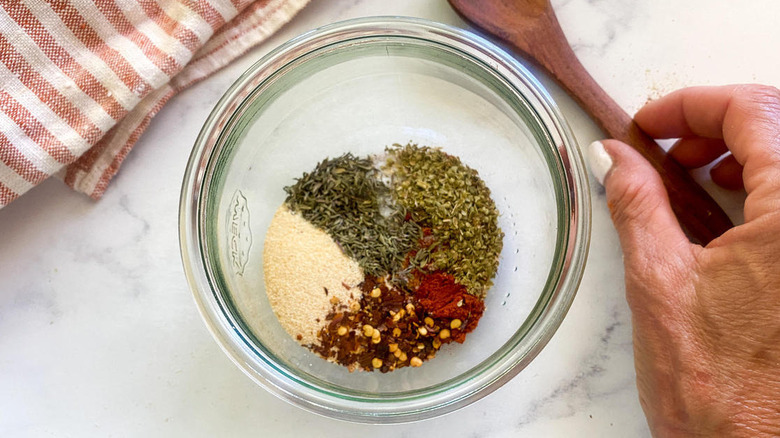 Miriam Hahn/Mashed
As you might have guessed, there's really only one step to this recipe, and that's mixing everything together. So, into a small bowl, add all of the spices, and simply combine them with a spoon. Of course, there is one thing to consider here, and that's whether or not you want to add the cayenne. "The cayenne is very spicy so it will add some heat," Hahn notes. "A little goes a long way, so I usually leave it out and just add it to the individual dish, depending on my eating audience." It's down to personal preference — if you like a little kick of heat, add that cayenne right in. 
Serve and store your Cajun spice blend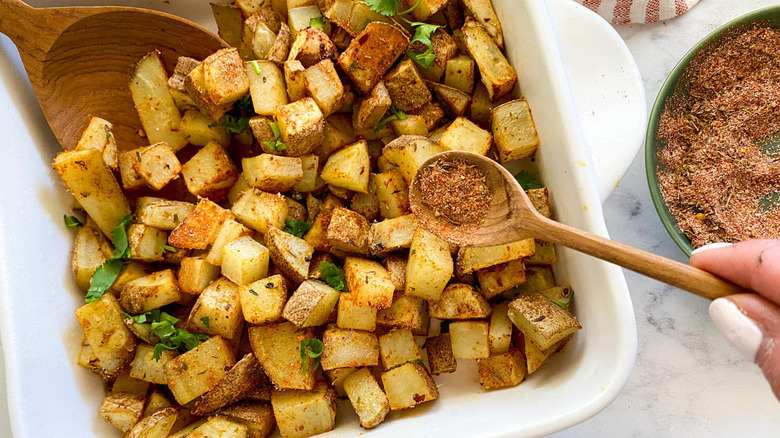 Miriam Hahn/Mashed
When it comes to serving the spice blend, it's really up to you how to use it. Hahn likes to season potatoes with it, but why not take it up a notch and season some Cajun food with this Cajun blend? You could make creamy Cajun chicken pasta, Cajun chicken salad, or try your hand with a Louisiana classic, the po boy sandwich. 
No matter how you use this blend, you'll likely have plenty of leftovers. Simply add the spice mix to a sealable jar or container, and store it with the rest of your spices.
Easy Cajun Spice Mix Recipe
Looking to add some spice to your favorite protein? Why not try a Cajun-inspired blend? This simple Cajun spice mix is perfect for practically any dish.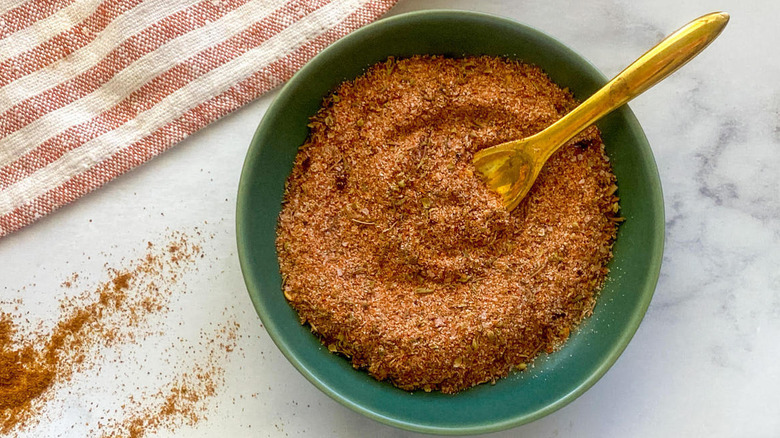 Ingredients
1 teaspoon paprika
1 teaspoon smoked paprika
2 teaspoons garlic granules
1 teaspoon onion granules
1 teaspoon oregano
1 teaspoon salt
1 teaspoon thyme
½ teaspoon pepper
¼ teaspoon red pepper flakes
Optional Ingredients
½ teaspoon cayenne pepper
Directions
In a small bowl, combine the paprika, smoked paprika, garlic granules, onion granules, oregano, salt, thyme, pepper, red pepper flakes, and cayenne, if desired.
Use as desired and store the blend in a sealed jar in your spice cabinet.