Grilled Flank Steak Recipe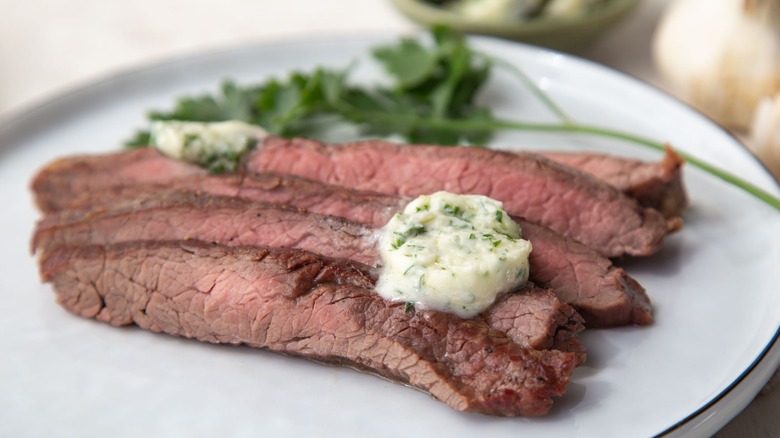 Kate Shungu/Mashed
When the average person thinks of steak, high-class cuts like filet mignon and ribeye typically come to mind. But if the thought of cooking up a pricey piece of meat makes your wallet quiver with fear, you'll be glad to know that there are plenty of other tasty, filling cuts of steak out there to explore. Flank steak might not be at the top of your list when you go to a steakhouse, but this lean meat can be a great option for home cooking.
Recipe developer Kate Shungu has an easy recipe for grilled flank steak with savory compound butter that makes for a perfect summer entree. After all, there's nothing like digging into a substantial, meaty meal after spending the day at the beach, park, or pool. "Flank steak is relatively inexpensive, but still has a big, beefy flavor," Shungu explains. "It's also tender when it's sliced against the grain." No grill? No problem. "You can easily use an indoor grill pan or a cast iron skillet for cooking the steak," Shungu says. 
Get out your flank steak ingredients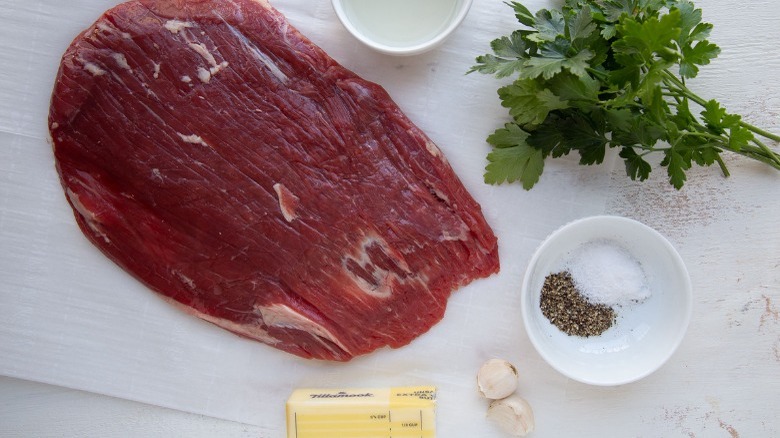 Kate Shungu/Mashed
Yes, the meat is the star here, but it's still important to get all your ingredients prepped and ready before you get started. Your flank steak should be about 2 pounds, and it gets seasoned with some simple salt and pepper. For the compound butter, you'll need unsalted butter, of course, as well as fresh garlic and parsley. You'll also need vegetable oil for your grill or cooking surface.
Make the compound butter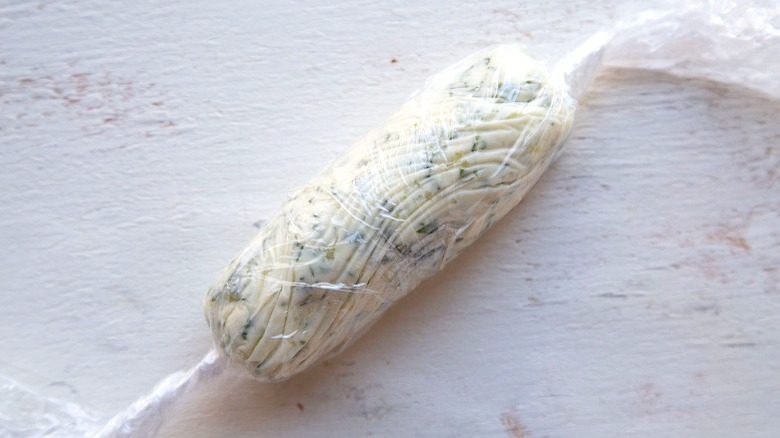 Kate Shungu/Mashed
Start by making the compound butter that will adorn the finished product. If you're a planner, this can be done ahead of time. Let your unsalted butter soften, then add it to a bowl with chopped parsley, minced garlic, and a bit of salt. Stir everything together so the seasonings are evenly distributed, and transfer it to a large piece of plastic wrap. Shape the butter into a log, then wrap it up tightly in plastic wrap so it keeps its shape. Stick it in the fridge for about an hour, or until you're ready to use it.
If you don't have parsley, you can still make a quality compound butter. "Use your favorite herb (or a mixture of herbs) in place of the parsley," Shungu suggests. "You could use basil, thyme, or chives as examples. Add the zest of one lemon if you're feeling fancy!"
It's time to get grilling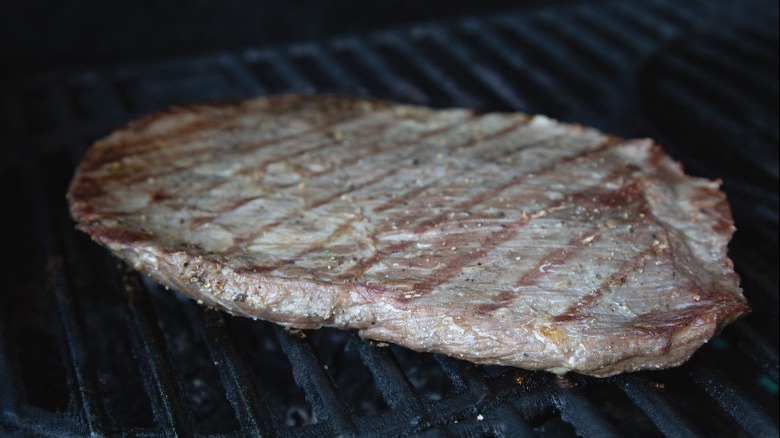 Kate Shungu/Mashed
Now, it's time for the main event. Turn your grill to medium-high, then drizzle some vegetable oil on a paper towel and use tongs to spread oil on the grill grates. Sprinkle salt and pepper on both sides of the steak and place it on the grill. Let it cook on one side for about 5 minutes, then flip it over and do the same on the other side. This is a hefty amount of meat, so if you're using something other than a standard grill (or just have a tiny grill), Shungu notes that "you may need to cut the steak in half and cook it in batches."
When your steak is done grilling, take it off the heat and let it rest for a bit before cutting into it.
Enjoy your buttery grilled flank steak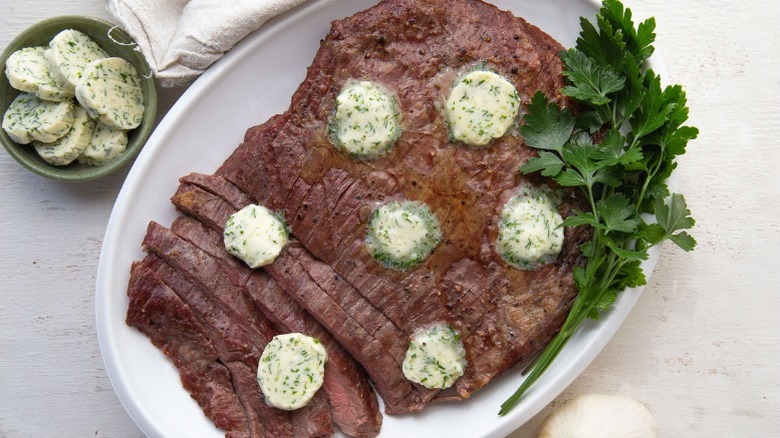 Kate Shungu/Mashed
After your flank steak has rested, slice it against the grain and serve it up with slices of compound butter on top, plus an extra scattering of parsley if you'd like.
"I like serving this with classic steak side dishes: mashed potatoes, hot dinner rolls, and a leafy green salad," Shungu says. Hey, if it works, it works. And if you end up with extra — this recipe serves six — she suggests storing leftovers "in the refrigerator, tightly covered. Reheat the steak in a skillet or in the microwave."
Grilled Flank Steak Recipe
You don't need an expensive cut of steak for it to be delicious, and this grilled flank steak recipe is proof!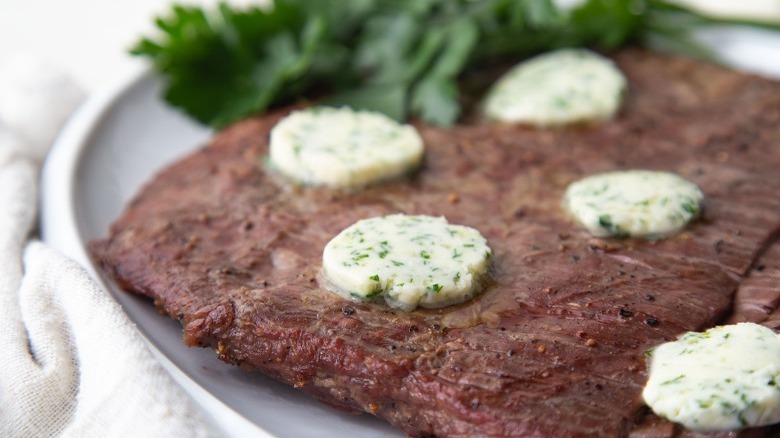 Ingredients
6 tablespoons unsalted butter, softened
2 cloves garlic, minced
2 tablespoons chopped parsley
¼ teaspoon salt, plus more to taste
1 tablespoon vegetable oil
1 (2-pound) flank steak
pepper, to taste
Directions
Stir together the softened butter, garlic, parsley, and ¼ teaspoon of salt. Place the mixture onto a piece of plastic wrap, and roll it into a 4-inch log. Refrigerate for at least 1 hour, or until firm enough to slice. Slice the compound butter into ¼-inch thick slices.
Heat the grill to medium-high heat. Scrunch up a paper towel and dip it into the vegetable oil. Holding the paper towel with kitchen tongs, rub it over the grill grates.
Season the steak with salt and pepper. Grill the steak for 4 to 5 minutes per side, or until it reaches desired doneness. Remove the steak from the grill and let it rest for 10 minutes before slicing.
Slice the steak into thin slices against the grain. Place slices of the compound butter on top. Serve immediately.
Nutrition
| | |
| --- | --- |
| Calories per Serving | 375 |
| Total Fat | 26.4 g |
| Saturated Fat | 12.7 g |
| Trans Fat | 0.5 g |
| Cholesterol | 133.3 mg |
| | |
| --- | --- |
| Total Carbohydrates | 0.7 g |
| Dietary Fiber | 0.2 g |
| Total Sugars | 0.0 g |
| Sodium | 181.1 mg |
| Protein | 32.4 g |