The Former Chopped Champion Who's Appearing On Beachside Brawl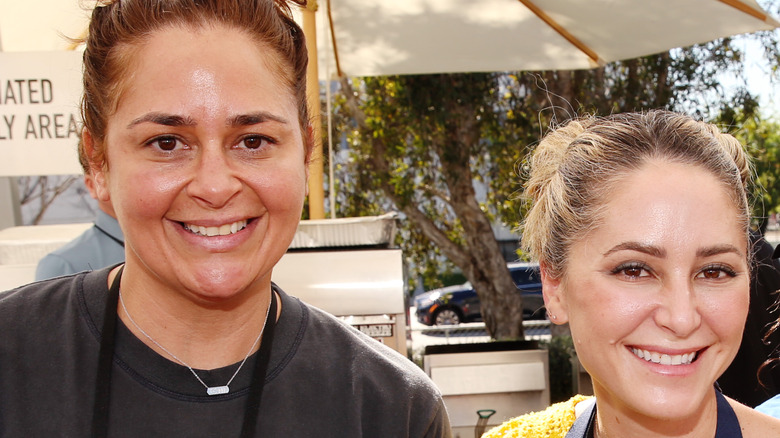 Jesse Grant/Getty Images
"Beachside Brawl," a new show this summer on the Food Network, is fueled by a lot of talent. In fact, the three main stars of the show have all appeared on television before, and they've even competed themselves. The host, Antonia Lofaso, made it to the finals in two seasons of "Top Chef," and has also competed on "Tournament of Champions." The mentors on the show, Brooke Williamson and Tiffani Faison, are also former "Top Chef" competitors, and even more impressively, both have won seasons of "Tournament of Champions," with Faison beating out Williamson, the season 1 winner, in season 3 of the show (via Boston Globe).
But it's not just the hosts and judges that boast some impressive cooking show pedigree. Per The Daily Herald, contestant Brian Madayag appeared on "No Passports Required," a travel show hosted by Marcus Samuelsson, in 2019. And Jada Vidal, a competitor from Tampa, Florida, won an episode of "Guy's Grocery Games" in 2021 (via Creative Loafing Tampa Bay). But they're not the only contestants in the current season of "Beachside Brawl" that viewers might think look a little familiar.
Chef Kaleena Bliss is rolling the dice a second time
If the other chefs on "Beachside Brawl" knew about this contestant's background, they might be pretty intimidated. That's because their competitor doesn't just have one cooking competition win to her name — she has two. Kaleena Bliss, one of the chefs on "Beachside Brawl," was previously on "Chopped: Casino Royale." After winning an initial semi-final round episode, Bliss went on to win in the finale of the show, and took home a cool $40,000 for her efforts (via Seattle Refined).
Bliss is a chef from Seattle, Washington. She's the Executive Chef at the Thompson Seattle hotel, and the two restaurants at the property, The Nest rooftop bar and Conversation (via Instagram). Not only is she a pro, but she also proved that she can handle a challenge on her season of "Chopped," when she ended up winning while using some ingredients she had never cooked with before — including canned rattlesnake (via Seattle Times). While it seems unlikely that host Antonia Lofaso would make the competitors on "Beachside Brawl" cook with canned snake meat, Bliss' adaptability and perseverance in the face of such challenges should be enough to give the other challengers pause.