The Sweet Meaning Hidden In Kevin Love And Kate Bock's Wedding Cake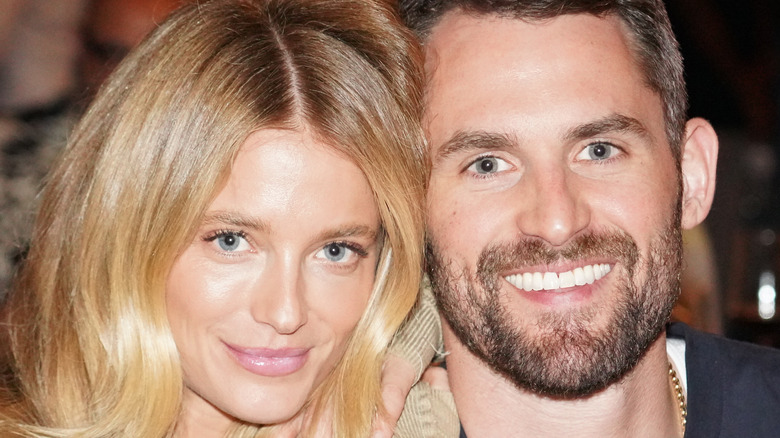 Romain Maurice/Getty Images
Cue the wedding bells! Kate Bock, known for her appearances as a model in magazines like Vogue and Sports Illustrated, as a jewelry company entrepreneur, and as a social media influencer (via Sports Illustrated), married Cleveland Cavaliers basketball player (via NBA) Kevin Love on June 25, 2022, at the New York Public Library. The wedding was a Great Gatsby-themed event for which all guests were asked to wear black and white. 
Bock was thrilled with how the ceremony and reception went off, telling Vogue "I'm so happy to be married. The whole weekend was perfect–I married my one surrounded by all of our friends and family! It doesn't get much better than that." Every detail, from the dresses to the seating chart, was carefully planned out, but perhaps the most touching part of the wedding involved the couple's two wedding cakes, which were based on family cake recipes and inspired by Bock's and Love's grandparents (via People).
Kate Bock and Kevin Love's wedding cakes paid homage to their loved ones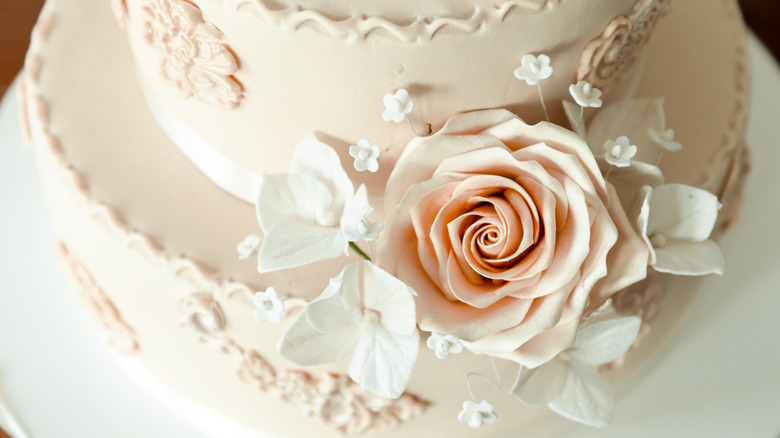 Ilya.K/Shutterstock
According to People, Kate Bock and Kevin Love served two very different cakes at their wedding, the first of which was a simple, three-tier vegan cake covered with white lemon icing. The cake was made by Lael Cakes, a bakery out of Brooklyn, New York. The touching part is that the couple decided to put the topper from Bock's grandparents' wedding on the cake. 
The other dessert, actually a pie, was single-layered and chocolate-based featuring whipped cream and a chocolate shaving-covered top. Love's grandmother used to make him this pie and so he called it Grandmother Carol's Chocolate Pie. Each guest was given a mini version of the chocolate pie and the recipe as a wedding favor. Per Vogue, the couple also flanked the cakes with photographs of their grandparents, and Bock called cutting the cake a "favorite and meaningful moment from the evening."
Wedding planner Marcy Blum took to Instagram to share pics from the wedding, including one of the couple kissing as Love cuts the cake. "Epitome of NYC romance!" commented Instagrammer @kyleeyeephoto, while user @loverhausevents wrote succinctly, "Stunning!!"