The Recipe FitMenCook's Kevin Curry Can't Get Enough Of Right Now - Exclusive
Running out of ideas for meals happens to the best of us — especially those with busy schedules to maintain. That's why social media has been a saving grace when it comes to the kitchen. Is anyone else on the food side of TikTok? Content creators do the work for us, sharing easy and delicious recipes for people from novices to expert chefs. Kevin Curry is one of those content creators, with his Fit Men Cook brand taking off on the internet.
In an exclusive interview with Mashed, Curry disclosed how he maintains a healthy and balanced lifestyle and shared his opinions on food waste and meal prepping. The food blogger also revealed the recipe he can't get enough of as summer foods are still in their prime. Some of Curry's most-loved recipe videos are comfort foods, so the recipe that he is making right now may be exactly what you need this season.
Curry has been cooking everything with orzo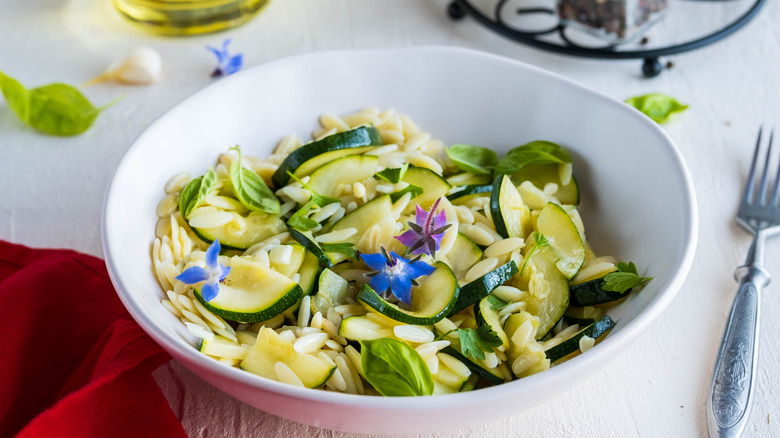 Natallya Naumava/Shutterstock
If you haven't had an orzo phase, you are missing out. Kevin Curry explained his most recent food craze, and it sounds delicious: "I was in a funk and I was about to turn into a little thing of orzo. Good Lord. I had so much orzo I made this orzo tomato, you've probably seen it out there." The main foods in his dish include orzo, tomato, cucumber, parsley, and sometimes cilantro – sounds like all of the ingredients for a perfectly refreshing summer dish.
Curry continued, "I put some shrimp in there one time, put some chicken in there another time, chickpeas — I'm like, 'Kevin, stop making, stop. You gotta put some avocado in there, too.'" This is giving us all of the dinner ideas right now. 
In line with his quick recipes, the content creator recently paired up with Home Chef to produce some tasty meal kits. The recipes consist of Smoky Chipotle Chicken Tacos, Stuffed Chicken Parmesan, Beef Egg Roll Rice Bowl, and Enchilada Turkey Meatloaf. Now you don't have to look any further for meal ideas tonight.
Head to Home Chef's website to learn more about their partnership with Kevin, or check out Kevin's Instagram page for more recipe and meal tips.