Yes, Pumpkin Spiced Cleaning Products Now Exist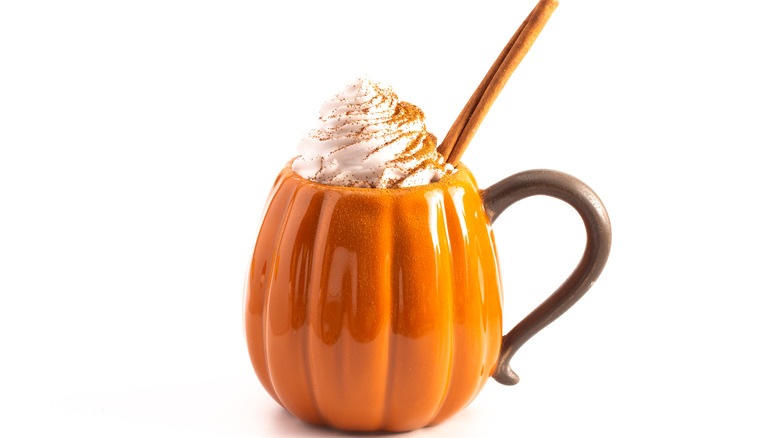 P Maxwell Photography/Shutterstock
As you walk down the aisles of your local grocery store, you've probably noticed that the employees are already bringing out the Halloween merchandise. Bags of candy, plastic pumpkins, a sea of black and orange as far as the eye can see. "What gives?" some may think, "it's not even August and they're breaking out the Halloween stuff? Talk about jumping the gun!" But for others, the early arrival of Halloween goodies is a reminder that soon crisp autumn breezes will replace the baking summer sun, palettes of crimsons, gold, and purples will adorn the trees, and perhaps most tantalizingly of all for some, pumpkin spice-flavored treats will soon make their return.
It seems that pumpkin spice has evolved past the coffee drinks and candles of yesteryear and has found its way into almost every product imaginable. This is no surprise, as NPR reports that the popularity of the pumpkin aroma is linked to feelings of nostalgia and comfort. The popular scent can now be found everywhere from food and drink to toilet paper (via Mental Floss) to Build-a-Bear products. The scent of manufactured pumpkin spice now permeates the autumn air the same way fresh soil and fallen leaves do. In case you want your home to smell like a particularly clean pumpkin patch this year, you'll soon be able to purchase pumpkin spice-scented cleaning supplies.
You can buy pumpkin-scented laundry sheets and multi-purpose cleaners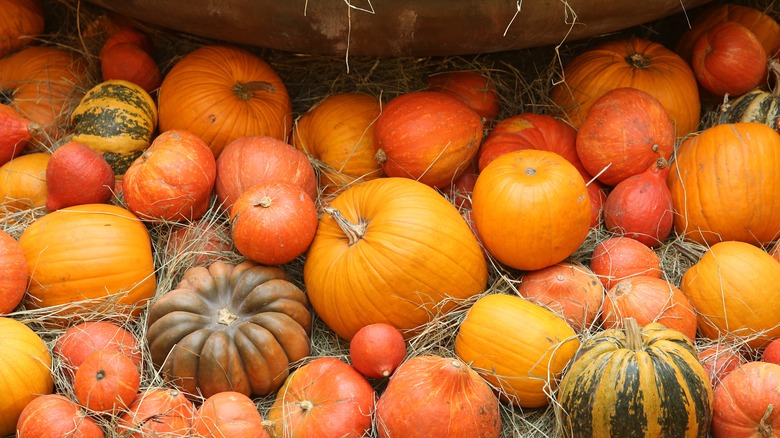 Sergey Bezgodov/Shutterstock
Grove Collaborative is a company that, by its own account, sells products such as cookware, cleaning products, and personal care products that are "nontoxic, effective, sustainable, and cruelty-free." Customers receive monthly shipments of products they pick themselves, including certain pumpkin spice-scented cleaning ware.
There are a wide variety of pumpkin-scented cleaners available, ranging from laundry sheets to multi-purpose cleaners, and if you just can't decide, there's even a 17-piece "Naturelust Collection" that includes a variety of sprays, towels, candles, and even a reusable thermos. Prices for this fall-themed collection of cleaners start at $6.95 for the multi-purpose cleaners and $4.99 for your choice of pumpkin or spiced apple-scented hand soaps.
Although Grove Collaborative is indeed a noteworthy company, they didn't exactly "invent"  pumpkin spice-scented cleaners. In 2021, household cleaning company Mrs. Meyer's sold a variety of scented cleaning solutions — pumpkin spice included! — exclusively on Grove Collaborative (via Perfumer Flavorist). And in 2019, Yahoo featured Glade and Febreze air fresheners for both home and the car in its roundup of pumpkin spice-scented products, which included other household items like candles and hand soap.
No matter if you're drinking it in coffee or scenting your abode with it, have you ever considered where pumpkin spice comes from exactly? (Hint: you won't find it in the pumpkin patch).